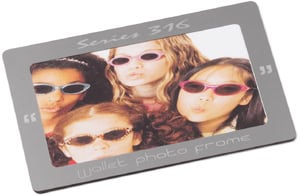 There's a Steve Poltz song that perfectly sums up how I feel about UncommonGoods – "I love everything about you."
Not only does this site feature an eclectic variety of cool and unusual gifts (a term I use loosely because I've given many of these gifts to myself), but most of them are handmade and/or recycled – something dear to my heart. Plus, with each purchase, you get to choose a charity to receive a donation. This is truly a site filled with style, substance and soul.
So, when I was asked if I wanted to review a few products from the site, my immediate — and eloquent — response was "Duh!"
I love the idea of these Wallet Tools and, apparently, am not the only one since they have already been awarded Gift of the Year status. I generously gave the Emergency Cufflinks to my husband but grabbed the Photo Frame for myself.
Yes, I have finally figured out how to share pictures on my phone but, to me, there is still nothing like a "real" photo. This wafer-thin frame is made of recycled stainless steel and totally does justice to a photo of my family on vacation in Venice a few years ago. It makes me happy every time I open my wallet and see it, and it takes up no more room than a credit card. When I pass it around to show people, I don't have to worry about fingerprints because the photo is safe in its frame.
The cufflinks — which I was a little skeptical of at first, thinking they were an ingenious idea in theory but maybe not so practical in reality — have already served their purpose. My husband (who, as he's gotten older, has drifted further away from both wallets and cufflinks) passed them along to our son when he went back to college after spring break and told him to stick them in his wallet just in case. Our son rolled his eyes but ended up using them on an internship interview when he realized he didn't have any cufflinks for the new French-cuffed shirt he had picked out. Not only did they come to his rescue but he said they were actually a great conversation piece – they're also made of recycled stainless steel, and are literally a snap to use.
You will definitely like UncommonGoods in real life but you should "like" them on Facebook, too, so you can get the latest scoop and even vote on your favorite products.
Because you need to try these products yourself, UncommonGoods is generously giving away a $40 gift card to one lucky winner. Click here for a chance to win, and earn another entry simply by leaving a comment below about which product you'd like from UncommonGoods. Bet you can't pick just one!