day 1 of our ultimate australian adventure with oprah, in which we receive a royal welcome, get treated to a private performance by a celebrated diva and pet a koala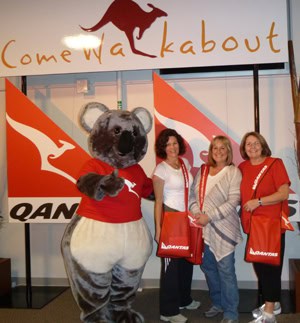 Arriving at the Qantas lounge at LAX in preparation for our flight to Australia was like coming home to our dearest friends. After all, these were the people with whom we had experienced one of the most surreal and emotional days of our life three months earlier at that fateful taping of The Oprah Show when we learned we were all going halfway around the world together.
There was Elissa Mast who we had connected so strongly with during our hours in the Harpo holding area; mom and daughter Priscilla Nelson and Avalon Middleton who we had bonded with at the Oprah Store; and Liz Kazungu and her mother who had been sitting behind us at the taping (which we felt was a sign because they were from Nairobi and we were wearing our Formerly Flip Flops bracelets from the exact same area!). It was like old home week, with lots of hugging, laughing and screaming.
We were divided into groups – we were Koalas, which we hoped boded well for our not-so-secret wish to get a chance to actually hold the cuddly creatures – and were thrilled that our old friends were all with us. We finally met Rachel — one of our blue-shirted group leaders from Event Architects, who we had talked to over the phone many times in hopes of convincing her to send us to the Great Barrier Reef — and took pictures with a cardboard John Travolta, sampled Australian treats and listened to didgeridoo music. We were handed Qantas bags filled with Australia guidebooks, a hat, a water bottle and comfy pajamas for the long flight. We even received Motorola cell phones to use in Australia.
By the time we actually boarded the plane at midnight, we were physically and emotionally exhausted. The flight was easier than we had expected (thank you, Ambien!) and, after 14 hours in the air and many months of anticipation, we landed in Sydney!
We had been warned that the paparazzi were out in force and that we should just smile and walk by them. "No problem," we laughed, rolling our eyes. It was such a funny concept – why would the press care about us? – that we couldn't even take it seriously. Until we walked off the plane.
As the Blue Shirts (our loving nickname for the amazing people from Event Architects who we quickly came to depend on for everything) quickly ushered us through the airport – and let me assure you that going through Customs (and life, for that matter) is much easier when you're with Oprah – we were surrounded by reporters screaming out questions and shoving cameras in our faces. Wow!
We were happy to get into the safety of the bus, and were awestruck when we pulled up in front of the InterContinental Hotel Sydney to find a red carpet laid down the stairs for us, with the staff lined up on both sides in their crisp uniforms and a traditional Aboriginal smoke ceremony taking place to bless us as we entered. The staff applauded us as we walked up to the hotel, and the General Manager shook each one of our hands and greeted us personally when we reached the top. This is the kind of welcome the Royal Family gets! It was touching and very humbling, and was topped off with the gorgeous voices of the St. Andrew's Children's Choir, which was performing for us inside.
Because there were three of us, Susan, Amy and I were prepared to take turns sleeping on a pull-out couch – we tended to forget we were with Oprah! – so you can't imagine our joy when we were each given our own room with a king-sized bed, breathtaking views of the Sydney Harbour and a welcome bag from the Intercontinental. We laughed when we discovered we had each taken a photo through the cute little window between our bathroom and bedroom straight through to the Sydney Harbour.
After settling in for ten minutes, it was time for the big briefing when we would find out where each of the eight groups would be going for its three-day excursion. So, over a buffet lunch (we were going to gain 10 pounds on this trip if we kept eating like this) and the gift of beautiful bags that were truly pieces of Aboriginal art — we were introduced to the generous people of Tourism Australia.
Finally, it was time to announce the destinations we had all been guessing at for months. We held our breaths – the Koalas were going to … Hamilton Island in Queensland! We all applauded enthusiastically; we knew we'd have a good time wherever we went. Then, because the response was obviously not loud enough, the announcement continued … "Queensland, the home of the Great Barrier Reef!" Oh, why didn't you say that originally?! We went wild! We were going to see one of the Seven Wonders of the World, and we mouthed a grateful "thank you" to Rachel, who just smiled knowingly.
Happy, happy, happy, we were off to our first activity of the trip. We had been given a choice between a bike ride or walk through Sydney or a tour of the Sydney Opera House, and it seemed like a no-brainer to us. This would be our only chance to get a private tour inside the Opera House and we weren't going to miss it.
As we walked over to the Opera House, donning our Oprah lanyards which we were told not to leave home without (unless we were walking alone, in which case we were advised to go incognito so as not to become any kind of target), people on the street waved to us, smiled and called out one warm "welcome" after another. It was amazing.
Harpo cameras followed us as our tour guide, Natalie Moran, took us into the hallowed halls of the Sydney Opera House (which, for the next eight days, would be referred to as the Sydney Oprah House). We were given a rare opportunity to watch rehearsals for both the Sydney Orchestra and the Australian Ballet and to learn about the building's innovative architecture. We ended the tour with a glass of champagne and were ready to leave, totally content and satisfied, but were called back and asked to have a seat on the steps of the lobby where we were welcomed by Richard Evans, Chief Executive of the  Opera House, and treated to a truly special private performance by celebrated pianist Simon Kenway and soprano Penelope Mills. Why can we never remember that everything is done in a big way in Oprah Land?! Mills' "Ave Maria" gave us all goosebumps, and the two graciously posed for photos with us afterwards.
Next stop, as though we hadn't been treated to enough in the five hours since we arrived, was a luxury cruise on the Captain Cook Cruises' MV Sydney 2000. We cruised through the beautiful Sydney Harbour, filling ourselves with cocktails and hors d'oeuvres as we headed to the Taronga Zoo. We were once again divided into small groups and excitedly went off with our wonderful guide, Amber Castle, to watch an incredible bird show, visit an adorable baby elephant, follow a renegade penguin and take a picture with a koala!
As animal lovers, we enjoyed every minute of our tour — which ended with a twilight Aussie barbeque buffet overlooking Sydney Harbour. The food, the setting and the view were all spectacular, and we were so excited about the stuffed koalas the Zoo sent us each home with. We had such a wonderful night getting to know the people at our table and marveling at the amazing gift Oprah had given us.
At one point during dinner, after we kept reminding each other, "And this is only day one!" Susan turned to me and said, "It doesn't get better than this." The woman next to her snapped to attention and told her, "You never say, 'It doesn't get better than this.' Instead, you ask, 'How can it get better than this?' and let the universe show you how."
That was life-changing advice which we passed on to all our fellow Ultimate Viewers and that we continue to live by now.
We went to bed that night after watching the late news filled with stories of our arrival and surrounded by the Australian newspapers welcoming Oprah on their front page.
Our last thought, before falling asleep with smiles on our faces, was "How can it get better than this?"
We would soon find out the answer to that …