my weekend at the park hyatt aviara for the kia classic
For the past three years, we've been lucky enough to get a new Kia to test drive up to the Park Hyatt Aviara for a weekend at the Kia Classic LPGA tournament.
I will write about this year's model — the 2016 Kia Sorento — separately because, well, you know how much I love the Sorento. But I want to tell you about the Park Hyatt Aviara and the Kia Classic so you can start making plans to come next year.
The Park Hyatt Aviara is gorgeous. It's lush and tropical and totally luxurious.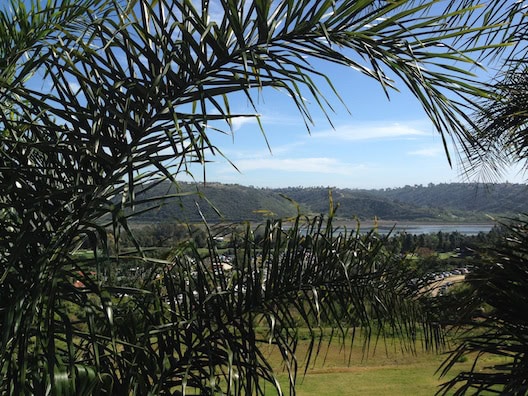 Michael was busy so Sara, who just happened to have come home that day, volunteered to spend the night with me. What a dedicated daughter I have! We had a fun dinner with our Kia friends at Union Kitchen in Encinitas (you have to try the sweet potato ravioli) and then settled into our comfy room – which was so comfy, we slept until almost 9 a.m. That is unheard of for me.
I was scheduled for an 11 a.m. massage but was definitely not going to miss the breakfast buffet so we got dressed fast and headed down to California Bistro.
You see, the hotel is only 20 minutes from our house so we've enjoyed many special meals there over the years, including a couple of outstanding Thanksgiving buffets. We love the food at Aviara!
New on the breakfast menu, at least to us, were these amazing pretzels which go surprisingly well with scrambled eggs and bacon. Who needs boring old toast when these are available?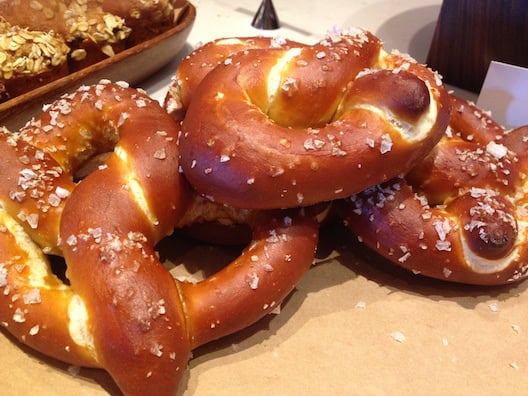 We took a couple for the road and Sara went out to the pool while I made my way to the spa for one of the best massages I've ever had. My therapist, Angela, smoothed out so many knots in my neck, back and shoulders, I hope she's on vacation now because I'm sure she was cursing me by the end. She told me I could use a session just dedicated to my feet — yes! yes! Dear Park Hyatt Aviara, let's discuss.
After a steam, sauna and shower, I somehow made it out to Sara, who was lounging happily at the adults-only pool. We ordered salads and pina coladas for lunch and talked for hours, making up for lost time together. It was truly a highlight of a fantastic weekend. Then I spent the rest of the afternoon like this: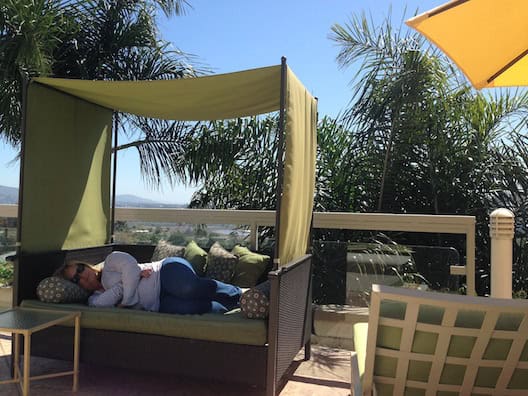 While I was napping, Michael was picking up my dear friend, Sherry, who was visiting California from New York and who was joining us for dinner at Argyle Steakhouse, Aviara's mouthwatering restaurant overlooking the golf course. One of our favorite things about Argyle is that they give you a basketful of popovers with your meal instead of plain old rolls. These babies are light and airy and, oh, so delicious. Last year, the waiter even packed up an extra box for us to bring back to our room! This year, Kia publicist extraordinaire, Emily Grannis, and I started planning our own popover popoff. Stay tuned because this promises to be epic.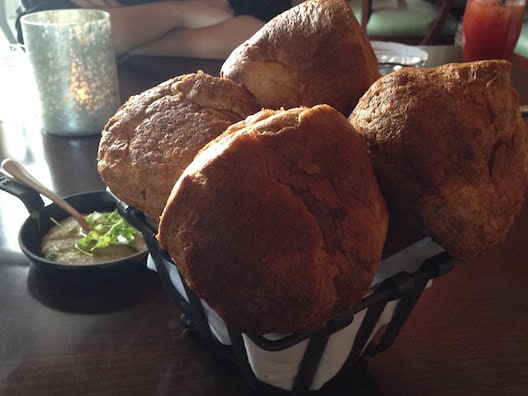 I can't even tell you how good our dinner was. If you visit San Diego, do yourself a favor and have a meal here because it is a real treat.
On Sunday, I took Sherry to watch the Kia Classic. We got to see the players practice, and it was fun to watch Pink Panther Paula Creamer.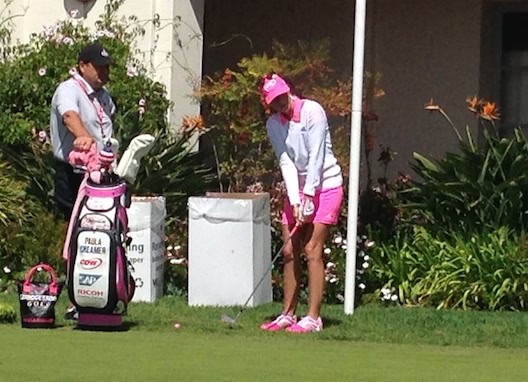 We had the best time even though Sherry knows nothing about golf and the little I know is because Michael LOVES golf and was once Club champion of La Costa. Honestly, it's hard not to have an amazing time when you get to watch the tournament from here: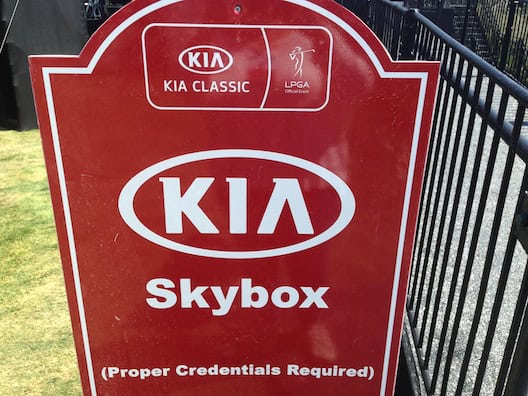 And, yes, thanks to Kia, I had the proper credentials.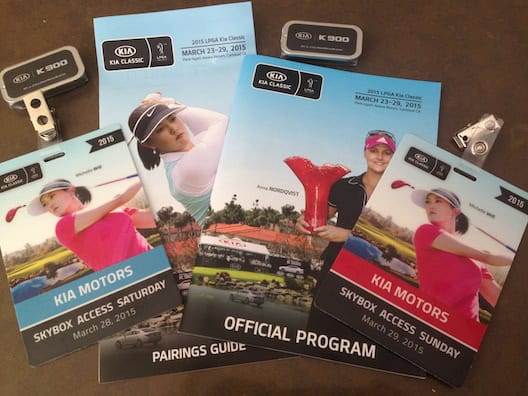 We got to see The Michelle Wie, who just happens to be a Kia ambassador,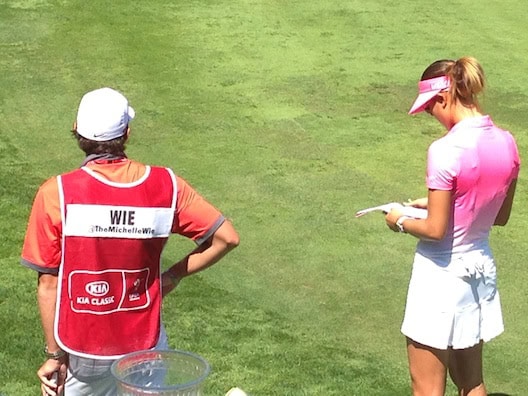 we used the fancy Portapotty (have you ever seen private stalls with wooden doors in one before?!),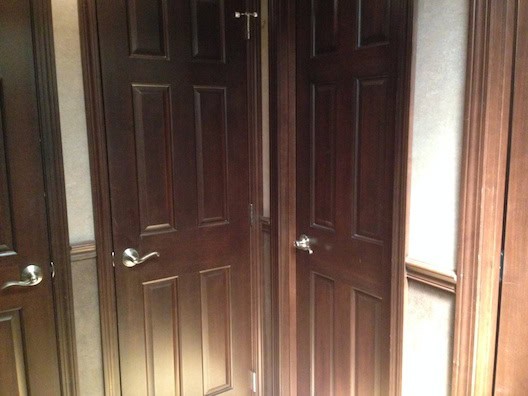 we admired the view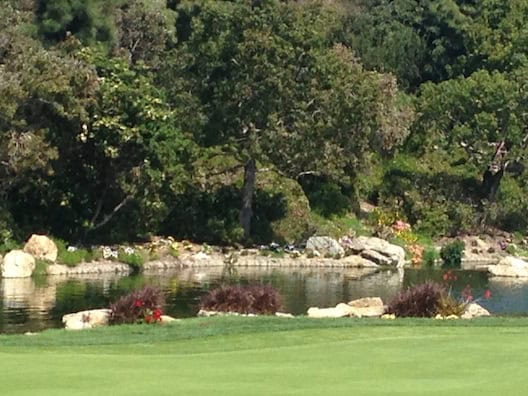 and took an obligatory selfie.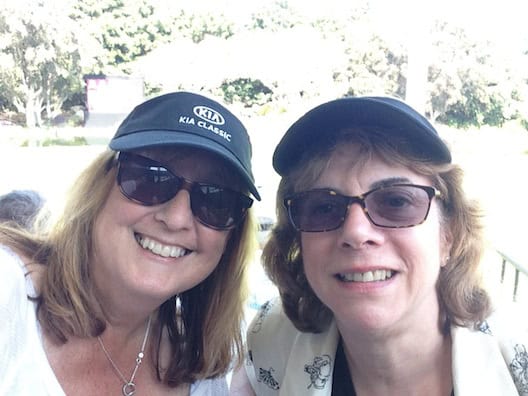 We obeyed when we were asked to chill out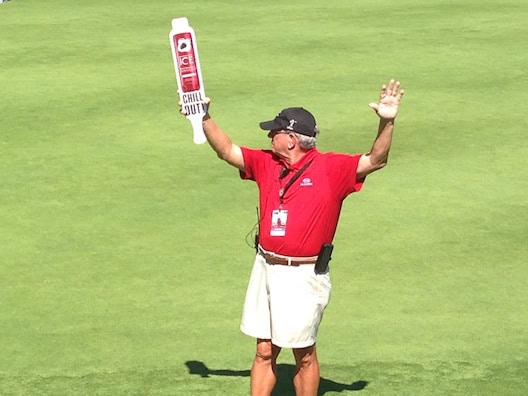 and so did this caddy. Ha ha!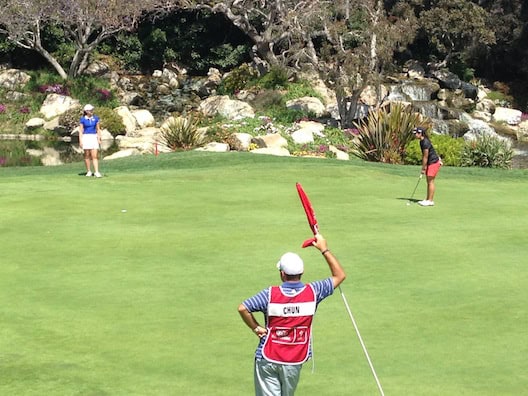 We enjoyed filet mignon for lunch and a relaxing afternoon watching top-notch golf.
It was another great weekend, and I can't wait for next year. Meanwhile, look at this photo I took of our next car (!), the K900, in the water. Doesn't it look like it's straight from a magazine?!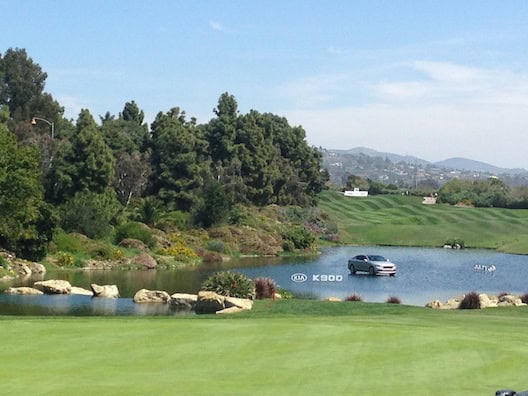 It's just further proof that pictures come out best when you have a deep love for the subject.