karma relaxation spa lives up to its name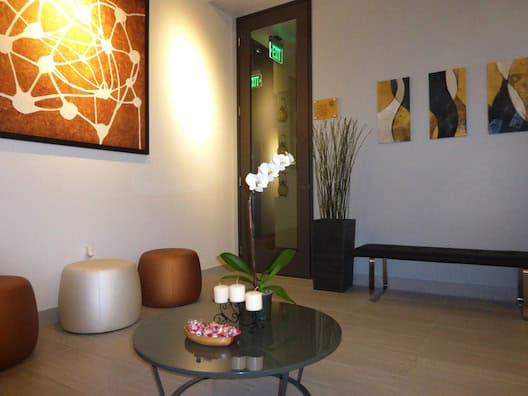 There's nothing more fun than introducing you all to great new places I've discovered — and then having you experience them yourselves. Because I don't want to steer you wrong, I won't write about something without trying it myself first. So, last week, I took a couple of hours out of my busy schedule to diligently check out the brand new Karma Relaxation Spa in Carlsbad.
Ha ha! This is why I love my job.
This is the second location for the popular spa, which has developed a loyal following since it opened in Hillcrest in 2010 — and it's easy to see why.
Karma is a Chinese massage spa specializing in therapeutic bodywork, and what's amazing about it is the quality of its treatments, especially considering its affordable rates (one hour massages start at $46 and all multiple-therapy treatments are priced under $150. I will definitely be scheduling this into my calendar on a regular basis).
I signed up for a 30 minute massage on top of the Body Revival package, which consists of a 30 minute body detox, 15 minutes in the Infrared Light Sauna and 15 minutes on the Trio Vmax Whole Body Vibration Machine. As the publicist wrote me, "You know you are curious about a Whole Body Vibration Machine." Well, yes, I was, and I bet you are too.
The massage was first, and — wow! — my therapist, Yoki, was excellent. She worked those knots in my back to the point where I groaned once and she informed me, "Hurt now. Feel good later." She was right. She sat on me, she karate chopped my upper back and kind of punched the arches of my feet with her fists.
I know that sounds violent but it was totally invigorating and I had to hold myself back from begging for more. (Note: She is a trained professional. I don't want anyone else doing these things to me!)
Let me tell you that 30 minutes is good — but an hour would be even better. Ninety minutes would be heaven, and there's even a two hour massage (which is only $79 right now – go make your appointment!) which I have to believe would lead to total bliss.
I wish we had ended with the massage rather than starting with it but I then moved on to the state-of-the-art Infrared Light Sauna. I had read up on this beforehand and learned that studies show it's actually a great way to treat sore muscles and sports injuries, using the healing properties of sunlight minus the dangers. I can't say if it specifically helped anything for me but it was very relaxing.
It was then on to the detox, which consisted of lying back on the massage table with my feet soaking in a special bath of salt water designed to clean out and balance the body's energy. It would have been much more comfortable to have been sitting in a chair to do this but I do enjoy a nice foot soak and I found it fascinating when Yoki looked at the water afterwards and showed me the chart explaining that the orange color meant that the detox mostly occurred from my joints. That seemed accurate to me.
Last and probably least was the Whole Body Vibration Machine. Basically, you stand on it like a treadmill, turn it on and it shakes/vibrates your body. I had read about this, too, before I tried it, and although there is some evidence that it helps you lose weight, it's still being studied. I was a couple of pounds lighter at my Jenny Craig weigh-in the next morning but I think I'll take most of the credit for that myself!
All in all, I loved my time at Karma Relaxation Spa and can't wait to try some of the other treatments on their surprisingly extensive menu, like the Tuina Massage (which incorporates martial arts), the Double Indulgence (two therapists, four hands) and Chinese Reflexology (it's all about the feet). The spa also features facials, waxing and aromatherapy.
This would be a great place to spend the day with girlfriends, getting a number of treatments and just breaking for lunch at one of the restaurants in the shopping center. You could try a variety of treatments for less than the price of one massage at most day spas.
Oh, San Diego friends, who's in?