rome — family style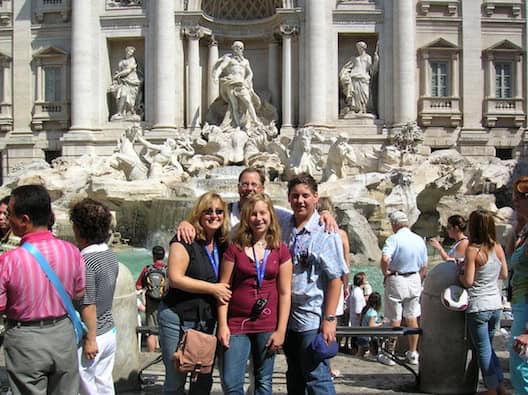 A friend of mine recently asked me what I thought about taking their kids to Rome with them, since we had done that many years ago. I can understand why the idea may be intimidating because, after all, Rome has a kind of wild and romantic reputation and definitely an adult vibe.
But, of course I said to take them because, as you know, I'm a big believer in the value of family travel. And, as the largest city in Italy, Rome's got a rich and colorful history that will interest kids if you present it right and treat them to pizza and gelato between activities!
Alex was 16 and Sara was 14 when we visited, so I did a little research to see what attractions other travelers recommended for younger children. This got me feeling all nostalgic about our own trip, and I started polling my friends for their must-sees with kids. Hey, I will be a grandma one day and need to be prepared.
Kids love zoos, and this one features 42 acres of gardens, habitats and enclosures where you can observe over 200 different species of wildlife. The zoo's mission is to educate visitors on the importance of conservation, and there are always lots of activities and special events going on. We didn't have time to visit but, as you can see from the sign outside the Colosseum, below, Bioparco is conveniently located in the center of Rome. It's open every day during the summer, and is a great alternative to museums and churches, which kids can only tolerate for so long.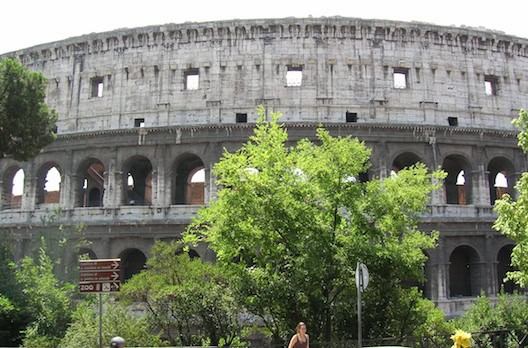 2. The Colosseum
I will never forget my family walking down the street, innocently turning the corner and being confronted with the Colosseum. It is a truly remarkable sight which absolutely took my breath away. I found it very humbling to realize this iconic symbol, perhaps the most recognizable sight in Rome, has been standing since the year 80 AD. Designed to hold over 50,000 people, the huge amphitheatre is considered one of the greatest works of Roman architecture and inspires plenty of photo opportunities. Your kids will love the fact that gladiators once fought here, and their imaginations are likely to work overtime.
A number of friends agreed that the best way to experience the Colosseum is with a professional tour guide. They recommended City Wonders, which specifically offers a family tour of the Colosseum. The company handles tickets and reservations, limits groups to 25 or less to ensure a more personal experience, and brings the Colosseum to life for both kids and adults through fun facts and behind-the-scenes stories. I wish we had done this because it would have provided a richer experience than walking through on our own.
Now, here's a museum young children will love because it's geared right for them! Not only does it feature a variety of interactive activities, but kids under the age of three are admitted free. To avoid overcrowding, visits to the museum are limited to an hour and 45 minutes and, on weekends and holidays, you're required to book your tickets ahead of time. One of the best things about the Explora? Watching your kids play with the local children, and realizing that having fun together overcomes any language barriers. As for toddlers, who aren't even verbal yet – well, their smiles will say it all.
Although I've visited Rome alone with my husband and together as a family, I'm now eager to go back again one day – with my future grandbambini.