book review and giveaway: "a fall of marigolds"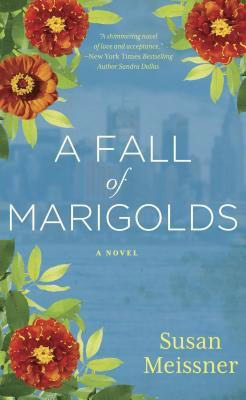 As I get older, I seem to be drawn to historical fiction, appreciating more than ever the importance of passing down stories from one generation to the next.
Susan Meissner's new novel, A Fall of Marigolds, seamlessly blends the past and the present in a compelling and beautifully-told tale about a flowery scarf that ends up connecting two of New York City's most tragic events: the Triangle Shirtwaist Factory fire in 1911 and the attack on the World Trade Center almost a century later.
The novel tells dual stories of two women struggling with loss. The characters are likeable and easy to relate to, and I quietly rooted for them throughout their grieving processes and their efforts to make peace with their painful pasts.
Clara Wood is a nurse on Ellis Island, where she is biding her time, numb, after surviving the fire which took the life of the man she was sure she would marry. As she cares for a patient whose wife died of scarlet fever while crossing the ocean, she is forced to make a difficult ethical decision which will ultimately change the course of many people's lives, including her own. I spent so much time thinking about what I would do in her situation that I started reading faster and faster. I hope you'll read this book soon because I'm curious to see what you would do, too!
In 2011, Taryn Michaels is still reeling from the death of her husband on September 11. She's caring for her daughter and working at a high-end fabric store, when a photo surfaces that rocks her world and brings her back to that devastating day.
Although we meet Clara and Taryn at their most fragile, it is empowering to watch them get stronger and triumph. Both stories are raw and emotional, but Clara's is the one that has me lying in bed at night, debating with myself. Because her decisions end up impacting Taryn's life so many years later, her chapters are somewhat richer and more complex. They're also fascinating in capturing a period of time when so many people risked their lives and came to America, full of hope and dreams.
"Everything beautiful has a story it wants to tell," reads the motto of Taryn's store.
Meissner has woven her own rich yarns into a beautiful piece of art which tells a story about the fabric of our lives that's as warm and enveloping as the scarf at the heart of it all.
Leave a comment below for a chance to win a copy of A Fall of Marigolds. Winner will be selected at random on February 11 at midnight Pacific time. Prize can only be sent to a U.S. mailing address.