get your box of books!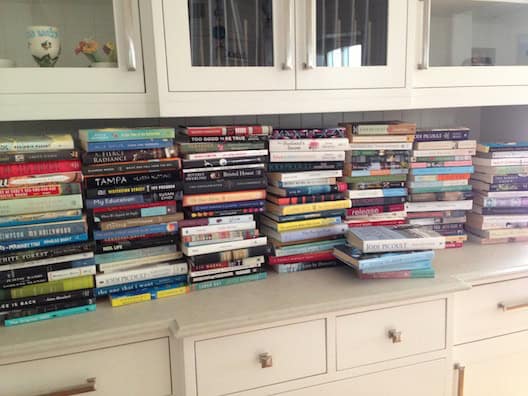 With summer coming, many of you have asked me to offer another Boxes of Books promotion. My husband has made the same request because books are literally falling out of every space in the house.
All you have to do to get a big fat box filled with great summer reading is follow these steps:
1. Write a check for at least $20 per box ($12.30 goes to the flat rate shipping, the rest will go to a charity to be determined) made out to Lois Alter Mark. Readers have always been extremely generous, and contributions have been made to non-profits that support breast cancer research, domestic violence prevention and children in need.
2. Enclose a piece of paper with your name, mailing address and email address. Be sure to tell me which of these genres you prefer (mention as many as you'd like): fiction, literary fiction, historical fiction, chick lit, mystery/thriller, cookbooks, self-improvement, biography, crafts, memoir, non-fiction, anything I've forgotten. I can't promise but I always try and often succeed in fulfilling these requests.
3. Put the check and the paper in an envelope addressed to Lois Alter Mark, Midlife at the Oasis, 3525 Del Mar Heights Road #582, San Diego, CA 92130.
Your box will include at least $100 worth of books plus I try to throw in a DVD or whatever other goodies I may have on hand, thanks to my generous publicist friends.
Don't wait! These boxes go really fast, and it's so much fun to get one of them in your mailbox. You can also order them for your friends, sisters, daughters, moms, whoever. Just remember to include their names and addresses as well, and let me know if there's anything specific they like. You can include a note for me to stick in their box or I can write one myself. I love when you share these with the women in your lives.
Everyone is always happy with their boxes, and that makes me especially happy.