"the compassion code" by laura jack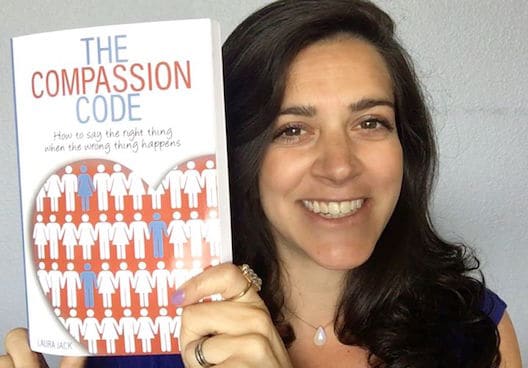 If there's one thing we can all agree that the world needs right now, it's compassion.
So many of us are hurting, and we need to find ways to help each other heal.
When I saw that Laura Jack had written a book, The Compassion Code: How to say the right thing when the wrong thing happens — and that it had already become a bestseller — I kind of felt better about the future.
I met Laura years ago and immediately felt a bond with her. She is kind and funny and smart, and someone you want to hang out with.
Laura lost her mom in a tragic car accident, and she went on to become a Certified Grief Recovery Specialist so she could help others. She is on a mission to cultivate a culture of compassion — something that is sorely lacking right now.
"While you may not always know what to do or say when people share the challenging moments of their lives, one of the most important things to remember is that compassion is a skill that can be developed and improved," says Laura. "I wrote The Compassion Code because I want more people to feel confident that they have the right response when someone says, 'My mom died, my best friend is ill, I am going through a divorce, I got fired, or we have to move.
"This is life," she adds. As human beings, one thing we share is that we all experience loss on some level. When we can be less afraid of each other's experiences and emotions by knowing how to respond compassionately, we can have less isolation and heartache, and more love and connection."
Here's an excerpt from The Compassion Code:
"I wasn't born knowing what to say or do when people are suffering. On New Year's Eve of my senior year in college, I received the news that a good friend of mine from high school had lost her mom. I was stunned and my reaction was, looking back, a bit surprising.
I did nothing. I didn't call. I didn't go to the funeral. I didn't write.
You may be thinking that I was a terrible friend. How did I live with myself? Well, I justified it. I thought to myself, I haven't talked to her in several years. She doesn't want to hear from me. I don't want to bother her. I don't know what I would say.
At that point in my life, I considered myself a compassionate person. I deeply cared for people and loved my friend, but my response was anything but compassionate. Why?
I was scared. I simply didn't know what to do or say, and I was deeply afraid to say the wrong thing.
While I had been through a few loss experiences myself, I had always been able to find a reason that it had worked out for the best, a silver lining. But I couldn't think of a silver lining this time, so I merely resorted to radio silence.
What I know now, and why I tell you this story, is that it was not about being compassionate or not, it was about not having the tools, understanding, or experience to best support my friend. For years, I was incredibly hard on myself for how I responded in that situation. Now, I have compassion for myself that I simply didn't know, and now I get to do better."
We can all do better. And, if we do, the world will be a better place.
I'm joining Laura's Army of Compassion and hope you will, too. You can buy The Compassion Code here.