my best advice in six words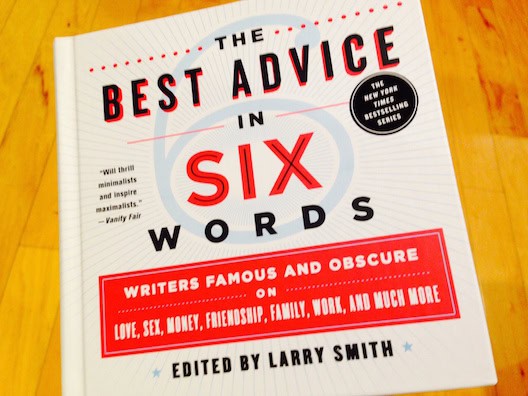 I got a very nice email the other day saying, "We're delighted to feature your words in the latest book from the Six–Word series, The Best Advice in Six Words. Your advice was selected from tens of thousands of memoirs in consideration via sixwordmemoirs.com, Facebook, Twitter, LinkedIn, and Quora."
What?!
Honestly, I couldn't remember what I submitted. The whole thing sounded vaguely familiar and I kind of remembered writing something but I had absolutely no idea what it possibly could have been. (Six-word advice for the future: Keep a record of your work.)
So I was very happy when my contributor's copy of the book came today, although I was a little nervous to find out what I wrote.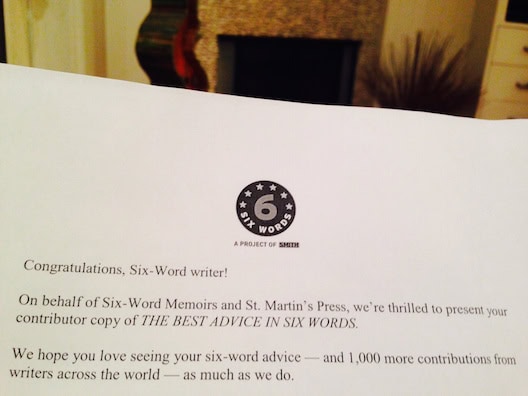 Of course, they don't tell you what page your contribution is on (page 154 for future reference) so I skimmed through the whole book, looking for my name and getting more concerned as I read well-thought-out entries by some of my favorite writers like Elizabeth Gilbert ("Chances are, your editor is right"), Ayelet Waldman ("A heartfelt apology resolves most conflicts") and Graydon Carter ("No more writing without getting paid").
And then I found mine.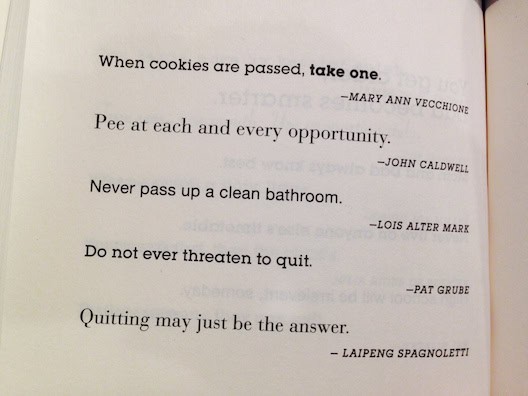 Okaaaaaay.
It may not be the advice I would have given at a younger age and it may not be the most profound but, hey, it's worked for me.
I've always loved the Six-Word series — I think the whole idea is brilliant — and I'm actually really proud to be included in this book among big names like Secretary of State Madeleine Albright, Maria Shriver and Julianne Moore. There are so many clever entries, and if you followed only the advice submitted here, you'd be in pretty good shape for life.
But I bet you can come up with some more.
In fact, if you leave your own six-word advice in the comments, you may win a copy of the book. For a second chance to win, Tweet this:
Contest ends on November 15 at midnight Pacific time. Prize can only be sent to a U.S. mailing address.
My best six-word advice for this contest? Can't win if you don't enter.