shorebreak hotel, huntington beach
If you want to experience an upscale version of the quintessential Southern California surf culture, you have to spend a night or two at the Shorebreak Hotel in Huntington Beach.
With its sophisticated surfer vibe, this signature Kimpton boutique hotel does what Kimpton does best — it captures and celebrates its local neighborhood while offering impeccable service and lots of amenities.
Be prepared for a lot of photos because when Michael and I were invited to stay there a couple of months ago, I couldn't stop snapping away.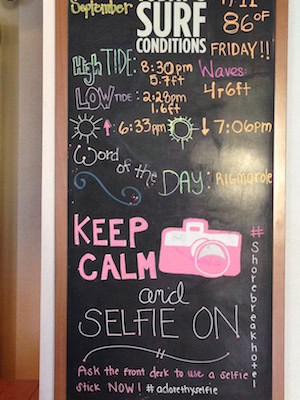 From the minute you step into the lobby, you know you're in Beach Boys territory.
There's unique art everywhere, and it's all about the surf.
Just check out the blackboard by the desk: it tells you the times for sunrise and sunset, high tide and low tide and it lets you know how high the waves are.
With the Pacific right down the street, this is a beach lover's paradise.
The vibe was so chill (yes, I have turned into a Southern Californian) but the digs were so luxe, we felt at home right away.
I love interesting art and design, and I was smitten by everything here, like this biker dude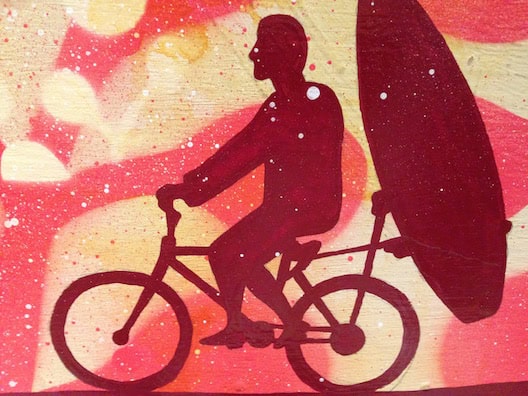 and this little surfer girl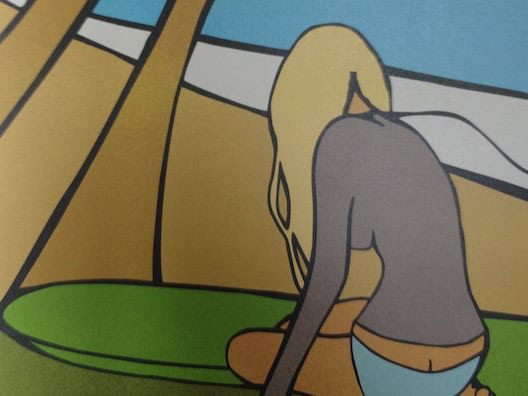 and I enjoyed checking out who graced the door of each guest room. This was our patron saint: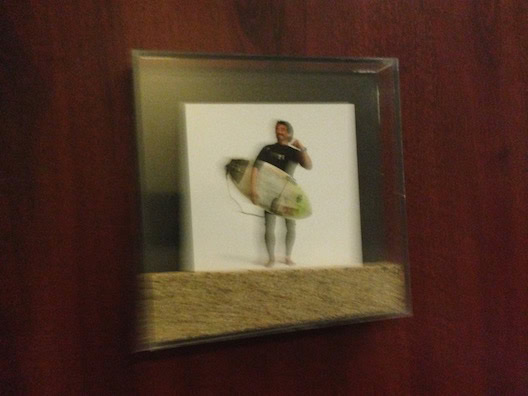 I got a kick out of this couch in the lobby, inspired by pool noodles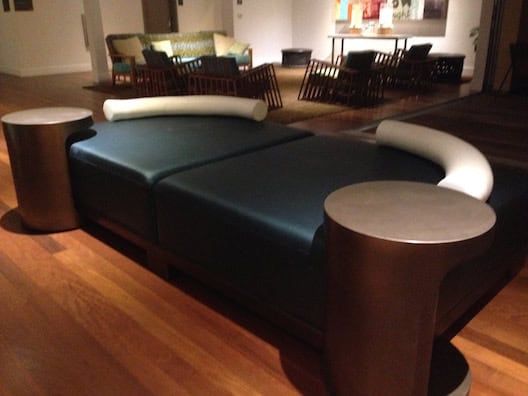 and this piece of art made of boating rope.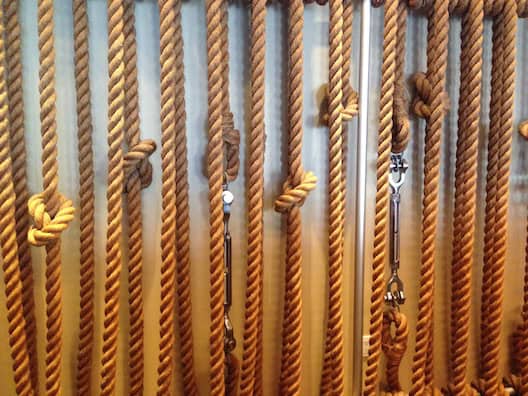 Of course, there was a water station in the lobby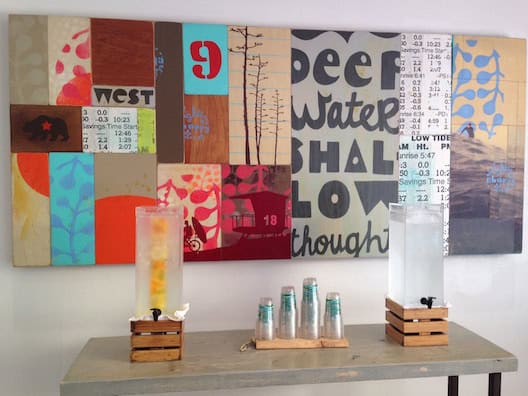 and if you didn't bring your own surfboard or bike,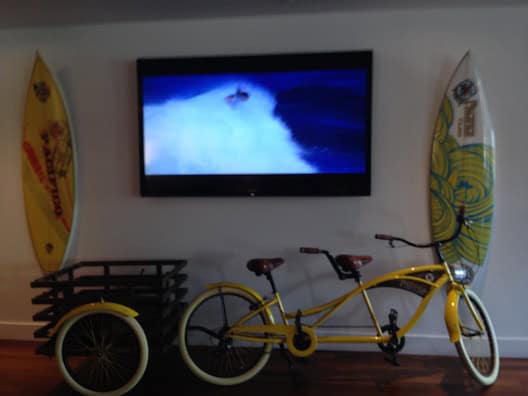 you can borrow them from the hotel.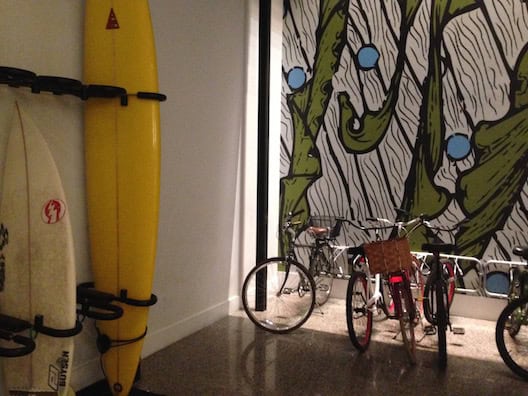 We, of course, knew we were at a Kimpton because of the dog-friendly welcome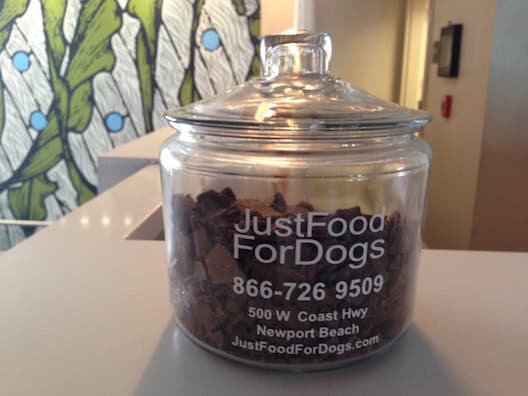 and, when we got to our room, our robes awaited.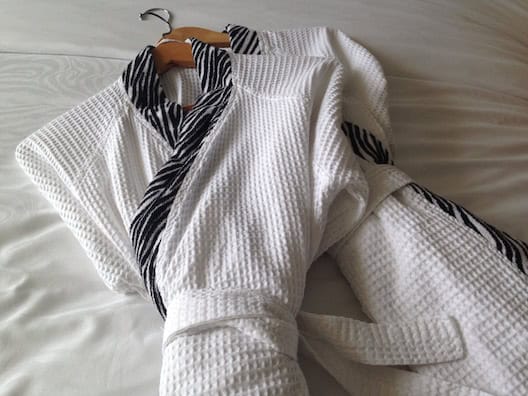 We could see the beach luring us from our room
so we headed out, and got a chance to watch the pros play beach volleyball.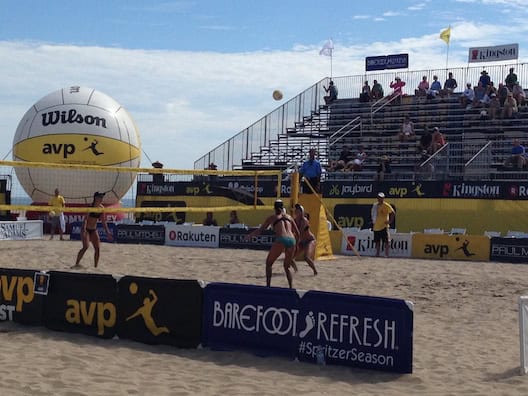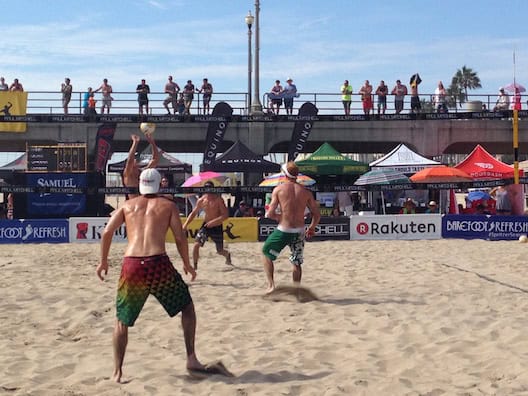 We took a walk along the boardwalk, where we got lots more information about the surf conditions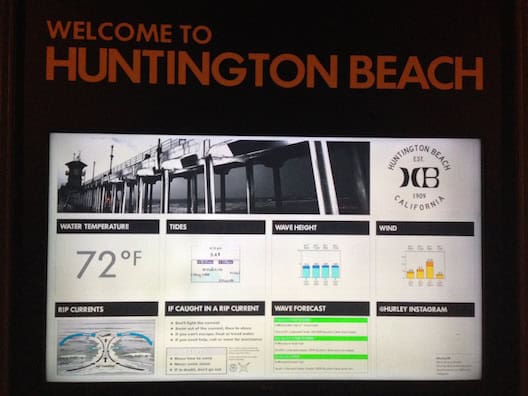 and, when we walked back to the hotel, we got to see some of the surfers who have been named to the Surfing Walk of Fame.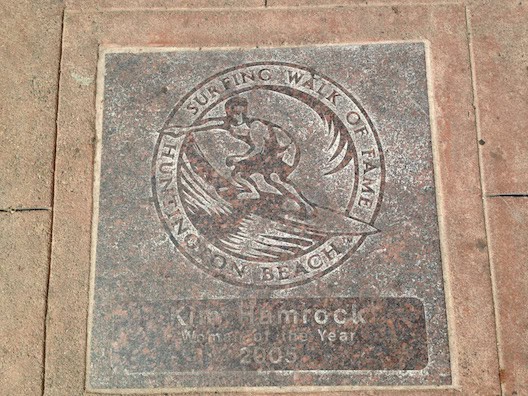 Of course, all of that sea air made us hungry so we stopped in across the street at Bruxie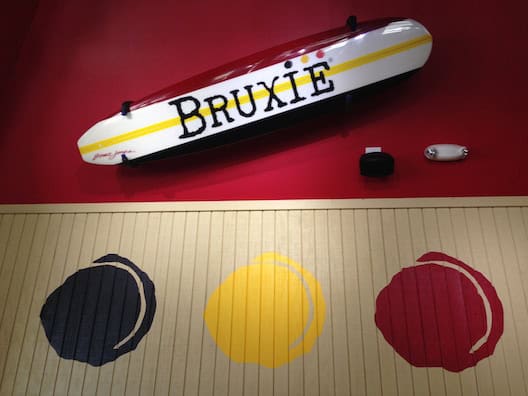 for an amazing, chocolate-filled waffle. Or two.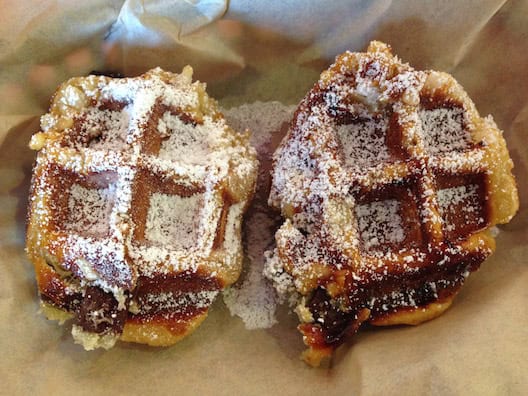 Back in our room, we took showers — look at the double shower heads! —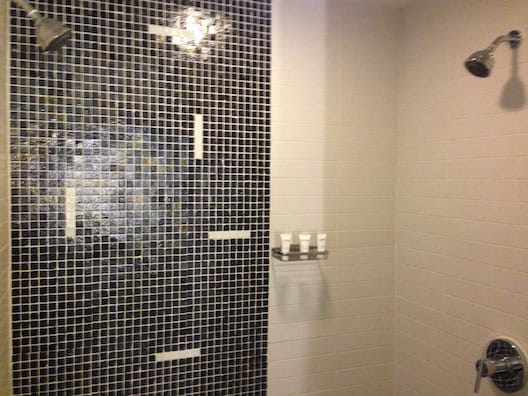 and had some fruit to offset the waffles.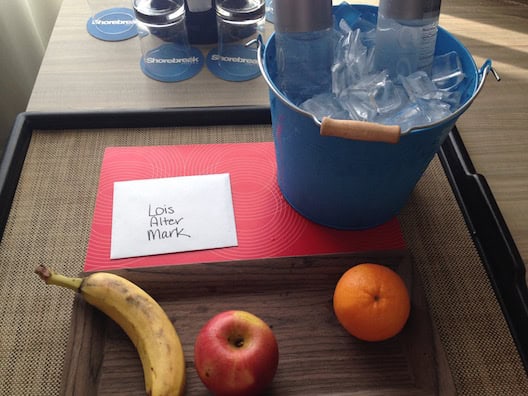 Just like all Kimptons, they had a great mini-bar and if you're a Kimpton Karma member — which you should be — you always get a $10 credit to use it.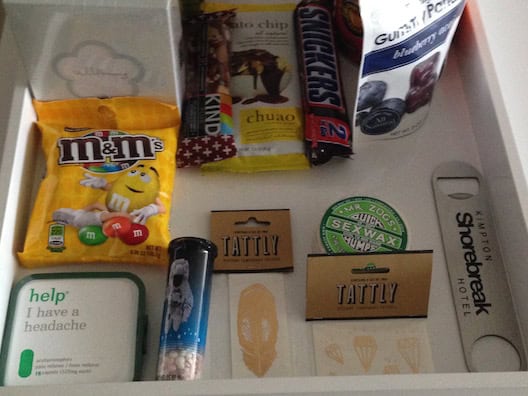 After a spectacular dinner at Zimzala, which I will have to tell you about separately because it totally deserves its own post, we checked out the games in the hotel lobby. There was a ping pong table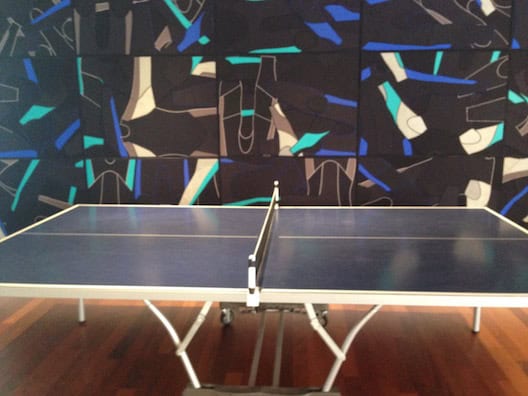 and my favorite childhood game, Connect Four.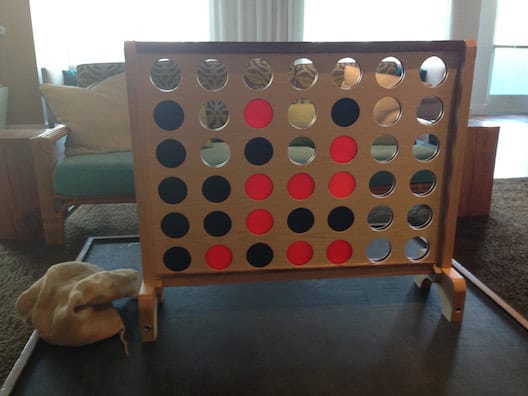 We had a great sleep, lulled by the sound of the ocean, and were sad to have to check out the next morning.
Just looking back at these photos, I'm already feeling a wave of nostalgia and can't wait to go back and see this sign again.
P.S. This month, Shorebreak and fellow SoCal Kimpton hotels, Palomar and Solamar in San Diego, are offering special "Flash Yo 'Stache" rates to raise awareness for Movember. Post photos with your 'stache — don't worry, they'll give you one if you don't have your own — on Instagram and Twitter, tagging the respective hotel, #flashyostache and #Movember. "Flash Yo 'Stache' rates start at $179 at all three hotels, with promo code PSTCH.