"elaine stritch: shoot me"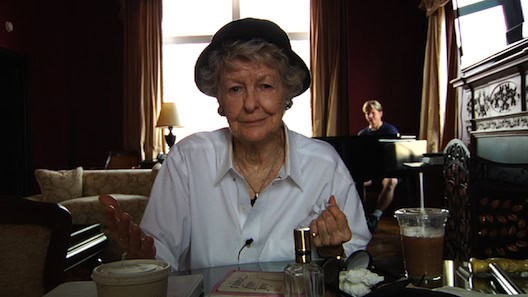 The other day, I wrote about the inspiring young girls in the must-see documentary, Girl Rising.
Today, I watched a documentary about another inspiring female that I have to share with you. At 89, she's just a little older than those girls.
Elaine Stritch: Shoot Me follows the legendary Broadway star as she prepares for what she knows will be the final act in her famous career. With her gigantic round glasses, she is quite a character – "complicated and eccentric" is how Hal Prince describes her – and it's fascinating to watch her fight her way through tough songs and lyrics while the effects of aging threaten to steal the spotlight.
Never one to back down, Stritch is determined to get out there and make the audience love her. And despite being crotchety, stubborn and very very direct, somehow she always does.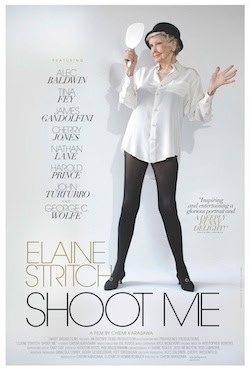 Stritch is so real and charismatic, it's no wonder she's won over some of the biggest names in show business. There's a funny but poignant moment when the late James Gandolfini (to whom the film is dedicated) says, "If we had met when we were 35, we would have had a torrid love affair that would have ended badly."
Tina Fey calls Stritch a "great role model" because she's "confident, brassy and she doesn't wear pants." Seriously! Stritch looks amazing in her signature white oversized button-down shirts over black stockings. To have legs like that at any age is a gift; to have them in your eighties, well, wow.
Although Stritch struggles with diabetes, alcoholism and those pesky effects of aging, she doesn't shy away from talking about any of it. "Everybody's got a sack of rocks," she shrugs, quoting her late husband.
Seeing the personal photos and clips from Stritch's prolific career is like taking an insider's tour of old Hollywood and the theater world. Stritch was nominated for five Ton Awards and won three; she's been nominated for eight Emmys, winning three; and she's starred with leading men like Rock Hudson, who she also dated along with Ben Gazzara and a young John F. Kennedy.
It's empowering to hear Stritch admit, "I like the courage of age. You get away with murder."
She'll never be one of the ladies who lunch – the ones she made famous in Stephen Sondheim's Company. You know she'll be taking curtain calls until that final curtain comes down.
So here's to Elaine Stritch. She definitely knows how to live.