"escape to margaritaville" at la jolla playhouse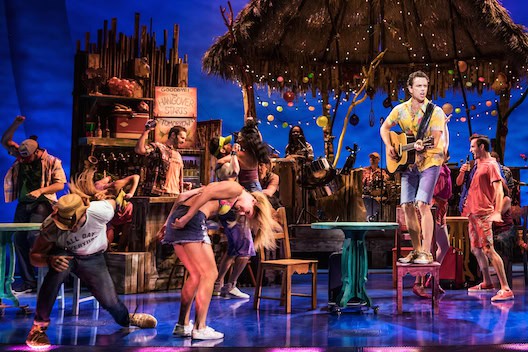 Rejoice, Parrot Heads!
It's always 5 o'clock at La Jolla Playhouse — at least through July 9, now that Escape to Margaritaville has once again extended its record-breaking run.
Escape to Margaritaville is basically Jimmy Buffett's Mamma Mia!  It's a story created from his most beloved songs, and you'll just have to see for yourself how the writers manage to hilariously incorporate "Cheeseburger in Paradise" into the narrative.
This new musical makes its world premiere here, and Buffett wrote three new songs specifically for the show.
The party starts as soon as you enter the theater, which has been transformed into a colorful and welcoming tropical island.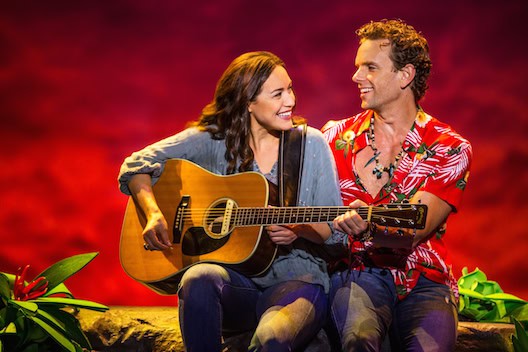 Workaholic Rachel (Alison Luff) and her BFF Tammy (Lisa Howard) head there to get away from the snow and celebrate Tammy's last days of being single. During their vacation, they meet people — like Tully (Alexander Nolan), a part-time bartender, part-time singer — who change their whole outlook on life.
The story is fun but it's obvious the audience is there for the music, and as soon as they hear the words, "It's 5 o'clock somewhere," the swaying and singing along begins.
There's something special about being in a crowd that's totally into the songs, although it's definitely a little disconcerting to hear the La Jolla Playhouse crowd burst out with, "Honey, why don't we get drunk and screw."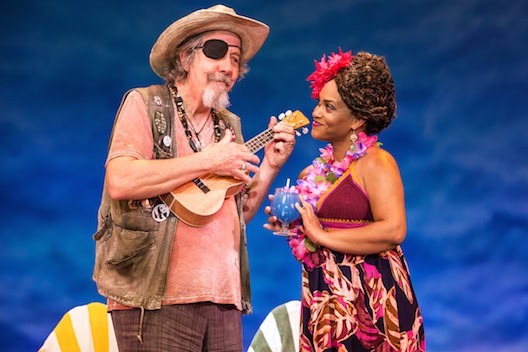 Escape to Margaritaville is a crowd-pleaser and, in spring 2018 it's already scheduled to head to Broadway where director Christopher Ashley just won a Tony Award for another La Jolla Playhouse world premiere musical, Come From Away.
Unlike that profoundly emotional gem, Escape to Margaritaville is simply a guilty pleasure, as light and frothy as a pina colada. But, in these grim times, it's enough to be given, to quote a Buffett song, a "license to chill."
Photo credit: Matthew Murphy