"gone girl" – book vs movie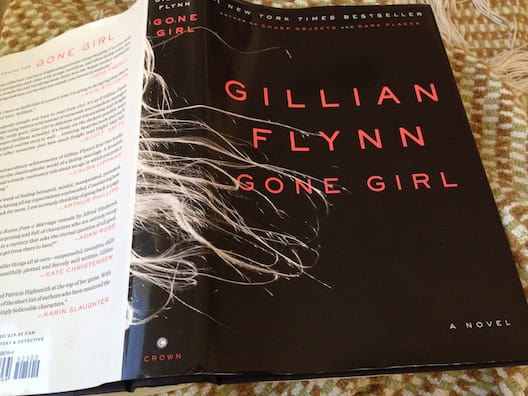 Gone Girl is one of my all-time favorite books and was a truly memorable reading experience for me. I was in bed with the flu, sicker than I've ever been, and I vividly remember just reading along, la la la, until the first twist happened and I suddenly went on high alert, all my senses feeling more alive than they had in days. I then raced through, trying to fight off my fatigue, because I couldn't wait to see what happened. By the time I reached the final page, I was sweating and exhausted and spiking a fever.
Of course, that was probably because of the flu — but I do have very dramatic memories of reading that book.
So I had mixed feelings when I first heard they were making a movie of it. I am a big believer in the idea that not every book should be turned into a movie. In fact, most of them shouldn't.
Gone Girl is a hard story to describe without giving away any of the plot so let me just tell you the basics. On the day of their fifth wedding anniversary, Nick discovers that his wife, Amy, is missing. There are signs of foul play, and Nick quickly becomes the prime suspect.
That's all I'm going to say.
Gillian Flynn's book is so well-written, so twisty turny nail-bitingly good, it just didn't need to be messed with. What makes it such a unique and compelling reading experience is that we get to read Amy's diaries and really get inside her head. The chapters alternate between Nick and Amy's first-person narrations, so we feel like we know them intimately. And that's what makes everything that happens so deliciously shocking.
Because the movie has to show us all of that rather than letting us use our imaginations, it definitely loses something.
Ben Affleck is not who I pictured as Nick but he does a good job even though, at this point, it's hard to get past the fact that he's Ben Affleck. Rosamund Pike, who has an especially juicy role in Amy, looks so much like Emily Van Camp that I had to keep reminding myself I was not watching Revenge.
All of that being said, director David Fincher has crafted this generation's Fatal Attraction. It's smart, thought-provoking and occasionally gasp-worthy.
It's just not as good as the book.