my interview with author jojo moyes, plus a book giveaway!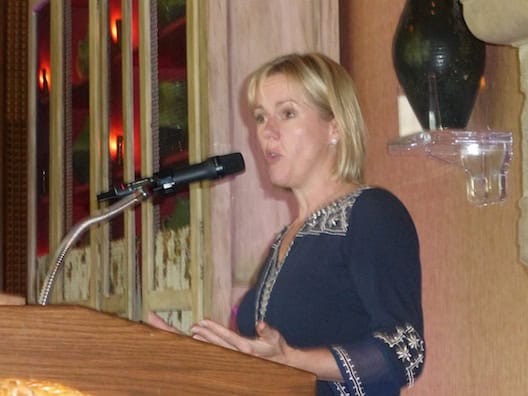 JoJo Moyes wrote a guest post for me years ago, when her novel, The Last Letter From Your Lover, was published. I became an immediate fan and when Me Before You came out, it became one of my all-time favorite books.
I recently got to see her speak about her latest novel, One Plus One, at a luncheon at the Del Mar Country Club, which I covered for the Del Mar Times. It was a great event, and you can read my article about it here. You can win an autographed copy of her book just by leaving a comment below.
I got to spend time alone with Jojo afterwards, and she is so down to earth and so funny, it was like hanging out with a long-time friend. Here's what our conversation sounded like (minus the parts I promised I wouldn't write about!):
You know I've been a fan for so long now.
Thank you! I remember writing that post for you.
And I'm so happy to discover that there are books of yours I haven't read yet. I didn't know you've written 11 books!
Well, a couple of them are novellas.
Those count! How are you so prolific?
I think everyone has a natural speed that they write at, and once I start, I'm pretty fast. The biggest problem for me is picturing the book in my head and working out where I'm going to go with it. The one I'm doing now is the slowest, and it's the longest it's taken me. I think it's partly because there's so much other stuff going on. And, yeah, I'm slowing down. I am slowing down. I can feel it. But I just don't think anyone can carry on working at this rate. And I'd kind of like a bit of time to enjoy the fruits of my success!
Yes, you should be celebrating!
Yes, this year I'm going to take a bit better care of myself and maybe take a few more holidays. I had one week off last year.
Wow. And did you write every day other than that one week?
Not on weekends but often I was working on other stuff on weekends. One week off was not enough. It nearly killed me.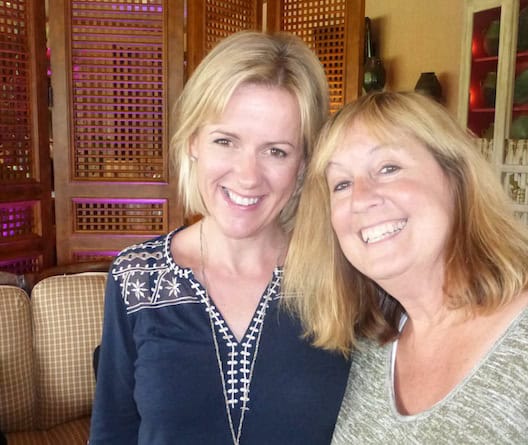 That's an exhausting schedule. It seems like it would be harder, too, because your books are all so different from each other. You don't have one style or one time period you focus on. How do you come up with such a wide variety of ideas?
I think it comes down to my journalistic training from many years ago. You learn to see stories and to keep your eyes and ears open. My husband, God bless him, walks through life and he could not tell you whether the next door neighbor has moved out or something's fallen from the sky. He's so focused on his world. I'm one of those people who just wants to soak everything up. I'm always trying to figure out what makes this person tick, what makes that one do what they did. My brain is constantly going. I always say if I'm sitting in a room with two people, I can get two novels out of it.
That's a real gift.
It's not. It's just called being really nosy!
Do you listen to people's conversations?
All the time!
So we should watch out if we're sitting at a table near you?!
I would never reproduce directly anything I heard but what it does is make me go, "Oh, I haven't seen that kind of person before" or "Hmm, that's an issue I heard somewhere else. I wonder if this is a thing now." Last Letter came about because I was eavesdropping on people discussing text messages. I didn't steal their words but it gave me a wider picture, especially since my cousin had just said she'd never received a love letter and she was in her thirties. I thought, "Okay, something has changed."
And then you somehow tie them together?
Often, it takes months to figure out how to put them together. Like this book I was telling you about that's taken a long time to work out. I had a plot and I had a rough setting but something was missing. I couldn't work out what it was. It wasn't a book yet. And then I literally had a moment a couple of months ago when I woke up at half past five and went, "That's what's missing!" And since I've been here in San Diego, something else popped into my head. Often, you need to let your brain be at rest before the thing actually just sorts itself out in the back of your head.
Exactly! I recently wrote a post about my writing process and how I do my best writing while I'm sleeping. That's when it marinates.
So true. So you would definitely get what I was talking about the subconscious. It's exactly that. It's marinating.
You wake up and it comes out but that's because you've been thinking about it constantly.
Yeah, your book is 40% cooking, 60% actual writing.
Do you tell your kids stories?
I used to when they were little. They loved it. Also, I make our animals into characters. When my littlest was a baby, he used to be King Baby and I would put him on my lap and move his arms around and say, "I'm King Baby!" and the other two would be in hysterics.
What about now?
One of the things we still do is talk about funny things that have happened in the family. They love it when we go over and over those stories. We keep those stories alive, which I think is important.
Do you think you'll ever write a children's book?
You know, I tried and I couldn't do it. I think it's one of those things everyone assumes they can do until they try it. It's really hard. I just don't think I have the right tone for it. But you know what? Five years ago I was trying to write for radio and I couldn't do it. I couldn't hear it. Now I have quite a few radio stories on the BBC. Sometimes it just takes a while to unlock it. It's a completely different skill – like screenwriting is all about the visual. You need to kind of retrain your brain to see things in a different way.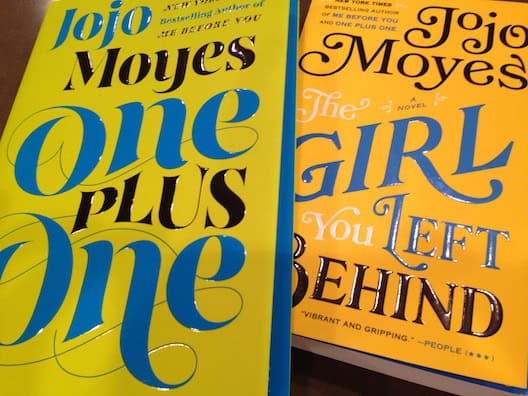 Speaking of screenwriting, did you have to change a lot of the story of Me Before You for the screenplay?
Not a huge amount. What I've had to do is cut quite dramatically which, you know, "kill your darlings" is not a statement by accident. It's a collaborative effort, and we're in draft eleven. That should tell you how hard we've been working. I'm hoping we've kept as much as we need for people to feel they haven't lost anything in the story.
I'm so happy you're writing the screenplay. I can't imagine how authors let someone else write their story.
It amazes me when people give it up freely. That book was so personal to me. I couldn't hand it over. That being said, I was fully prepared if I rubbishing it that they would give it to someone else – and that was fair enough. But I just wanted a shot at it.
Readers are so passionate about Me Before You, it goes way past just loving the book. What's been the most surprising thing to you about the public's reaction?
When the Christopher and Dana Reeve Foundation got in touch and said they wanted to support it, that was the biggest affirmation to me because I thought, "Okay, they understand what I'm trying to say." I get so much email from people, and it's a constant source of joy – the comfort and the kind of inspiration people take from it. And it's so weird because you have no idea how a particular book is going to be received. I'm very grateful.
Let's talk about other people's books for a minute. I loved The Goldfinch as much as you did. What are some of your other favorite books or authors – or do you try not to read too much while you're writing?
I do try to read a lot but I just literally fall asleep when I read quite often. Kate Atkinson is one of my favorites, and, of course, Barbara Kingsolver. Nora Ephron is my comfort read. I love George R.R. Martin. I love the Game of Thrones series.
Can you believe I haven't read them?
Gasp! Fantastic characters. And a whole other world. If you'd have told me I'd be reading fantasy and about dragons, I'd say, "Yeah, right." It's genius. He is an actual genius. I watch the show, too, but I read the books first. If you start on the books, you have to be prepared to lose three months of your life because you can't put them down.
That's how I feel about your books! I can't put them down!
Thank you so much! It was so nice to finally meet you in person.
For a chance to win an autographed copy of One Plus One, simply leave a comment below. For a second chance, Tweet this:
Contest ends on September 22 at midnight Pacific time. Winner will be notified by return email. Prize can only be sent to a U.S. mailing address.