"laughter on the 23rd floor" at north coast rep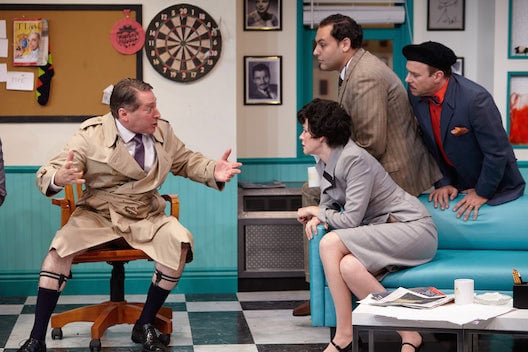 What's amazing about Neil Simon's Laughter on the 23rd Floor, now playing at North Coast Rep, is not just how well it's held up over time but how relevant it still is today.
Based on Simon's experience working as a writer on Sid Caesar's classic 1953 TV program, Your Show of Shows, the play takes place in a New York City office where seven comedy writers create sketches for a weekly TV show starring the very high-maintenance Max Prince (David Ellenstein).
There's hypochondriac Ira (Omri Schein), Irishman Brian (Christopher M. Williams), newcomer Lucas (Brett Alters), Russian Val (Nicholas Mongiardo-Cooper), voice of reason Kenny (Phil Johnson), pregnant Carol (Amanda Sitton), attention-seeker Milt (Louis Lotorto) and secretary/writer wannabe Helen (Caroline Drage). If any of them seem familiar, it's because they're based on some of Simon's famous colleagues: Mel Brooks, Carl Reiner, Larry Gelbart and Woody Allen.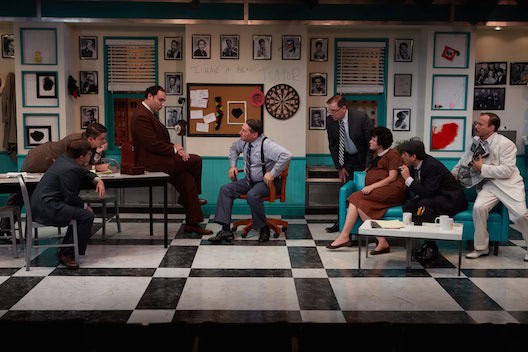 The jokes fly — "This is not a day to make me angry," says one writer. "Okay, put me down for Wednesday," says another — and so do the insults but beneath the zingers lie some serious messages that show history repeating itself.
Laughter on the 23rd Floor starts with the news that Senator Joseph McCarthy has called five-star general George Marshall a Communist, to which one character replies, "Senator McNutcase." The blacklist becomes an important topic of discussion and one writer says, "Where I come from, we took care of bullies." When the announcement is made that McCarthy has been censured for "behavior unbecoming in a senator," it is impossible not to think about what's happening in politics today.
Despite being the most well-respected show on television, Max receives a letter from NBC basically telling him to dumb down the writing, to "give the people shit" because they "make money on shit." The name Kardashian immediately comes to mind. Luckily, Simon himself doesn't heed that warning. His writing is, as always, smart, funny and right on point.
And, then, there's Carol's powerful speech where she tells the guys, "I don't want to be considered a woman writer. I want to be considered a good writer." We are still fighting that battle half a century later.
With strong performances and often-hilarious lines, don't be surprised to hear laughter coming not just from the 23rd floor but from the audience in the North Coast Rep theater.
During this stressful election season, this Laughter may prove to be the best medicine of all.
Ba-dum-bum-CHING.
Laughter on the 23rd Floor has been extended until November 20 at North Coast Rep. For more information and to buy tickets, visit www.northcoastrep.org.