"maudie" movie review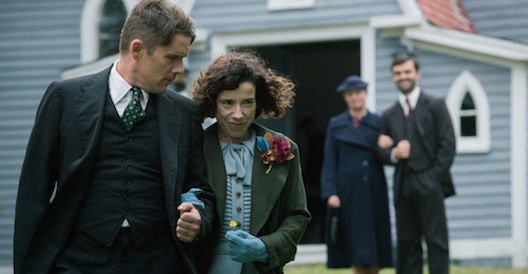 I hesitate to tell you that Maudie is, hands-down, my favorite movie of the year so far because I know how easy it is to be disappointed when you go in with such high expectations.
But I'm pretty sure you will love Maudie, too.
Sally Hawkins is perfect — like, award-winning perfect — as Maud Lewis, an outsider who was "just born funny." She struggles with the consequences of juvenile rheumatoid arthritis but brushes off the kids who throw rocks at her, saying, "Some people don't like it if you're different."
The movie starts with 30-something Maud being consigned to live with her Aunt Ida after her brother announces he's selling the house she's been living in independently. This doesn't go over well with Maud, who is super smart but who is constantly underestimated because of her physical impairments.
One day, in the grocery store, she runs into Everett (Ethan Hawke), a crotchety fisherman who lives alone in a small shack in the middle of nowhere Nova Scotia. He's looking for a housekeeper, and she decides he will be her way out.
Despite his concerns, he reluctantly hires her. Maud spends more time painting than cleaning. Using the walls as her original canvas, she paints the simple beauty of the things she sees outside their one little window.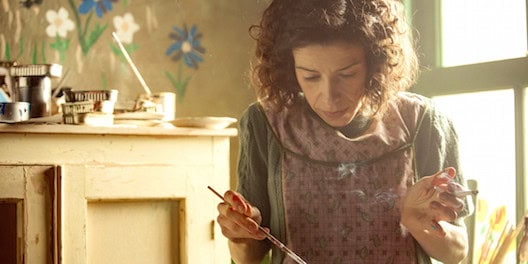 Over time, Maud and Everett become husband and wife, and Maud becomes a renowned folk artist. I had never heard of her before and had no idea this was going to be based on a true story, but I was so enraptured with her work, I spent a while Googling her work and her life (which, sadly, seems to have been even darker and more challenging than the movie portrays).
Maudie is so beautiful to watch, and the folk soundtrack by Michael Timmins of Cowboy Junkies is the ideal accompaniment. Both Hawkins and Hawke absolutely transform themselves into their riveting characters, and I loved watching the evolution of their relationship, about which Maud says, laughingly, "We're like a pair of mismatched socks."
I found Maud's quiet confidence completely empowering and rooted for her every step of the way. I would be proud to hang one of her lovely paintings on my wall — although after this movie, I'm sure I wouldn't be able to afford it.