"the cocktail hour" at north coast rep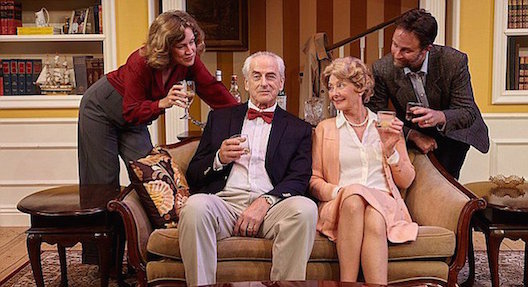 Michael and I love seeing plays at North Coast Repertory Theatre because it's small and intimate and always presents high quality, award-winning productions.
The Cocktail Hour, considered A.R. Gurney's most autobiographical play, is the perfect opener for North Coast Rep's 35th season because it represents what this top-notch regional theatre does best: leave audiences both shaken and stirred.
The story of an upper class East Coast family in the 1970s, The Cocktail Hour examines a changing world in which elderly parents Bradley (J. Michael Flynn) and Ann (Cristina Soria) are bemoaning the loss of staff — "Servants are the mainstay of civilization," they agree — and trying to cope with the fact that they now have to carry out their own drinks and ice during their daily cocktail hour.
"Nobody cares about our way of life," pouts Bradley to two of his grown children, John (Chris Petschler) and Nina (Shana Wride), who have come for a rare dinner together.
Well, John cares — but in a totally different way. In fact, he's written a play about his family and has come to ask for his parents' blessing before it gets produced. His father goes crazy, not only withholding permission but writing John a check for $20,000 to put it away in a drawer somewhere.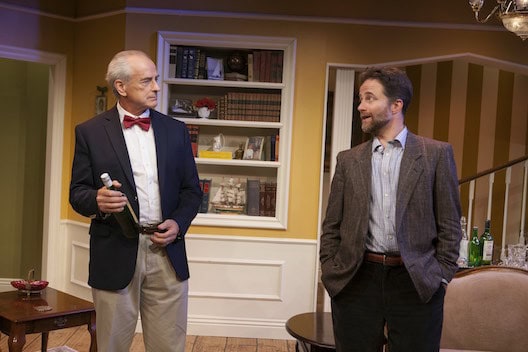 A.R. Gurney's play is funny and often biting, and Bradley, especially, will remind you of Lord Grantham in Downton Abbey, having to be pulled against his will into a whole new world. When Bradley ends up quoting T.S. Eliot, "The old oak must bend with the wind or break," it's a surprisingly poignant moment.
As writers, Michael and I appreciated John's dilemma. Where is that line when you're writing about family? As Gurney himself said, "I think people who write plays are always conflicted; that's why they write plays. In the end, writing is a psychological drive and not a drive for fame and fortune. It's a need to work out these issues in my own soul, and drama seemed to be the best form in which to do it. I think I'd be a basket case if not for theatre."
Directed by Rosina Reynolds, this comedy of manners is moving and thought-provoking. The strong performances are spot-on, with the four characters really coming together as a crazy, loving, relatable, dysfunctional family. As always at North Coast Rep, the set design is perfect and Michael and I actually found ourselves discussing the paint colors, the beautiful molding and recessed bookshelves after the show.
"The cocktail hour is sacred," says Ann at one point, and audiences apparently agree, with this production of The Cocktail Hour already being extended to October 8.
So here's a toast to North Coast Rep's 35th season. I'm ready for a refill.