a crop of great products for fall – plus some big savings!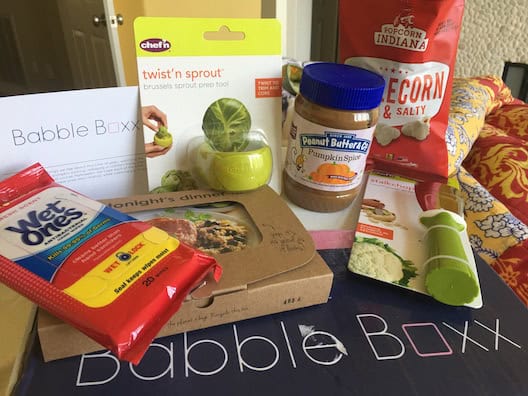 This post is sponsored by BabbleBoxx.com on behalf of Single Edition
Media. All opinions are, as always, 100% mine.


Okay, everyone knows I don't cook. But I sure do eat, and I love being introduced to new products.
So, I was excited when Babble Boxx asked me to check out their "Home and Harvest" box for fall and share it with you. Here's what was inside:
Popcorn, Indiana Sweet & Salty Kettlecorn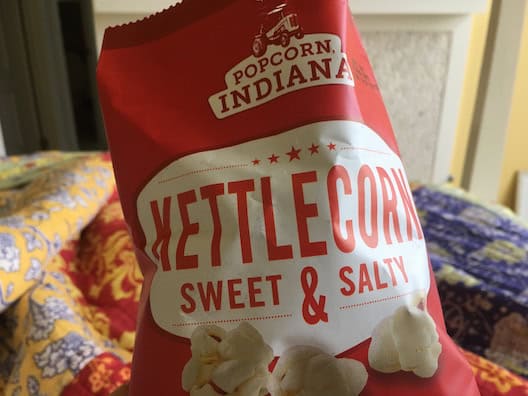 Hello? I am the world's biggest popcorn eater so how did I not know about this brand before? And why did I not visit them — yes, Popcorn, Indiana is a real place with a population of 42 — when I spent 9 days in Indiana last summer?!
Because I'm such a popcorn freak, I immediately opened the bag and went to work before remembering to take photos! Oops. I can tell you it's no wonder this is America's #1 Kettlecorn. It's delicious — a perfect mix of sweet and salty and crunch.
All Popcorn, Indiana products are certified gluten-free and non-GMO. They offer an amazing variety of flavors, and, in the name of research, I look forward to testing every single one: Sea Salt, Aged White Cheddar, Movie Theater, Chicago Style Caramel & Cheese, and Smoky Queso. Their Drizzlecorn flavors include Black & White, Dark Fudge Sea Salt Caramel, Dark Fudge Pretzel and Dark Fudge Peppermint. Are you drooling yet?
Peanut Butter & Co. Pumpkin Spice Peanut Butter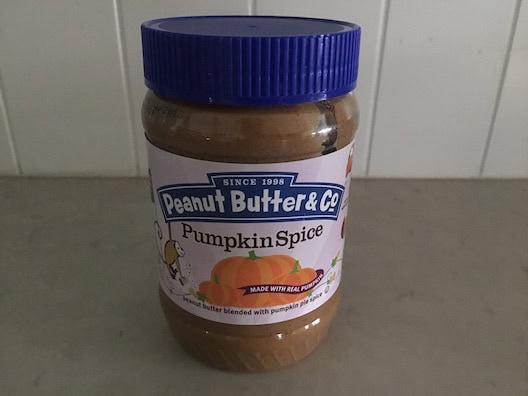 Nothing says fall like pumpkin spice and no one does it like Peanut Butter & Co. They've blended their award-winning peanut butter with real pumpkin and pumpkin pie spices to create this limited edition seasonal peanut butter.
You can, of course, use it as a sandwich spread but it's also amazing on apples, delicious in recipes like Peanut Butter Pumpkin Spice Latte and Pumpkin Spice Peanut Butter Cheesecake, and perfect — the way I like it best — eaten straight from the jar.
Like all of Peanut Butter & Co.'s ten flavors, Pumpkin Spice is made exclusively with USA-grown, non-GMO peanuts and contains no cholesterol, no trans-fats, no hydrogenated oils and is dairy-free and soy-free. This limited edition flavor is only available while supplies last so print out your $1.00 off coupon and head to the store!
Twist'n Spout and StalkChop by Chef'n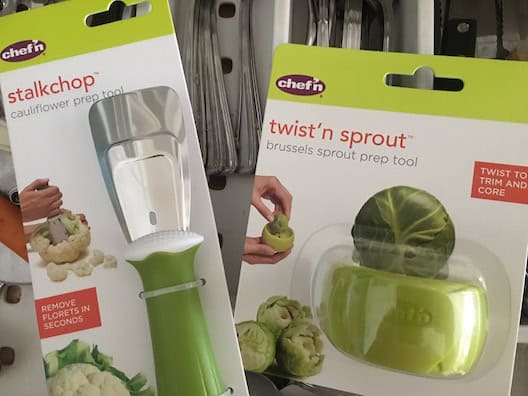 Since Michael has become a vegetarian, he eats a lot of vegetables and I think these two little gadgets from Chef'n are going to become his BFFs.
The Twist'n Sprout makes it so easy to trim and core Brussels sprouts, one of the trendiest new veggies. You simply press them onto the tip of the tool and twist. Voila! It quickly removes the stem and dense core so they cook more evenly. The StalkChop takes the hard work out of separating cauliflower florets from stalk (and actually works great for broccoli, too).
It's amazing what you can do with the right tools, and Chef'n is giving you 20% off plus free shipping until November 10 so you'll have something else to be grateful for this Thanksgiving. Use code fallprep at checkout.
Dinner Mixers by Tastefully Simple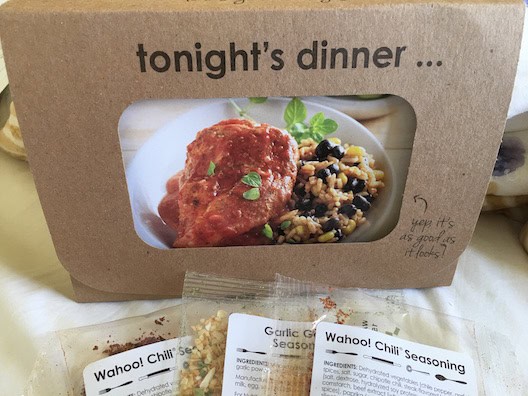 This meal starter kit looks like something even I could do. It comes with recipes for a main dish and a side dish plus the pre-measured Tastefully Simple products needed to prepare both. Their tagline, "You add the fresh. We add the flavor" says it all.
Michael has already nabbed the Wahoo Rice & Beans with Corn recipe along with the Wahoo! Chili Seasoning.
Dinner Mixers seem tailor-made for busy parents, working professionals or anyone who doesn't want to spend a lot of time figuring out what to make for dinner. So you can try them for yourself, Tastefully Simple is giving you $5 off your first Dinner Mixers purchase until November 15. Use code DINNERMIXERS at checkout.
Wet Ones Antibacterial Hand Wipes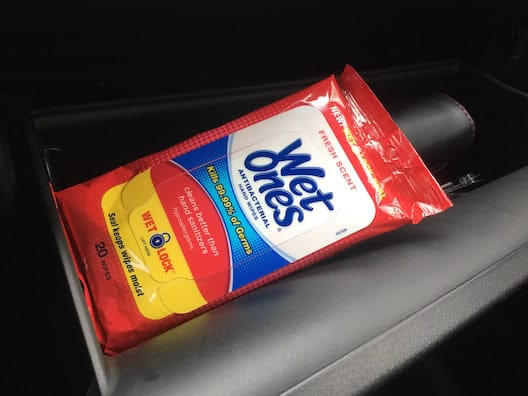 Seriously, how would any of us have gotten through our kids' childhoods without Wet Ones? Better than hand sanitizer gels, these wipes are hypoallergenic, convenient and are as gentle on skin as they are tough on dirt and germs.
I carry this 20-count travel pack in my car and on planes because, well, there is so much gross stuff out there. What I especially like about the new Wet Lock seal technology is that it helps the wipes retain their moisture over 15% longer so they don't dry out.
Wet Ones are a necessity because life is messy!
I'd love to hear what you think about these great fall products, and I can't wait for my next Babble Boxx!