emma slater, "dancing with the stars" and me by jillian walsh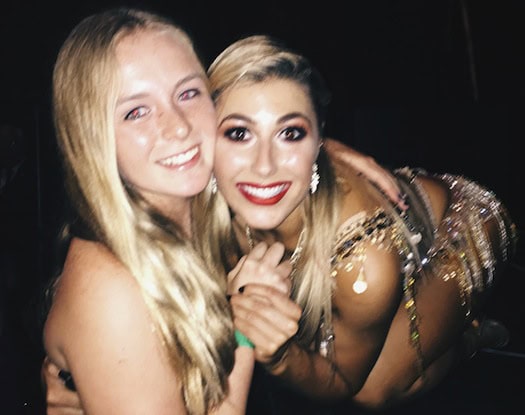 One of the best parts of Dancing With the Stars Live! was seeing the pure joy on so many fans' faces as they got to finally see their favorite dancers in person.
One of those fans was Jillian Walsh, a sweet and bubbly 13-year-old from San Diego, who Sara and I talked to at the Meet and Greet, where she was hoping to present a gift to pro Emma Slater. We felt terrible when security told her she wouldn't be able to give it to her, and were thrilled when we saw her quietly pass it to Emma on stage during the show.
"It wasn't really the ideal time," Jillian admits, "but I saw it as my last chance."
I totally admire a girl with such passion and determination, and wanted to see what it was about Emma that made her such a role model for Jillian. Here's what she had to say:
I started watching Dancing With the Stars when it was on its 14th season in March 2012. I instantly fell in love with the show, waiting eagerly for every Monday. I would watch it with my grandmother (I still do!) and I guess it was kind of a way for us to bond. We would both look forward to it, and we would often talk about the dances during the following week.
I believe Dancing With the Stars is a very special show. Not a lot of people my age watch it because, apparently, it's perceived as a rather "older" show. I believed that rumor but once I watched it, I was proved so wrong.
What those couples do each week is simply breathtaking and I still don't understand how they do it all. Since season 14, my love for the show has grown stronger day by day.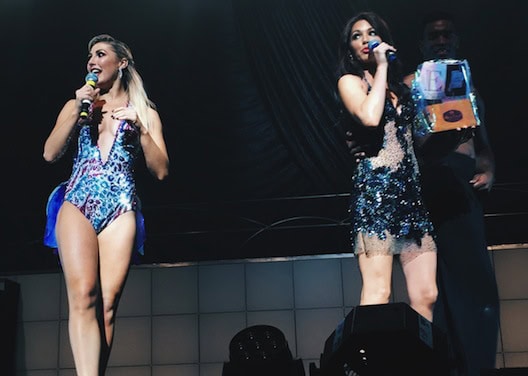 I only knew one competitor during that season, so most of it was kind of boring to me. So I turned my attention to the troupe. All the members were amazing but Emma was just a ball of energy. She was so passionate for the strong dances, so elegant for the slower ones, and so vibrant with the fast ones. I really wanted to get to know more about her (because the show doesn't really get into the troupe dancers' lives).
Watching her grow and develop as a dancer over three seasons was so beautiful to me. Then in season 17 she became a pro. Seeing her take Bill Engvall to the finals was amazing. Their journey was so precious. She was such an amazing teacher and friend, I couldn't help but idolize that! She never gave up and always pushed her partners to do the best they could. It all started from there and has just flourished!
I've watched every season, I often talk about the show in my daily life, I watched all of last season's live streams and often re-watch my favorite dances on YouTube. I've learned some of the dances, and I've even made fan pages for Emma on Instagram and Twitter. I guess you could call me a little obsessed!
When they announced they were going on tour again this season, I just HAD to go.  So I got my parents to agree, and I got to attend this show as a VIP! When I met Emma at the Meet and Greet, she told me she knew who I was and she appreciated what I do. Her words made me so happy. She made all my time put towards the fan page worth it.
My favorite number in the show was the rumba that Emma and Keo did. It was so beautiful, it brought tears to my eyes. I still couldn't believe I was seeing them dance live, right in front of my face.
Emma has basically kept me sane. Whenever I am feeling down, she comments on my posts and makes me feel better. She's such an inspiration to me because she always keeps her head up and works so hard in order to achieve her dreams.
I figured since I was going to meet her and see her dance live, it would only be right to give her a gift, as a thank you for all she had done for me. So that's exactly what I did. I filled a crate with some things I thought she would like and wrapped it up all nice and pretty.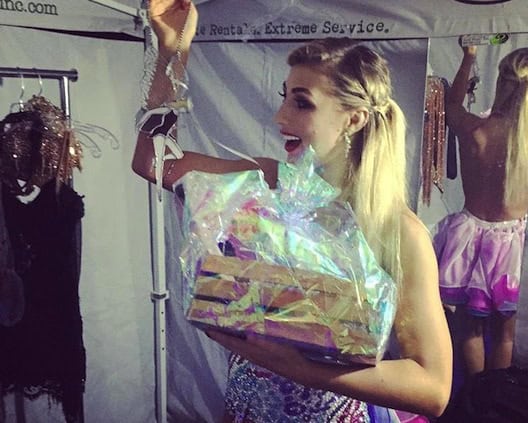 Security didn't let me give it to her at the Meet and Greet, so my only choices were to give it to her during the show or when it was over. I didn't want to risk missing her and I definitely didn't want to interrupt the show but there was a point when she was alone on stage and the crowd was occupied by the other dancers.
I stood up, held the gift out to her and she accepted it, thanking me in front of the whole audience. It felt insanely good. Words can't even describe the feeling.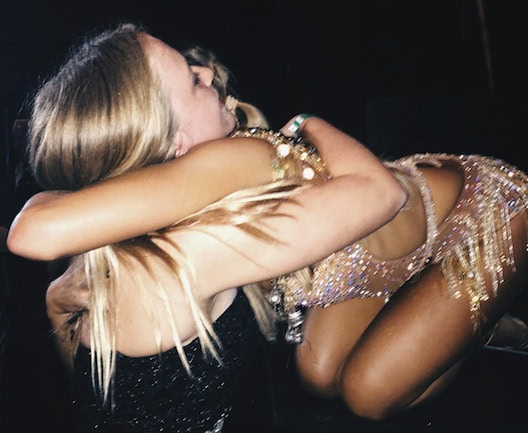 After the show, she stayed to take selfies with the fans. A couple of minutes later, despite the security guard yanking at her and telling her that time was up, she turned to me and personally thanked me for her basket. She told me she "loved the beautiful little dancing fairy" that I made for her myself, and that she would tag me in the picture that she would post.
We took some pictures together and when she was leaving she said, "Thank you again, Jillian. I love you so much." I instantly began crying happy tears. My idol and inspiration just told me that she loved me and loved what I gave her. Those words coming out of Emma's mouth made me unbelievably thankful for her.
It was the best experience of my life, and I will never ever forget it.