the hyundai elantra sport: it's just like us!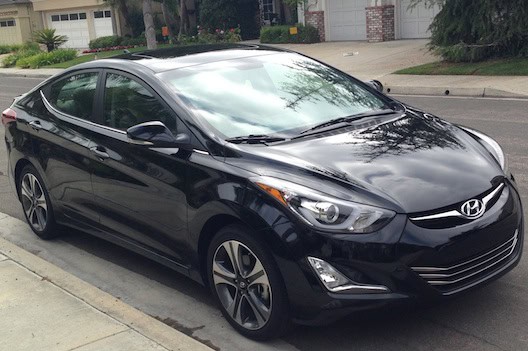 When my friends at Hyundai learned that Michael and I were celebrating our 33rd anniversary last week, they offered us an Elantra Sport for our drive to the Inn at Rancho Santa Fe.
Okay, the Inn is only nine miles away but still …
I tried to analyze why they thought the Elantra would be good for an old married couple like us and, as we learned during the week we drove it everywhere, there are lots of reasons.
It fits into the suburbs, the city and our fancy staycation spot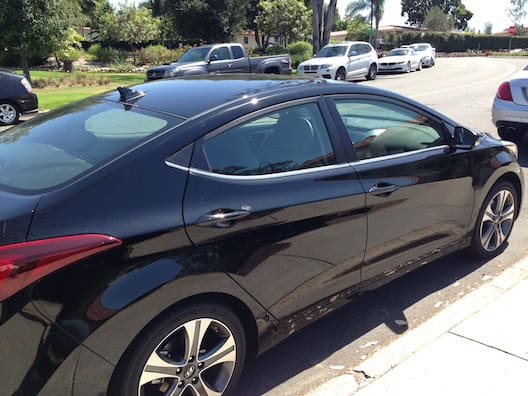 The Elantra is kind of like Zelig. There it is in the driveway of our suburban cul-de-sac. Now it's being valet parked at the luxurious Inn at Rancho Santa Fe. No, wait! There it is in the garage downtown, waiting for us to finish shopping. And it looks like it belongs in every one of those places. Just like us.
It's got a blind spot detector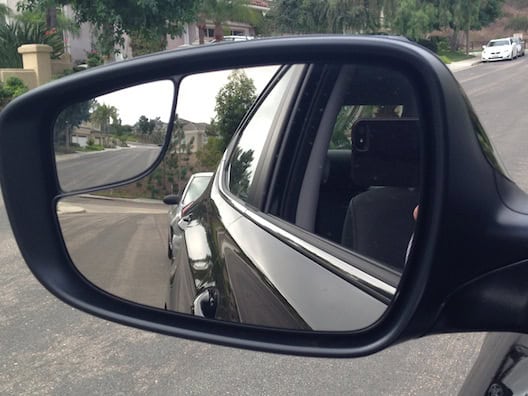 See that little mirror inside the side view mirror? It lets you see cars that typically get lost in your blind spot – and it's awesome. As the baby boomers get older, this safety feature has got to become standard in all cars. Once you get used to driving with it, it's very hard to drive without it. The Elantra has figured out how to overcome standard limitations. Just like us.
It only has what it needs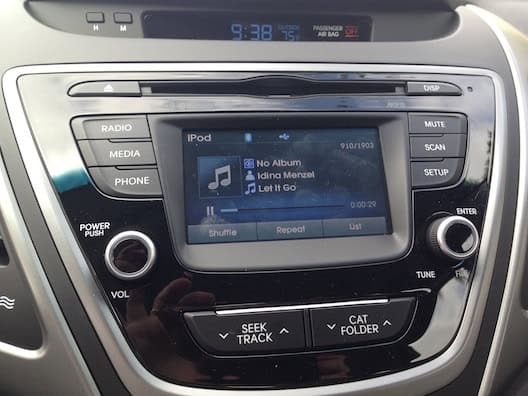 At first, we were a little taken aback to discover the Elantra doesn't have a GPS. But we were also kind of relieved. We've spent more time, frustrated, than we care to admit trying to learn complicated navigation systems in different cars, and have often had to resort to using Google maps on our phones anyway. So we didn't miss the missing nav system at all. What the Elantra does have is an easy-to-use sound system for my beloved iPod. Oh, no, I just saw what song I was listening to when I took the photo. Ha ha! Now you know – Let It Go is my guilty pleasure song. I love it. By the way, the Elantra's air conditioning is excellent, too, which is good because, well, the cold never bothered me anyway! Okay, I'm done. Let It Go actually does represent the Elantra, though. It's gotten rid of the stuff it doesn't need and well utilizes everything it's kept. Just like us.
It lets you look back before moving on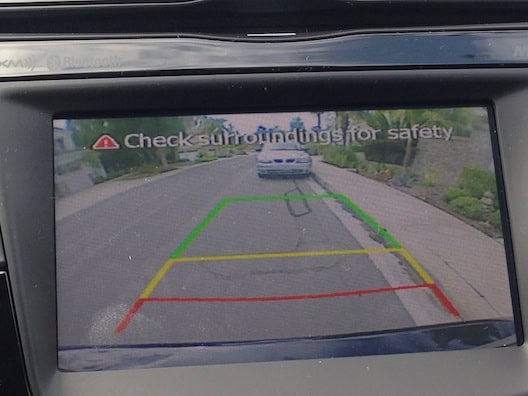 The Elantra's rear camera is another safety feature likely to become standard in all future cars. It provides a huge service by ensuring that you have a good view of what's behind you. And it understands the importance of looking back before you proceed. Just, after 33 years together, like us.