"boyhood"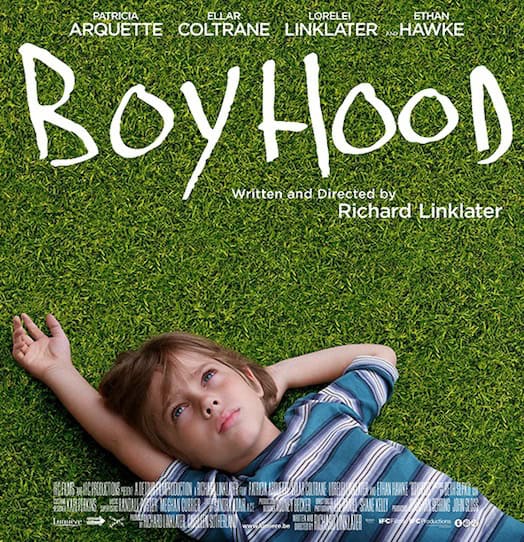 If the Academy Awards were handed out today, Boyhood would easily win for Best Picture. It is, without a doubt, the most original movie of the year.
The story revolves around Mason (Ellar Coltrane), following him from second grade to college. In a feat of groundbreaking filmmaking, writer/director Richard Linklater shot the movie, with the same cast, over 12 years so we literally watch Mason grow up on screen.
And, as though this is our own home movie – which, in many ways, it is – we are mesmerized.
Mason's parents, Olivia (Patricia Arquette) and Mason, Sr. (Ethan Hawke), divorce early on and his life is impacted by their choices in new partners and places to live. His sister, Samantha (played by Linklater's own daughter, Lorelei), has her own issues and, honestly, I'm hoping that Linklater took enough footage to surprise us with Girlhood next.
Mason is adorable as a little boy and it is fascinating to watch him transform, going through that natural progression to awkward adolescent and surly teenager. As a mother, you just want to keep him young, and the movie is as much about parenting as it is about growing up.
In fact, I often found myself gasping in recognition as Olivia evolved over the years, gaining weight, changing hair styles and trying desperately to balance her needs with her children's needs, because it is so easy to relate to many of her feelings. By the time she sent Mason off to college, I was sobbing along with her.
No one understands and captures the passage of time quite like Linklater. He demonstrated this to perfection in his must-see trilogy, Before Sunrise, Before Sunset, Before Midnight, and he takes it to a whole new level in Boyhood, seamlessly weaving the years together without ever having to announce them.
You blink and Mason is a few inches taller. His dad is a little grayer. His mom is a little thicker in the waist.
Time continues to pass.
The movie is almost three hours long and, although you certainly feel the weight of the years, suddenly it's over and you wonder where the time went.
Just like you do in real life.