shout-out to our viking star family!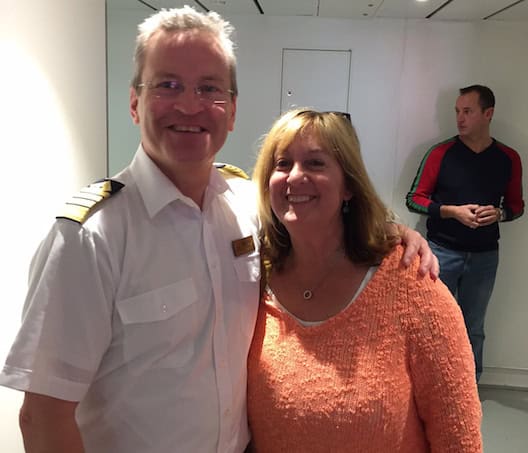 Michael and I are still raving about our Grand Mediterranean Tour aboard the Star, Viking's first ocean cruise ship last month. It was probably the best cruise we've ever taken.
Although, obviously, we love to travel, we're usually ready to come home, especially after being away for 15 days. But, for the first time ever, both of us kept asking how we could stow away for a couple more weeks. We have never felt like that on any cruise before.
A huge part of the credit goes to the amazing crew. Although the ship itself is magnificent, it's the people who always make or break a trip, and the people on the Star are equally magnificent, starting at the top.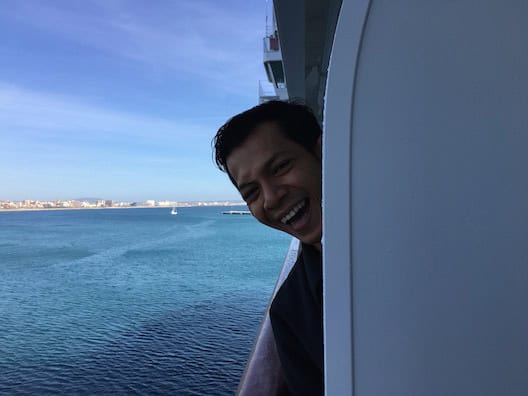 You see that picture of me with the captain, at the top? That was taken on one of the first days when Michael and I couldn't find our way off the ship for our excursion! The captain saw us wandering and escorted us himself, even thought we're pretty sure he had more important things to do.
We spent a lot of time talking to the executives with stripes but just as much time with the waiters, housekeepers, hosts and hostesses. We loved hearing their stories and experiences, and there were a couple of days we decided not to leave the ship at all just so we could spend more time with them.
There are a few people, though, I want to give a public thank you to because they made our trip even more special and they deserve to be recognized.
I didn't take photos of them but the chefs who made sure Michael had incredible vegetarian choices every meal are the true unsung heroes of our trip. Being a vegetarian on a cruise ship is not easy, but they made sure Michael loved everything he ate. So thank you.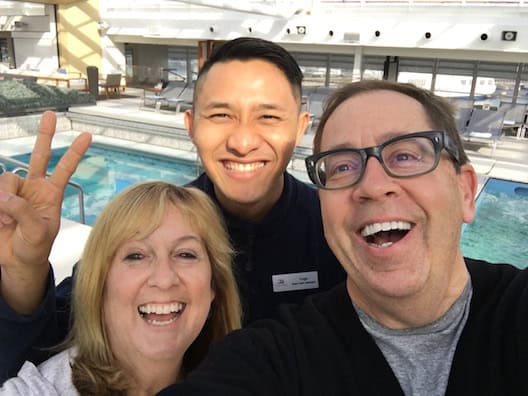 Doesn't that face — not ours! — just make you happy every time you look at it? Yoga worked at the bar and, although we don't drink, he did keep us in Diet Cokes when we ate lunch at the pool and he always stopped to chat. Yoga is from Bali and when we told him our son was going there with his girlfriend, he wrote out four pages of places for them to visit and delivered it to our stateroom! And when he found out it was Michael's 59th birthday, he not only brought over this (notice the light-up candle because you can't have real ones on the ship!)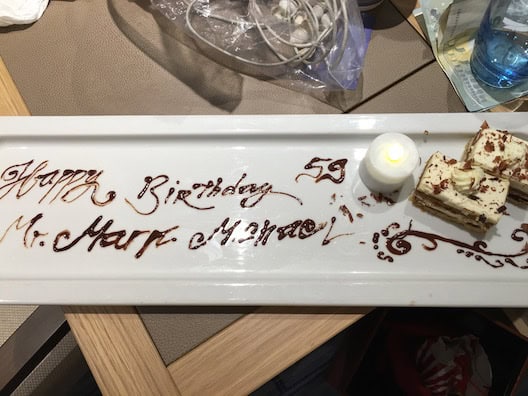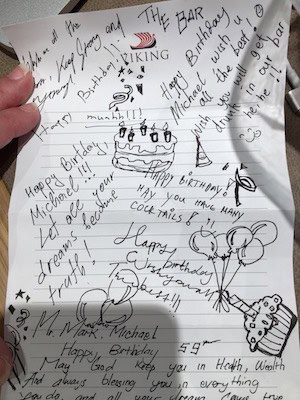 but he had the bar crew write him birthday wishes! Michael brought this home and treasures it.
We hope we will visit Bali one day and Yoga will be home for a visit at the same time. He is a thoughtful, generous, kind young man whose smile brightened every day of our cruise.
We're also hoping to celebrate every single birthday on a Viking Cruise from now on because our wonderful stateroom attendants, Willy and Fernando, also had a surprise for Michael's big day.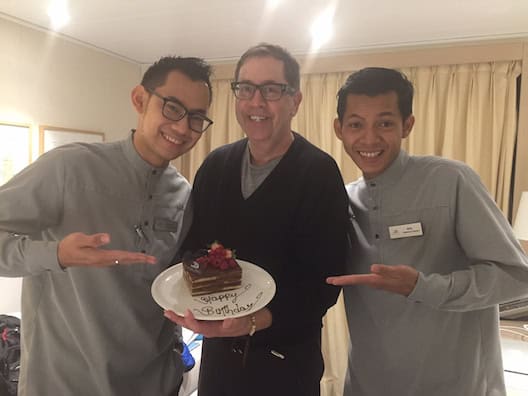 Willy and Fernando are adorable but they are also really hard workers and they went above and beyond in so many respects. When Michael's adapter didn't work, they went and got one for him — and when he lost that one (sigh), they searched until they found it somewhere behind the desk. They warned us early one day that it was supposed to rain heavily that night and suggested we put on our seasick bands preventatively. They were right and, although it was a stormy night — the only one during our two weeks — we slept like babies, rocking along with the ship.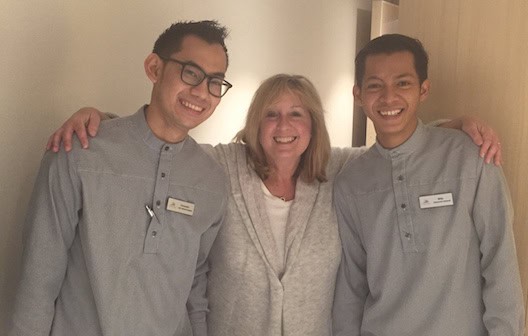 We loved running into Willy and Fernando throughout the day and I snapped that picture, above, of Willy peeking around the veranda one morning when I knew he was in the next stateroom, cleaning. We miss their cheerful faces and their graciousness.
It must have been fate but one of our favorite people on the ship, Angela, shares a birthday with Michael so we knew there would be a connection. From the minute she welcomed us to tea in the Winter Garden on the first afternoon, we felt right at home. Angela is from Macedonia and we loved talking about poetry with her, among a million other topics. We laughed so much with her, we just hope we didn't get her in trouble.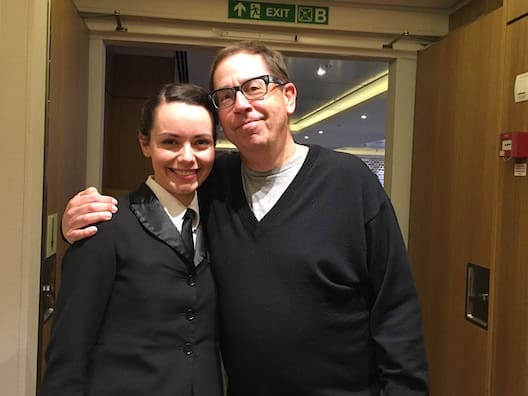 Angela and I bonded immediately over our infinity jewelry — she has earrings, I have a necklace — and that's how long we will treasure our Viking Star memories.
Angela and many of our new friends were recruited to launch Viking's new ocean cruise ship, the Sea, next month — and we hope to join them there. It will be like a big family reunion!