legendary photographers capture the boss! by rebecca olkowski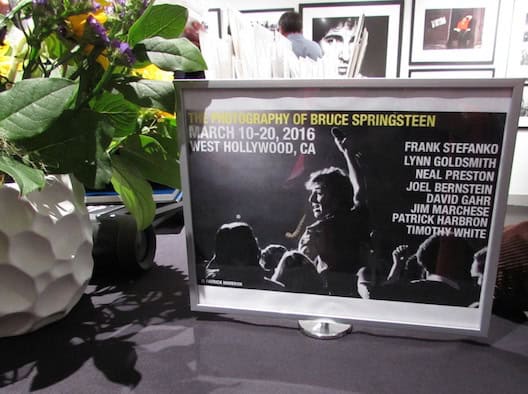 Although I tried to be a teenage rebel and fight Springsteen mania when he was on the cover of both Time and Newsweek the week of October 27, 1975, I gave in pretty quickly and have now been a fan of The Boss for more than four decades.
Thunder Road is probably my favorite song of all time and every Springsteen album has been an important part of the soundtrack of my life. I vividly remember when The River came out and would love to see him perform the album in its entirety, which he's doing on tour this year.
Because The Boss has always been as easy on the eyes as he is on the ears, I'm also dying to see the new "Bruce Springsteen: The River Collection" photography exhibit at the Morrison Hotel Gallery in LA. Although I couldn't make it to the media preview, my intrepid pop culture guest writer Rebecca Olkowski did. Rebecca blogs at Baby Boomster, and she recently covered the Brooklyn costume exhibit and celebration of the Oscar-nominated short films for me.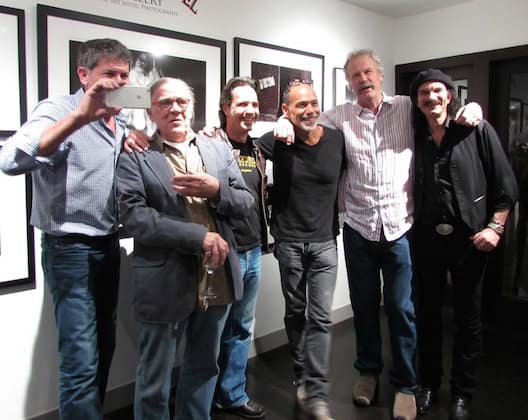 A rock star's art travels through radio waves and into our hearts but a photographer captures the person behind the music. "Bruce Springsteen: The River Collection," the Morrison Hotel Gallery's new exhibition at the Sunset Marquis Hotel in West Hollywood, features the work of some of the most famous photographers of our generation. Each photographer was selected to be featured in the 25th Anniversary box set of Springsteen's iconic album, The River.
I attended a private reception at the gallery with many of the photographers in attendance as well as guests that included actress Angie Harmon, music industry friends and press.
The River was released thirty-five years ago and was Springsteen's 5th studio album. It's one of his best-selling releases and was a turning point in his illustrious career as an artist. The collection is a time capsule of Springsteen's life from a young struggling musician in Asbury Park, New Jersey to his transformation into a renowned rock star.
The River's box set was released December 2015. It contains 52 tracks, 4 hours of video and a 148-page coffee table book featuring 200 rare and unseen photos taken between 1974-1984.
I was particularly impressed with the work of Frank Stefanko who shot the album cover for The River as well as Live 75/85, Darkness on the Edge of Town, and The Essential Bruce Springsteen. I had a chance to chat with him briefly while he was autographing his book Days of Hope and Dreams: An Intimate Portrait of Bruce Springsteen. He's known Springsteen since 1978 after being introduced by Patti Smith. Many consider him to be Springsteen's consummate photographer.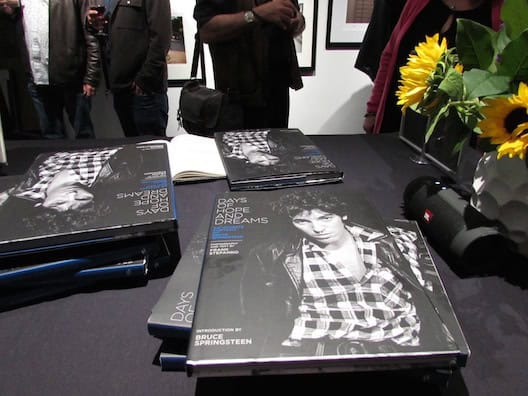 David Gahr, who passed away in 2008, photographed Springsteen at the young age of 23. Originally known for his portraits of folk artists like Woody Guthrie, he went on to shoot the most important musicians of the 60's and 70's including Janis Joplin, Bob Dylan, Miles Davis and Dolly Parton.
Neal Preston was one of the official photographers of Live Aid. He's shot numerous album and magazine covers, six Olympic Games, features and documentaries.
Joel Bernstein is known for finding the intimacies of his subject's lives, and he captured The Boss in front of his childhood home in 1979, below. Being a guitarist himself he says he "shoots like a fellow musician." His work is included in the Rock & Roll Hall of Fame.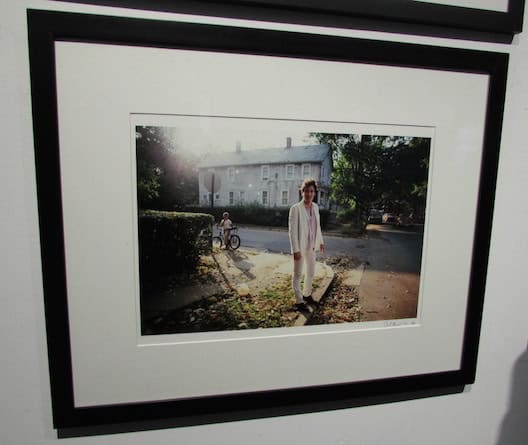 Lynn Goldsmith is a recording artist, film director and celebrity photographer. She caught precious moments in Bruce Springsteen's life before he became famous. Her work has been seen on the covers of Rolling Stone, Life, Sports Illustrated and The New Yorker as well as in collections at The Smithsonian and Museum of Modern Art.
Patrick Harbron photographed Springsteen's concert at Maple Leaf Gardens in 1978 during the Darkness On the Edge of Town Tour. He has two JUNO Awards for album cover photography and his work can be seen in the book 1000 Record Covers.
Jim Marchese's photos can be seen on Bruce Springsteen & the E-Street Band release live/1975-85. He's photographed President Gerald Ford, Liberace, Donald Trump, Neil Armstrong and has contributed to award-winning advertising campaigns.
Timothy White is known for shooting movie posters, magazine covers, musicians and actors. He was named one of the most important people in photography by American Photo.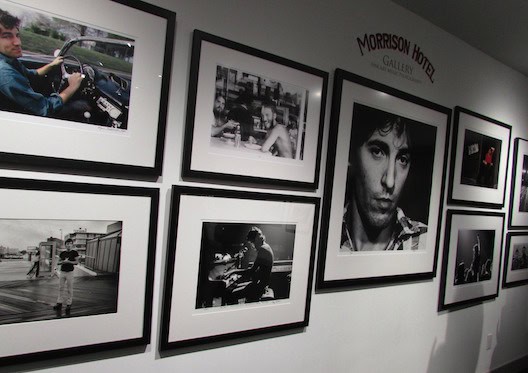 The Morrison Hotel Gallery at the Sunset Marquis is located at 1200 Alta Loma Road, West Hollywood, CA 90069 just off the Sunset Strip. The exhibition will run through March 20.