#theretreatireland, day 3: russborough house, dublin and the marker hotel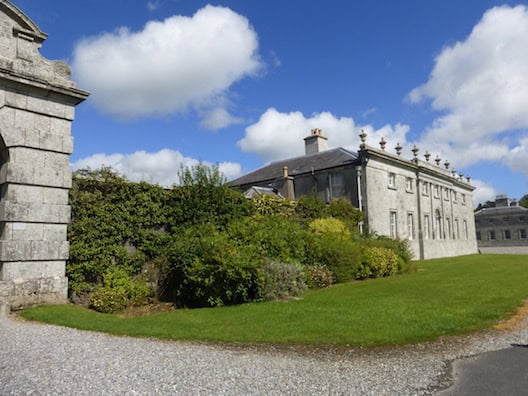 After packing up and enjoying the last thousand calorie buffet breakfast I was quickly getting used to at the Powerscourt Hotel on The Retreat Ireland, we headed off to Russborough House, a Palladian mansion rightly considered one of the most beautiful in the country.
The grounds of Russborough are so peaceful, filled with sheep and greenery and the studios of almost a dozen artisans.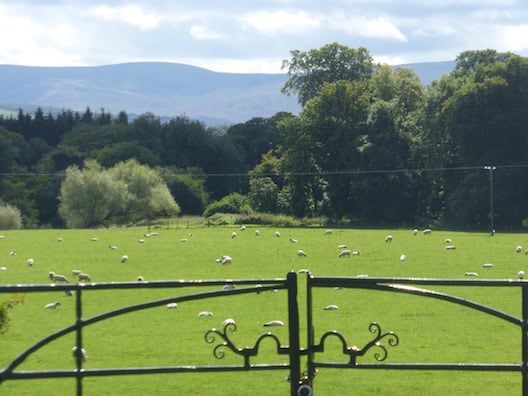 So, our first stop before a guided tour of the house was the Forge, where husband and wife blacksmiths Michael Calnan and Gunvor Anhoj create gorgeous pieces of art.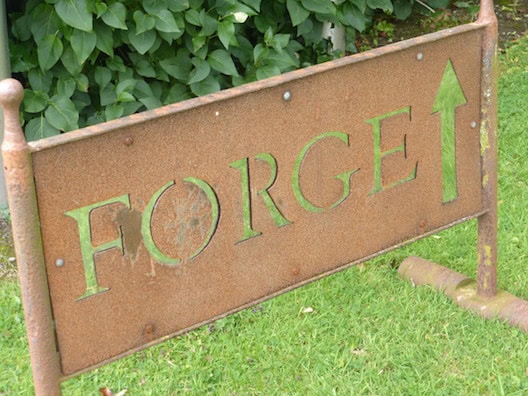 Gunvor demonstrated how she turns a piece of metal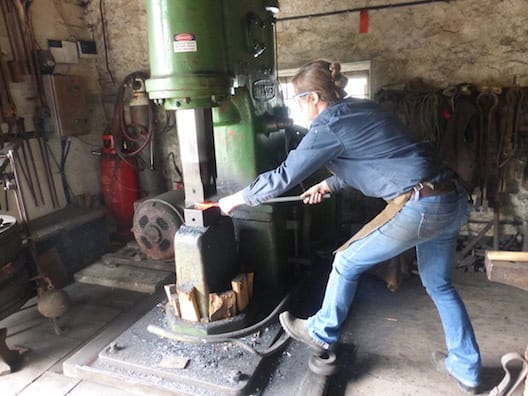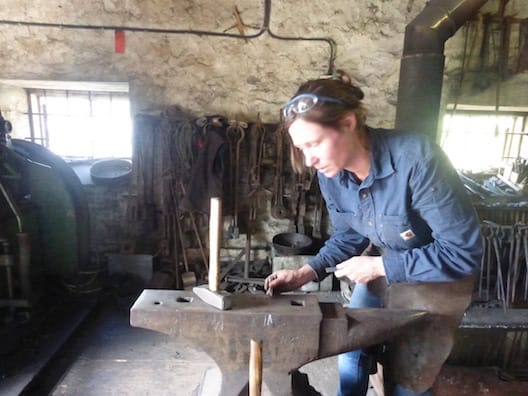 into this lovely flower.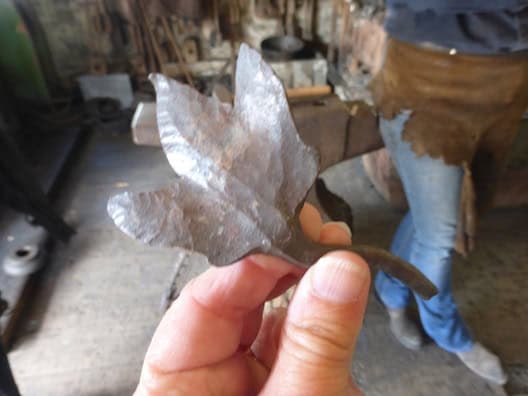 Honestly, I watched her and still can't tell you how she did it. I would love to take one of the classes the couple offers because their passion for their work is so infectious, and it was fascinating to listen to their stories.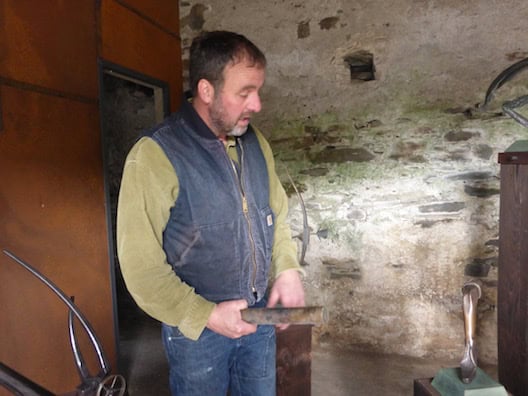 Just look at some of the pieces they've created, many of which have won prestigious awards.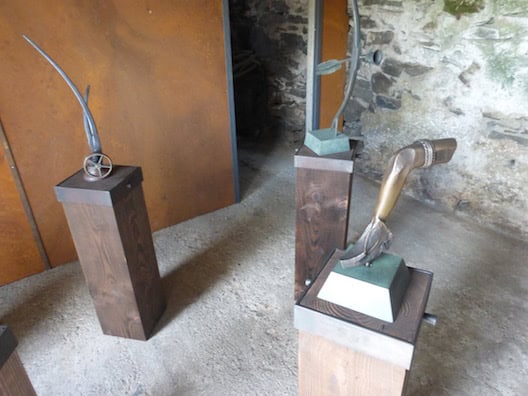 Michael and Gunvor generously gave us each a gift of an amazing-looking Celtic brooch that reminds me of The Hunger Games. I keep thinking, "May the odds be ever in your favor" although it really seems more appropriate to say "May the Forge be with you!"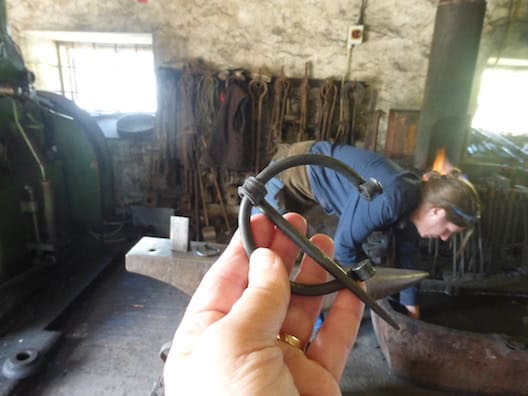 Ha ha! I must be delirious from that third chocolate croissant I had for breakfast. Anyhow, we Forged on (okay, I will stop now) to Russborough House, where we were met by Joan, the most delightful guide I have ever had on any tour anywhere.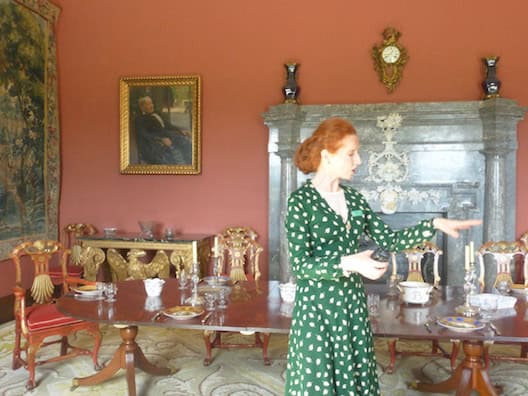 We all fell immediately in love with her and hung on her every word as she led us through stunning, history-filled rooms, regaling us with tales of the mistress and master of the house. I could just picture the Crawley girls having tea here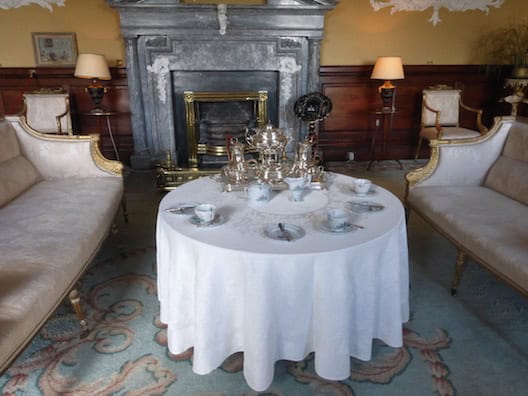 and I envisioned this library in my own house.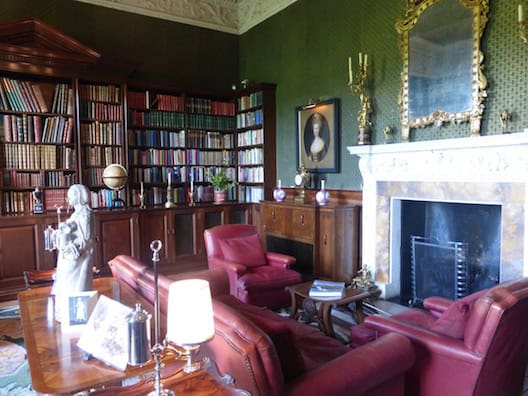 I made up romantic stories about the women in these photos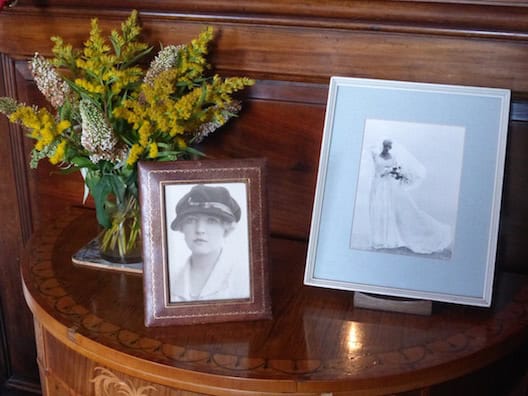 and pictured myself napping in this four poster bed.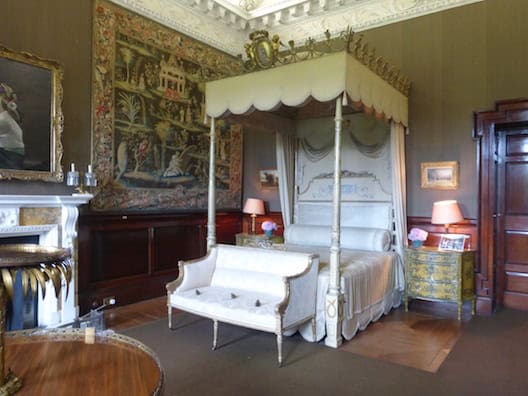 According to Joan, Russborough has been robbed a number of times — including once in the middle of the day when the bad guys basically rode up to the house, grabbed valuable artwork and left. This was definitely a little disconcerting, and I'm going to have to read more about this.
We were so sad to leave Joan at the end of the whirlwind tour but lunch was calling and we certainly didn't want to keep it waiting. We had a real ladies' lunch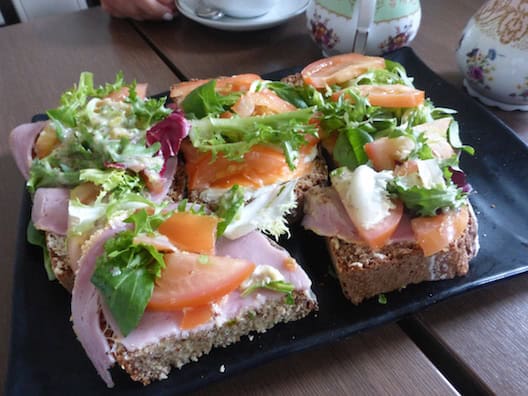 and then went to visit some of the artists.
We started with Evelyn The Arty Weaver, who makes stunning women's hats from handwoven Irish tweeds. If only I were a hat person! She's doing some really cool things, and I can't wait to talk to her again.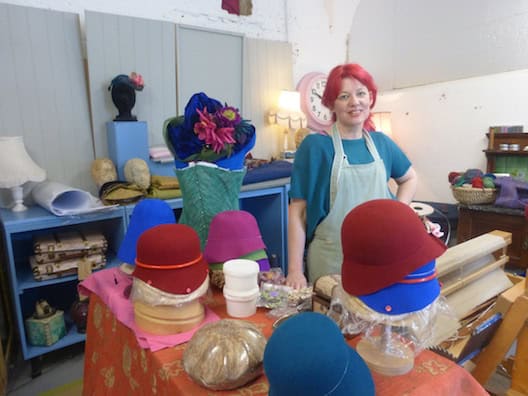 Then we moved on to Eleanor Swan, where I went just a little crazy. I have a thing for mugs, as you might remember from my tea cupboard (!) cleaning a few months ago, so I, of course, had to have these.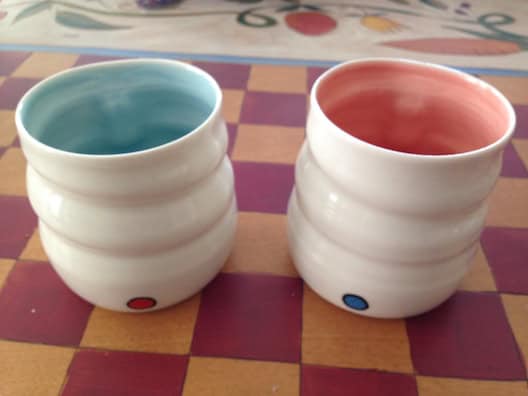 And this adorable little tray with adorable little feet to put them on.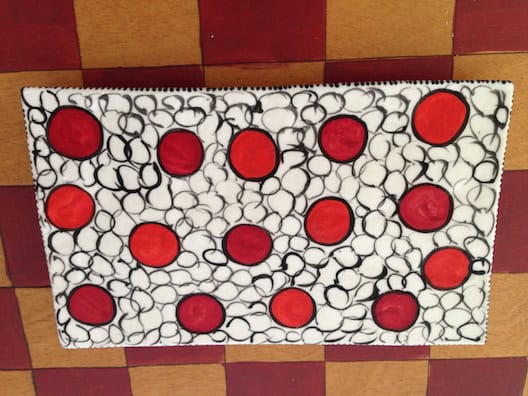 And, um, this adorable little house to represent the cottage Michael and I will one day buy in Ireland 🙂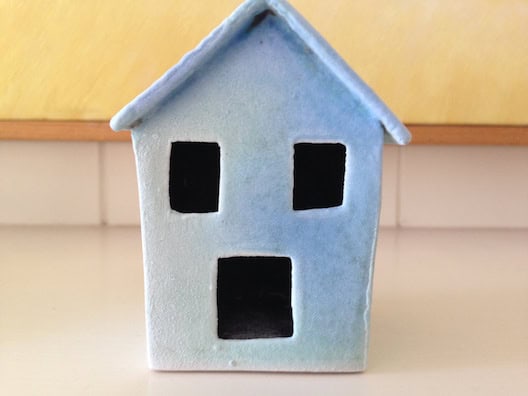 And if I could have, I would have also brought home Eleanor herself because she is so much fun, so talented and she has a great story of midlife invention which I will have to write about one day.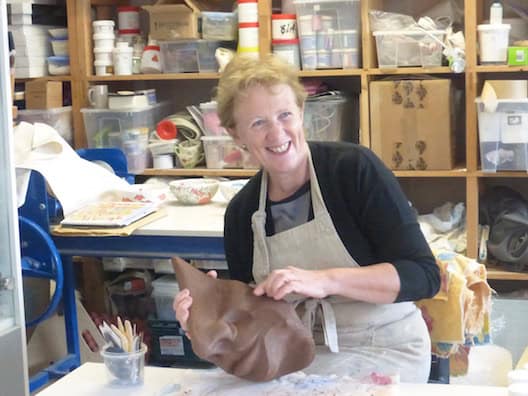 Don't you just want to be her friend?!
With packages in tow, we all got back on the shuttle and took off for our new home for the next three nights, The Marker.
Another five star luxury hotel, it's quite a stark contrast to Powerscourt. Both are absolutely stunning in completely different ways. Whereas Powerscourt is rich in history and character, the Marker is sleek and modern — yet, thanks to its lovely employees, warm and welcoming.
I mean, look at this welcome: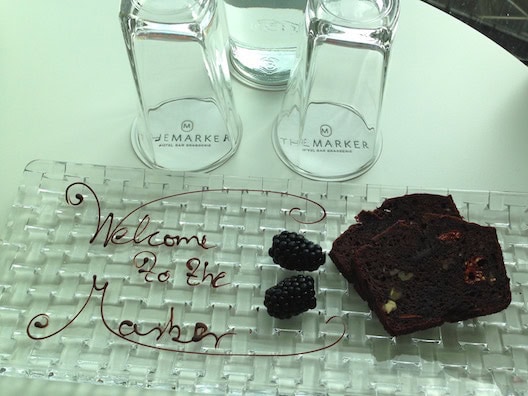 And this may be the closest I ever get to starring on TV: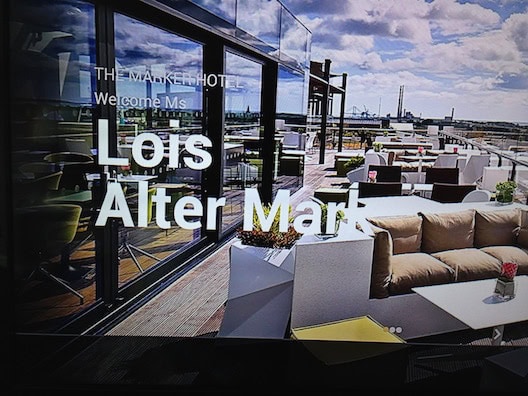 I was riveted by the view from my window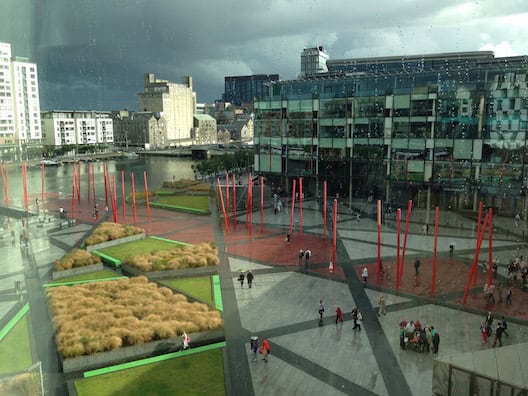 and the spacious and sophisticated bathroom in my room!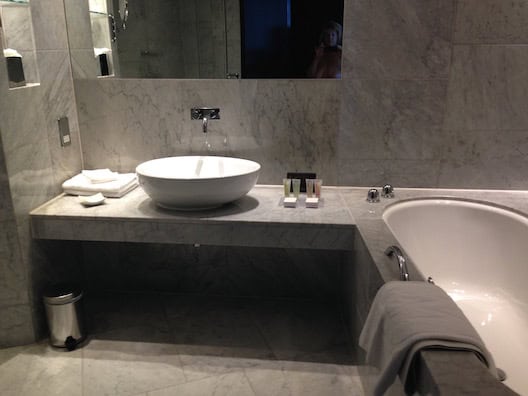 After a nice hot shower, it was time for dinner in the hotel's beautiful lobby restaurant. Let me just show you some of Chef Gareth Mullins' incredible dishes. Warning: Do not view on an empty stomach.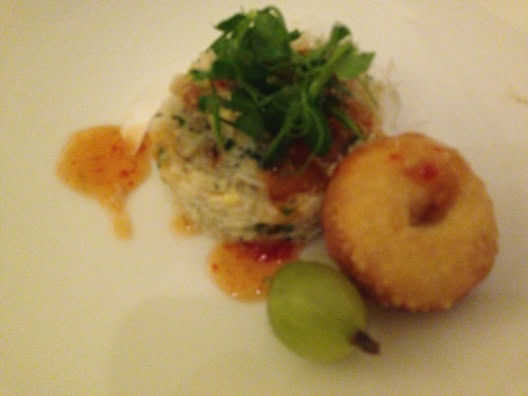 In case you didn't notice, that fresh crab is accompanied by — wait for it — A DONUT! How did Chef Gareth know about my obsession??!
And then came this: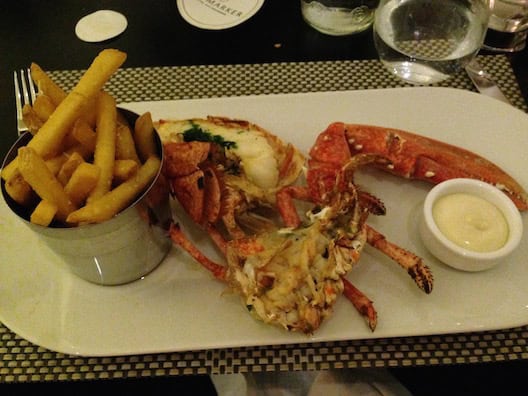 And this: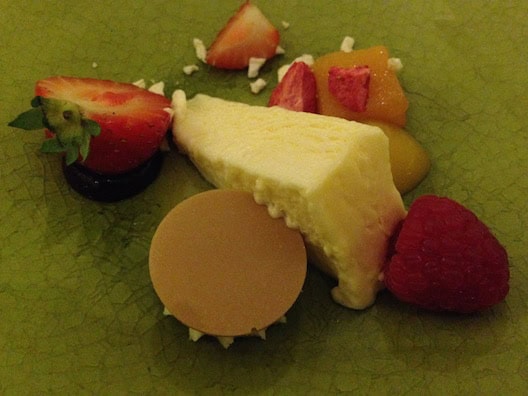 I'm thinking I missed a picture of a course or two but I was so involved with that crab and donut that I lost all sense of time and space for a while.
After a multi-hour dinner, during which we laughed and chatted incessantly with some of the Marker's fantastic executives, we staggered up to our rooms for a few hours of sleep.
Thankfully, this made it easy: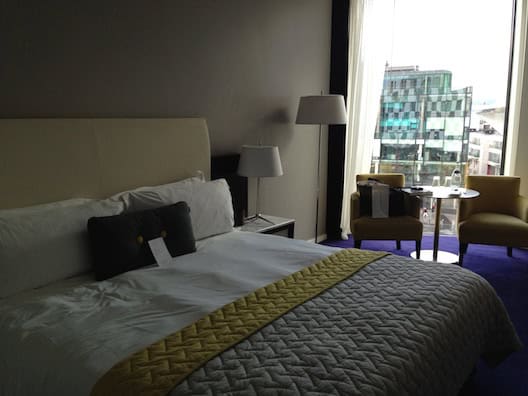 Note: STOP EVERYTHING! I just went to find a link to the Marker Hotel to share with you and discovered this! Chef Gareth, you make cronuts too???!! I have to come back!