partying with the short films oscar nominees by rebecca olkowski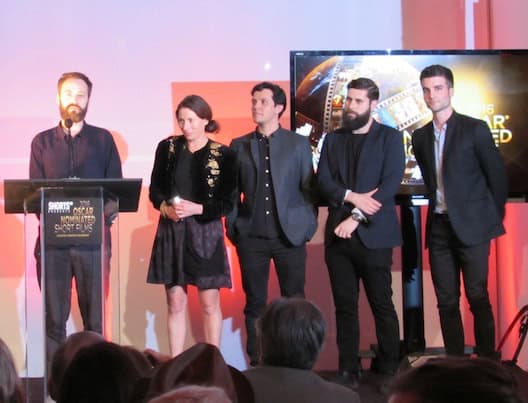 Okay, I am now seriously jealous of Rebecca Olkowski, who usually blogs at Baby Boomster. Not only did she get to attend a cocktail celebrating the gorgeous costumes of Brooklyn last week but on Oscar Eve, she partied with the nominees in the Best Short Films categories. I am never leaving town during Oscar week again!
She said she had a blast, and here's why:
During Oscar season, there are parties all over town, and Los Angeles is alive with glitz and glamour. I attended the Shorts HD's party for Oscar-nominated short films at the Paley Center in Beverly Hills the night before the Oscar ceremony and there was no shortage of glitz. It was a gathering to recognize the most under-recognized category in the Oscar show.
Most short films are done for love and rarely make money. As Louis C.K. remarked as he presented the award for Best Documentary Short at the Oscar ceremony, "This Oscar is going home in a Honda Civic."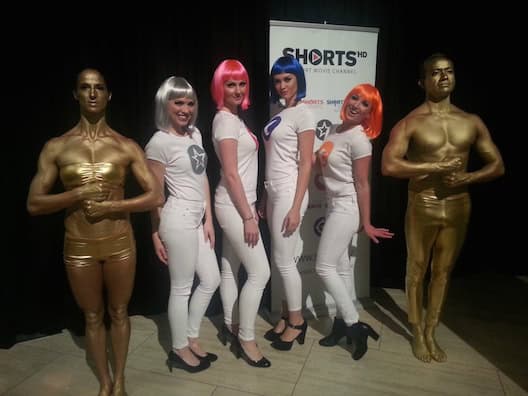 Shorts typically tackle harsh issues and make a strong impact on how we view the world. This year, some of the subjects included disposing of bodies stricken by the Ebola virus, Pakistani honor killings of women, the Holocaust, and the wars in Afghanistan and Kosovo. As Sharmeen Obaid-Chinoy, producer of the Best Documentary Short Subject, A Girl in the River: The Price of Forgiveness, remarked in her acceptance speech, "This week the Pakistani Prime minister said he will change the law on honor killings after watching this film."
Winner of Best Live Action Short Film, The Stutterer (top photo, above), is about a shy typographer with a speech impediment who gets up the courage to meet a woman on the Internet.  It was the first film by producers Benjamin Cleary and Serena Armitage. Cleary said in his acceptance speech, "When you make your first ever film you've got to convince a lot of people to jump on board and take a risk with a first time director." He went on to thank those who believed in him.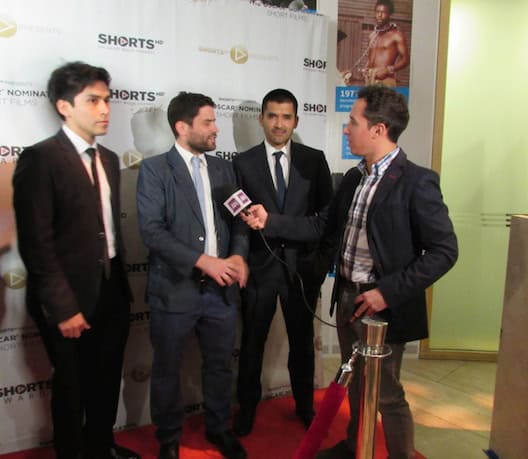 Bear Story, from Chile, won Best Animated Short Film. It's a whimsical tale without dialogue about an old bear who invites passersby to take a look at the life of a circus bear. The winners, above, were thrilled because it's the first time Chili has won an Oscar.
The Shorts category was almost taken off the Oscar program several times and at one point Gregory Peck, then an Academy Governor, intervened. He told the other Governors, "It seems to me you're coming down on the little guys." Jon Bloom, who was given a Life Time Achievement Award by Shorts HD at the party, was also instrumental in saving the shorts category. He is on the Board of Governors for the Academy's Short Films and Animation branch.
The beauty of the Short Film category is that it allows new filmmakers the chance to be seen and appreciated in the industry. Many a short film producer has gone on to make full-length features and documentaries. However, it also gives important causes a voice because it's not about commercialism or making money.
Fortunately, more short films will have a chance to be seen as they're showing up on online viewing sites. Watch all the Short Film Oscar nominees on Shorts HD's movie channel.