whole foods market has sweet holiday gifts for less than $5!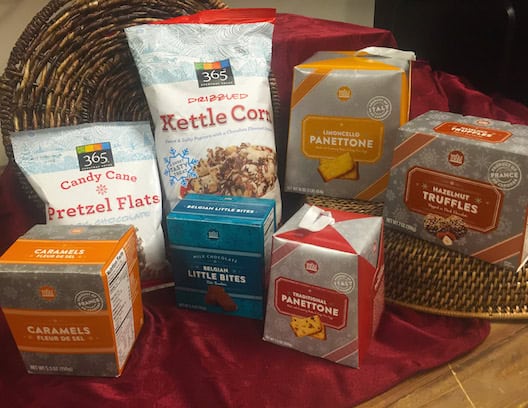 I got an email from Whole Foods Market this afternoon, letting me know that all of the yummy treats above are on sale this weekend for $5 or less.
Because I would do anything for you, my wonderful readers — and because I had a sudden craving for chocolate — I grabbed my car keys and got on the 5 at 3 p.m. on a Friday to head to Whole Foods Market Del Mar so I could test them myself and report back.
Oh, the sacrifices I make.
Note: I usually type much faster but it's difficult when one hand keeps reaching into this bowl of 365 Everyday Value® Holiday Popcorn.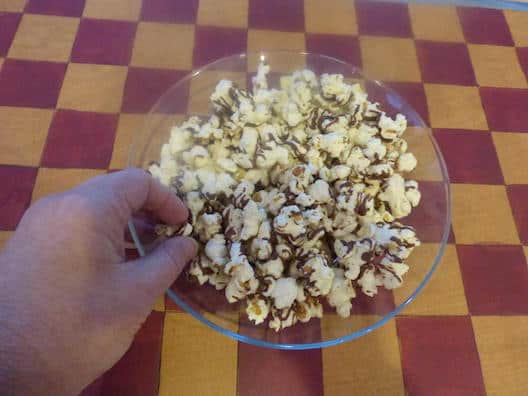 Every batch is produced in small kettles and is a perfect solution to the sweet or salty dilemma because it's a delicious combination of both. I bought the Chocolatey Drizzle Kettle Corn (6 ounces, 2/$4*) — which I hate to admit I've just polished off — but it's also available in Dark Chocolate Popcorn Crunch (10 ounces, 2/$7*).
If you're looking for last minute teacher gifts, I can assure you that Whole Foods Market™ Organic Truffles (8.8 ounces, $4.99*) will make them feel special and pampered. The rich and creamy chocolate is imported from France, and flavors include organic chocolate, cappuccino, caramel and hazelnut. I opted for chocolate. Hey, I'm a purist.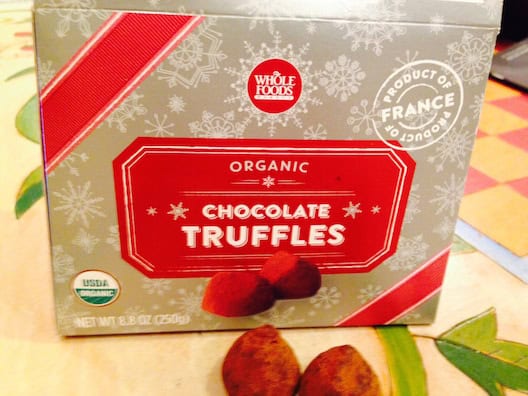 Made for sharing, Whole Foods Market™ Chocolate Little Bites, in Milk or Dark chocolate (4.4 ounces, 2 for $6*), are imported from Belgium and individually wrapped. Made with premium cocoa butter and pure vanilla, they are pure sweetness.
Whole Foods Market™  Caramel Fleur De Sel (5.3 ounces, 2 for $6*) also come individually wrapped, and I'll be tossing a handful into my purse for emergencies. They're made with natural creamery butter and blended with a sprinkle of Fleur de Sel, a sea salt hand-harvested in France.
Then there are these 365 Everyday Value® Candy Cane Pretzels Dark Chocolate Peppermint or Yogurt (4 ounces, 2/$5*), which are great stocking stuffers or Secret Santa treats. They beg to be dunked in hot cocoa.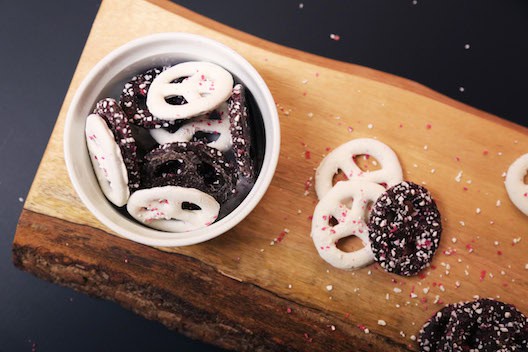 As you can see, the one item I didn't buy was the Whole Foods Market™ Traditional Panettone because I'm just not a big fruity dessert person.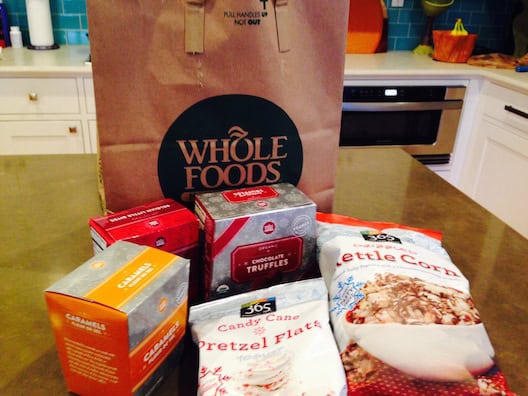 I think I probably would like this traditional Italian sweetbread used in a recipe like Baked Panettone French Toast with Apples and Cranberries, though. It's available in Original (16 oz., 2/$10*, Panettone Original 3.5 oz., 2/$6*) and Limoncello (Panettone Limoncello 16 oz., $5.99*).
With the sale going on through Sunday, December 20, this weekend is a great time to stock up on last-minute holiday gifts. These are the kinds of items you buy one for someone else, one for yourself.
Sorry but these prices are only valid at stores in Arizona, Southern California, Southern Nevada. If you don't live in one of those areas, this may be a good time to move.