our viking river cruise to the christmas markets in germany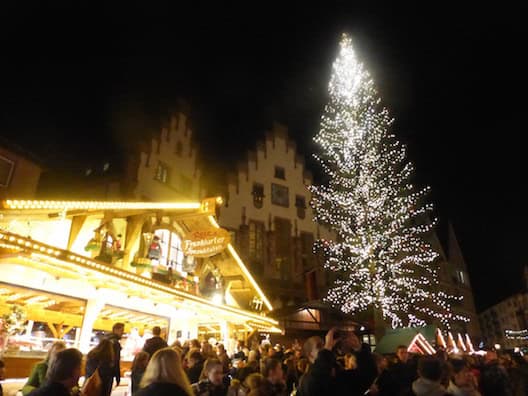 Visiting the Christmas Markets in Europe has always been a bucket list item for us.
So when Viking offered us our choice of a second cruise — we fell in love with them on a cruise through the South of France earlier this year — we unhesitatingly booked Germany  after Thanksgiving so we could finally make this dream come true.
Get out your calendar because, trust me, you're going to want to start planning this trip for next year.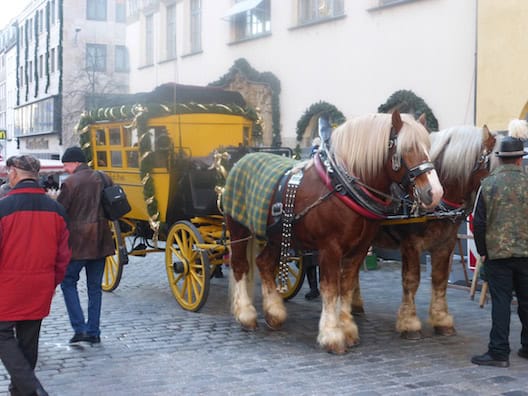 Surprisingly, the Christmas Markets have been around for centuries — in Germany, since the Middle Ages — and many of the original traditions continue to this day.  In fact, one of the things Michael and I liked most about the Markets was the fact that, although they attract thousands of tourists, they are so obviously cherished as a warm and welcoming gathering place for locals, who can be found at all times of the day or night eating, drinking and just enjoying being together.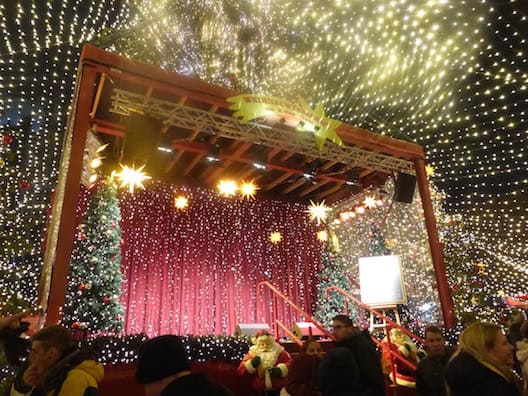 Eating is a big part of the Markets, and I hope you'll come back tomorrow when I share some of the new unique and delicious dishes we indulged in.
Meanwhile, let me tell you about one of the most fun traditions of the Christmas Markets. Every year, each one — and there are multiple Markets in many of the cities — features its own signature mug. Here are the two we bought: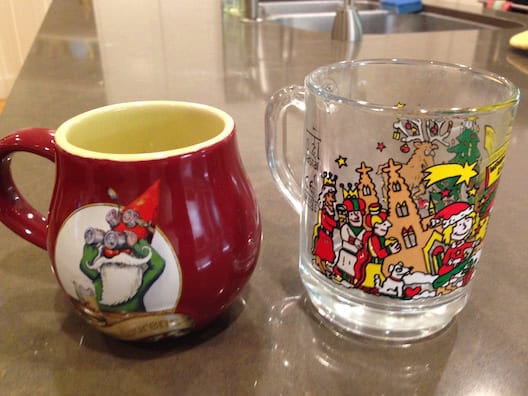 What happens is you spend a couple of euros for the mug and then you buy and refill your drinks — from the traditional mulled wine called gluhwein to hot chocolate and Kinderpunsch — for a couple more euros. If you decide you don't want to keep the mug, you can return it and get back your "deposit." If I lived in Germany (or if I had been traveling with one of my friends rather than my husband), I would be the proud collector of mugs from every single Christmas Market!
I would also own these star lights that I stopped to admire every time we passed them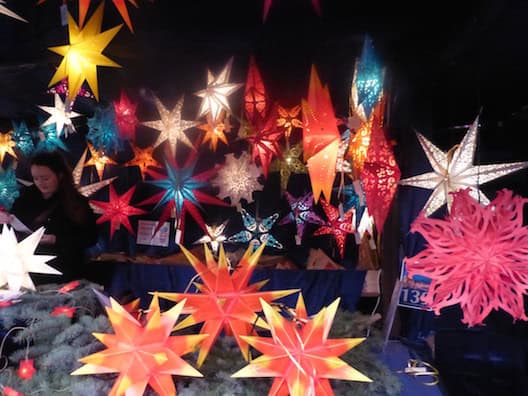 and these rows of colorful balls, which would look great in my wanna-be office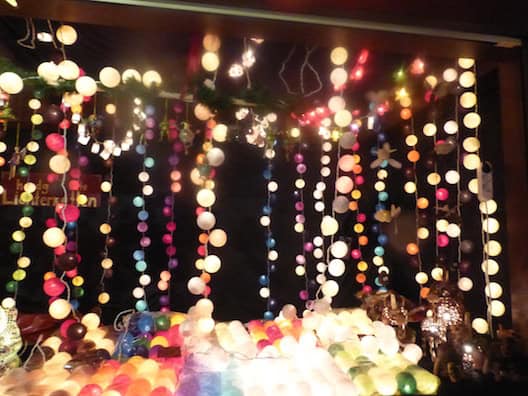 and these flower candles in every color. I only bought them in green and blue.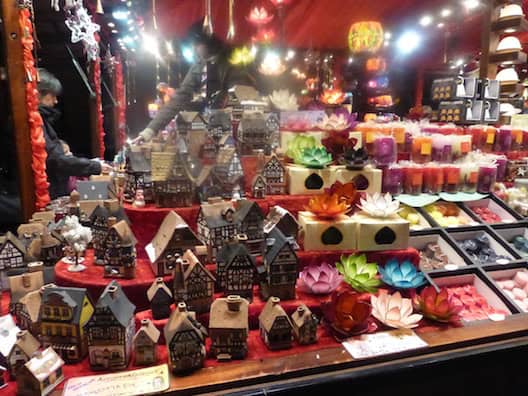 I would also have bought those adorable ceramic houses but we were traveling on KLM, and they give their own adorable ceramic houses to all business class passengers.
Many of the new friends we made on our cruise actually ended up buying extra suitcases to take home the handmade ornaments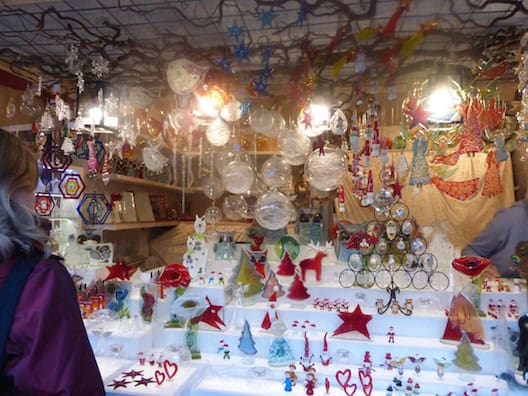 hand knit scarves, gloves and sweaters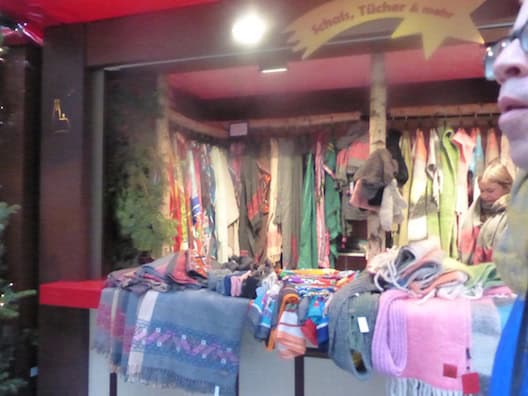 and all the gifts they had picked up.
I can't imagine a better way to enjoy the Christmas Markets than on a Viking River Cruise. Beside the fact that the cruise itself is proof that the journey is as important as the destination, it made it so easy for us to visit almost two dozen markets in Cologne, Frankfurt, Heidelberg, Wurzberg, Rothenburg, Bamberg and Nuremberg.
In some of the cities, we could visit the Markets both during the day, when there were fewer people around and it was easier to shop,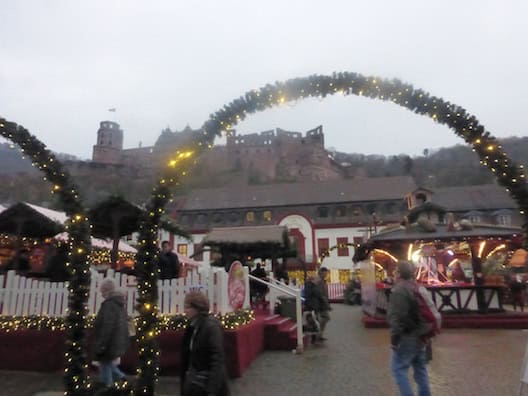 and again at night when the lights and the atmosphere were so beautiful and festive.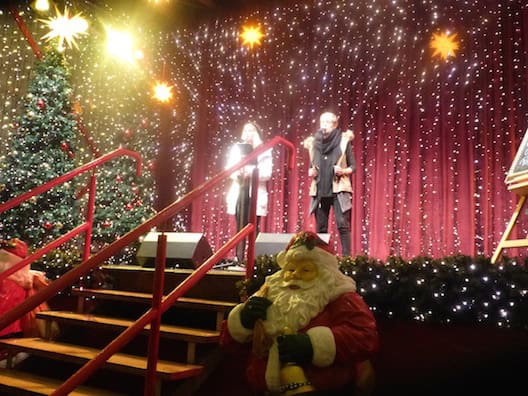 Walking through the Christmas Markets is such a magical experience, it often feels like you're in a fairy tale land.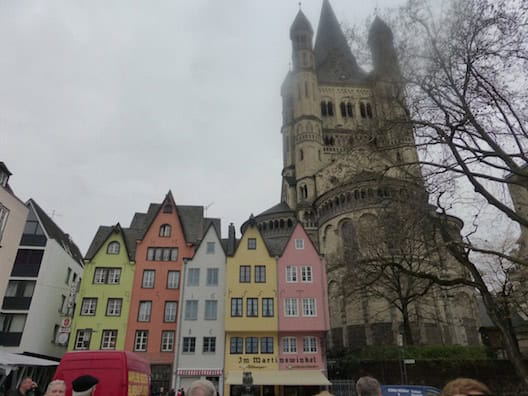 Although each Christmas Market definitely has its own charm, our favorites were the ones in Cologne, where we spent two nights on our pre-cruise extension. There are seven Christmas Markets in the city, and, although we chose to walk everywhere, you can hop on this cute train to go from one to another: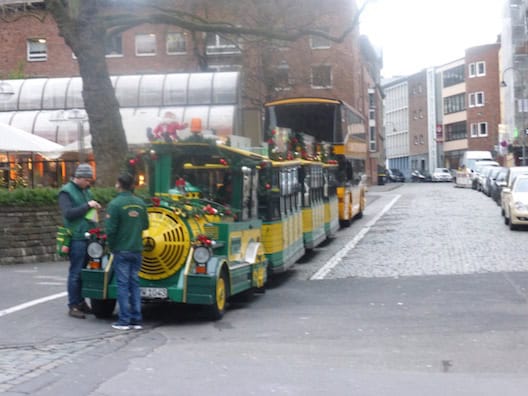 We were staying right near the Cologne Cathedral, which provided a striking background to the Christmas Market we loved the most.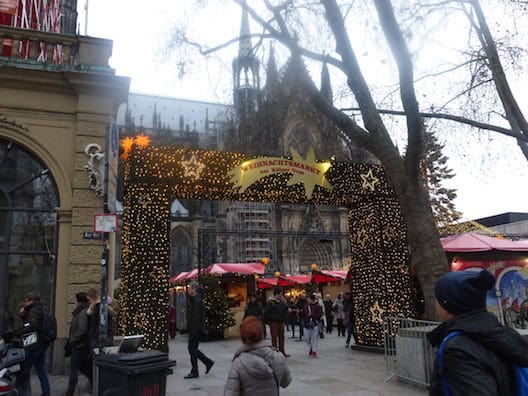 This was such a special trip, we're already hoping that next year during the holiday season, we'll be rolling down the Danube on another Viking River Cruise, this time visiting the Christmas Markets from Budapest to Vienna.
I'm already cleaning out my cabinets to make room for those mugs.