my buick bucket list trip: gaylord opryland, part 2
After a very filling night, we woke up to this view from the balcony of our Gaylord Opryland hotel room.
We might have just called in room service and eaten breakfast outside (which is still inside) but we were scheduled to go on the backstage tour of the Grand Ole Opry at 10 a.m.
We grabbed pastries at one of the hotel's cute little cafes and started walking. One of the (many) great things about Opryland is that it's right next door to the Grand Ole Opry and the gigantic Opry Mills shopping mall. Our comfy Buick Encore would remain happily tended to by the valet.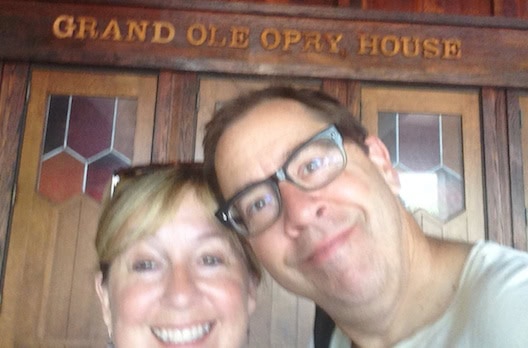 I already told you how much fun our tour was, so once we finished, we headed back to Opryland for lunch and to figure out what we wanted to do in the afternoon. Michael had pizza and I had a yummy burger from Stax.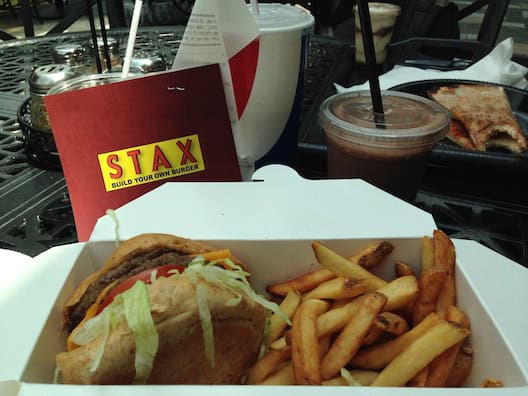 As we sat outside (which is still inside), we admired the view and agreed this hotel was really something special.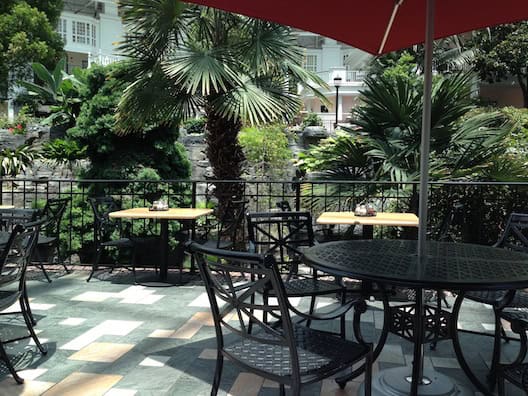 I started listing all the places I still wanted to visit before we left Nashville tomorrow. There was Ryman Auditorium, the Country Music Hall of Fame, the Johnny Cash Museum …
And then Michael uttered the dreaded words that I had hoped would never come out of his mouth again.
"I'm not going anywhere."
Uh oh.
You may remember the last time he made that statement, he was lying in his new favorite lounge chair at the Hotel Valley Ho in Scottsdale. He wasn't kidding and I ended up sightseeing alone that afternoon.
But this time, I just looked at him, breathed a sigh of relief and totally agreed. Why would we ever want to leave Opryland?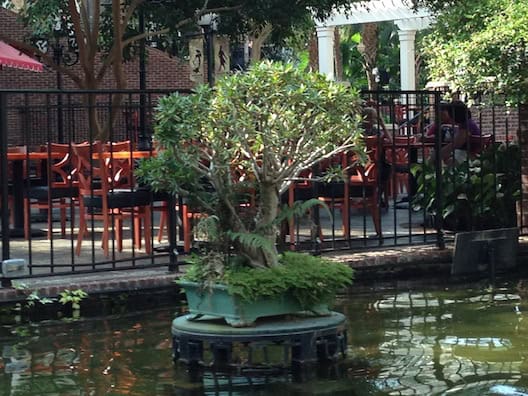 As he prepared for an afternoon on our balcony, watching the world go by outside (which is still inside), I made an appointment for a massage at Opryland's world-class Relache Spa.
Because I was so stressed.
Ha ha ha ha! I don't think I'd been stressed for a second on this Buick Bucket List trip – even when we got caught in that torrential downpour that the Encore had tried so valiantly to warn us about.
I had a wonderful massage, and napped in my robe in the Tea/Relaxation Lounge. By the time I steamed, sauna-ed and showered, then found my way back to the room – no easy task considering my mind and body were both now mush – it was time for dinner.
For that, Michael agreed to leave the balcony.
At Ravello, unlike Jack Daniel's, you dine outside (which is still inside) and the views are spectacular.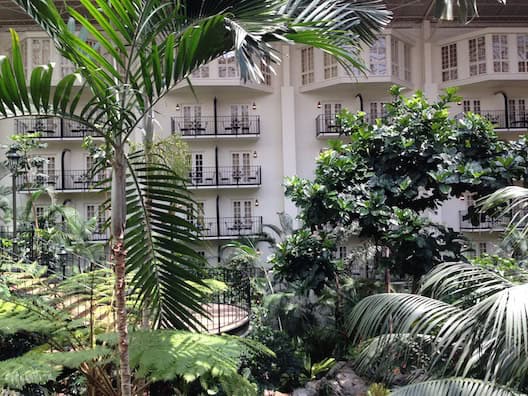 So is the food.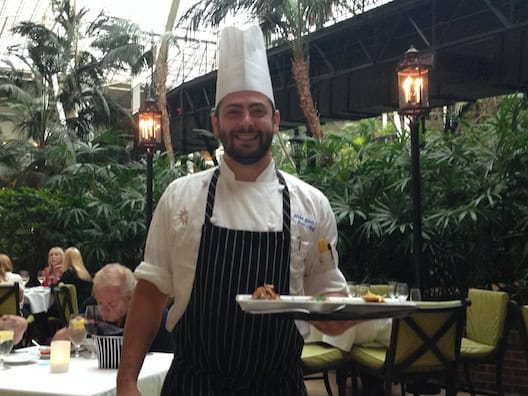 Chef Mike, our new favorite person, came out to welcome us and, after we explained that, unfortunately, Michael couldn't eat the meat on that beautiful antipasti plate (but I could!), he was enthusiastic about making Michael a vegetarian dish. Or two.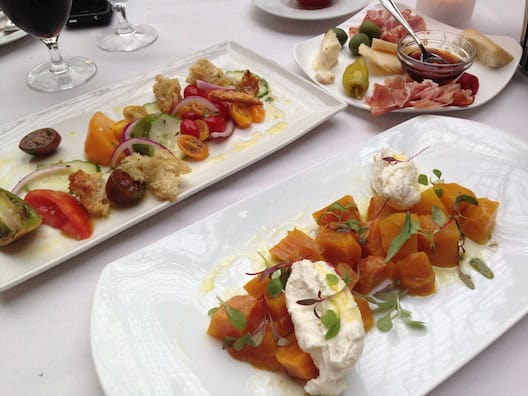 Or three.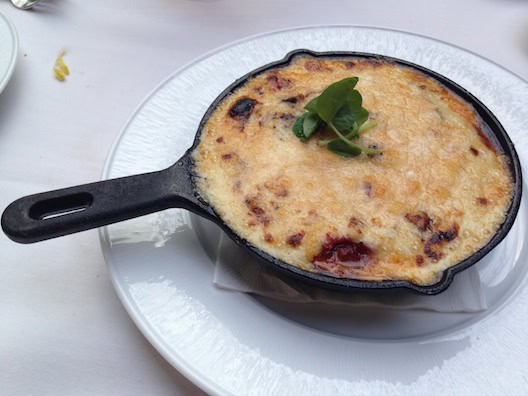 And then there was my ravioli trio.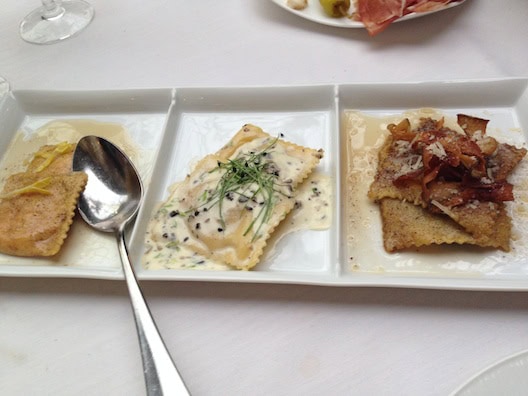 And — OMG — my leg of lamb.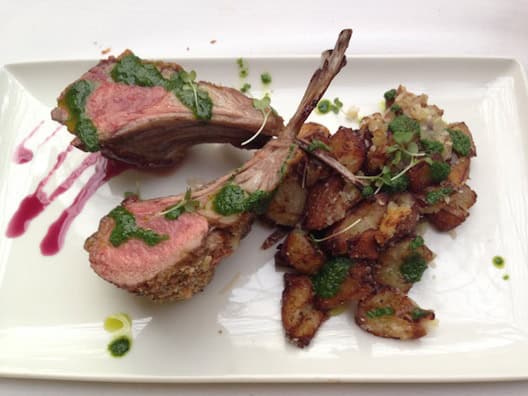 Seriously, I just want to cry with gratitude when I think of this meal. Which I do often. I also feel like crying that we live on the other side of the country from Chef Mike.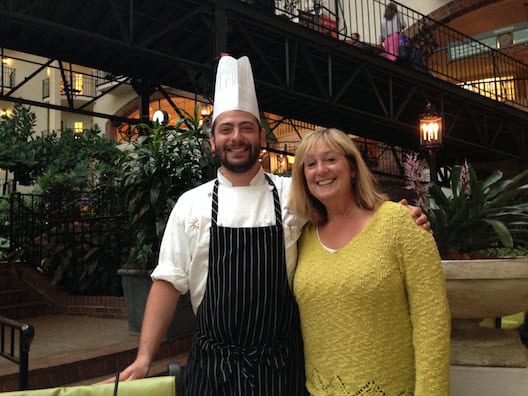 But, he still had dessert for us. Or, more accurately, desserts.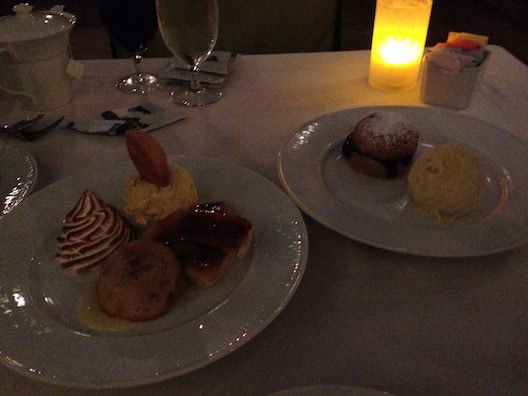 I'm sorry this picture is so dark but we were at Ravello for almost three hours and, by the time we were ready for dessert(s), the sun had gone down and it was very dark outside (which is still inside).
After much gushing and hugging and Michael announcing he could be a vegetarian forever if Chef Mike would just move to California (to which Chef Mike good-naturedly laughed and invited us back to Ravello next time we were in Nashville), we decided to walk around the resort since it was our last night there and we definitely needed the exercise.
We stopped at WSM, 650 AM, which broadcasts live from Opryland and is the home of the weekly Grand Ole Opry radio shows.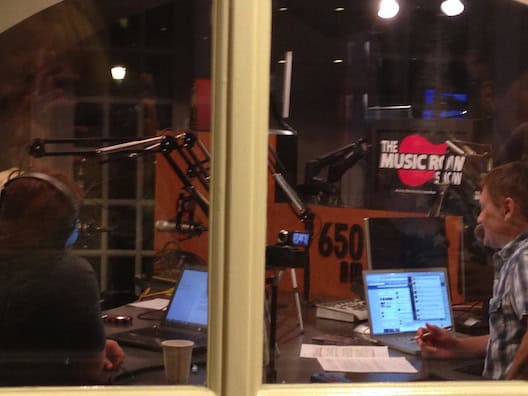 I have no idea who this guest is but when she's famous, I'll be happy to have her picture here and to be able to say I saw her being interviewed.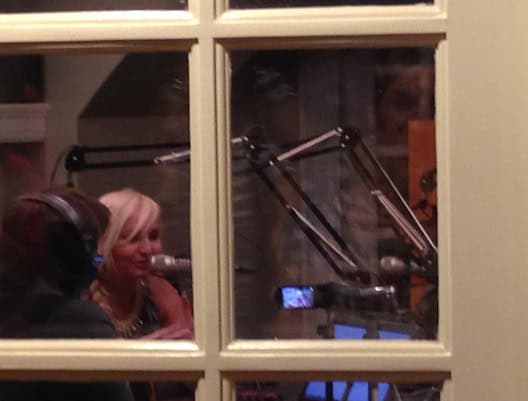 After taking the long way back to our room — which was easy to do because we were still getting lost — we slowly started to pack because, sadly, we were going home tomorrow.