blogging for good
Blogger Idol Week 5 Assignment: Write about a cause you're passionate about, and introduce readers to two blogs you read regularly.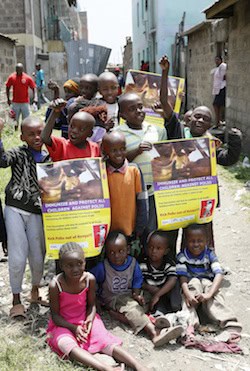 I can't wrap my head around the fact that a child dies every 20 seconds from a disease that could have been prevented by a vaccine.
Measles, pneumonia, diarrhea and polio are four of the deadliest and most debilitating diseases to children around the world, yet most of us take for granted that they will never harm our own kids – because we vaccinate them.
It costs only $20 to vaccinate a child against this quartet of killers – for life. Twenty dollars! I'm convinced if everyone knew this, we could eradicate all four of them pretty quickly.
Because children's lives are at stake, I did a great deal of research and spoke to a lot of experts to find out the pros and cons of vaccinations. I needed to find out why we were letting millions of kids die.
I came away feeling so strongly about this issue, I applied to become a Shot@Life Champion. You might want to think about becoming one, too.
Developed by the United Nations Foundation, Shot@Life is a grass roots campaign dedicated to educating, advocating and fundraising in order to, literally, give children around the world a shot at life by providing them with life-saving vaccinations. Champions are influencers who are given extensive training along with resources and tools to help them make a difference and show people how ridiculously easy it is to stop children from dying.
I was honored to be accepted, and I jumped on a plane when I was offered an opportunity to meet with my state and local representatives on Capitol Hill to advocate for global immunizations.
It was a life-changing experience which proved to me that every individual has the power to change the world.
As a mother – hell, as a human being – Shot@Life resonates so strongly with me, I've even dedicated a category on my blog to it. I wrote a piece, "Why I Traveled 3000 Miles to Advocate for Children Who Aren't Mine," which was picked up by The Huffington Post, and I've raised hundreds of dollars for the charity through my blog posts. I also wrote about Blogust, a campaign in which specific bloggers contributed posts every day in August, and every comment generated a donation to Shot@Life from Walgreen's. I would love to be involved in this next year.
To me, using my voice for good is the most rewarding part of being a blogger – and there are a couple of blogs I turn to regularly because it's obvious their writers feel the same way.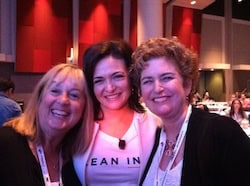 Cathy Chester of An Empowered Spirit is one of the most inspiring bloggers I know. She has multiple sclerosis – which you would never realize if she didn't share her personal stories so generously to support and encourage others. She wrote a powerful post about attending BlogHer with a disability and, as her roommate at the conference, I can tell you she has such a positive attitude and is so enthusiastic, people just gravitate to her.
On An Empowered Spirit, Cathy celebrates life and advocates for social good. It is totally a reflection of who she is as a person, and a reason she has won awards.
Recently, she's written about issues like bullying and the decline in civility, and her posts are always thoughtful, articulate and hopeful. She's never preachy, and there's an inherent warmth that just welcomes you in and makes you feel better about yourself and the world. Even her Wordless Wednesdays put a smile on your face!
Another favorite of mine – one that's not for the faint of heart and much of which is "not safe for work" – is Lauren Marie Fleming's QueerieBradshaw, where "the personal is political."
A popular conference speaker, Lauren writes openly about sex and being a lesbian but the overarching themes of her work are empowerment and acceptance, and she is a role model for not being afraid to tell your Truths. As a straight woman, I relate to so much of what she says and am often fired up by her impassioned feminist manifesto.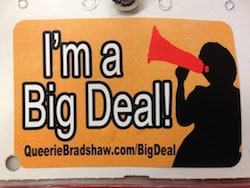 Last year, Lauren created the #BigDeal Campaign to show bloggers they were more than their numbers, that what they had to say was important in itself. When I ran into her at BlogHer, she handed me one of these stickers that made me cry. I have it hanging in my office for days when I definitely don't feel like one. She'll send you one, too, if you ask.
I hope you'll check out these blogs and be inspired. If you can use your skills, your outlets, your voice to do good – well, yes, that's a big deal.