myrdin thompson – change agent and shot@life champion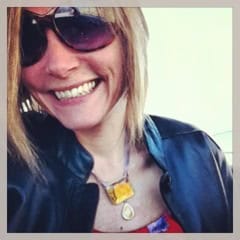 A couple of months ago, I wrote about my experience as a newly-appointed Shot@Life champion, flying across the country to advocate on Capitol Hill for vaccinations for children around the world.
Shot@Life celebrates its first birthday this week, which also happens to be Global Immunization Week (April 24-30). One of the ways we're marking this milestone is by interviewing champions and encouraging our readers to become champions themselves. I'll give you more details about that at the end of this post but, first, let me introduce Myrdin Thompson, who is now  mentor as well as a champion. She is an amazing person, and she will inspire you to get involved and see that every single one of us can make a difference.
You have a cat picture on your Facebook cover, I have a dog picture. You live in Kentucky, I live in California. You're a contributing editor to MOMentumNation, I've been a contributing editor to Entertainment Weekly. We have so many differences yet we're both passionate Shot@Life champions. What do you think it is about Shot@Life that attracts so many champions all over the country?
I think the reason Shot@Life appeals as a cause for so many advocates is that every action we take (writing a blog, sharing a tweet, sending an action alert, or hosting an informational event) has impact. Many of the champions have had direct experience with a life changing illness, either for themselves or in connection with one of their own children, and knowing, perhaps, how fortunate they were to be able to receive medical treatment and care in the United States made a tremendous difference in the outcome. For just $5, the cost of a cup of coffee at a national chain for example, you can vaccinate a child against measles, diarrhea, pneumonia, and polio. It's that simple, that easy, and that important.
This is your second year as a Shot@Life champion. Tell us a little about your experiences over the past year, and which ones really stand out for you. 
I've been fortunate to become part of an amazing community of advocates who have held some incredible events from a fashion show to a small "cupcake for a cause" party. The stand out, for me, was meeting with eighth graders and, together, creating a "walk a mile for a mom" in school event. The students walked one mile around the campus track in symbolic solidarity with the mother's in other countries who sometimes walk over 15 miles in order to get their child vaccinated. Some students volunteered to carry backpacks weighing close to 30 lbs, because "some of the moms have to carry their children during the journey." The 146 students then filled out pledge cards asking our Congressman to continue to support the work of the United Nations Foundation and shot@life, because, as one student said, "every child deserves a shot at meeting and playing with their older and future siblings."
The other experience that also meant a great deal to me, was when I was able to be in New York to attend the UNF/Mashable/92nd St Y Social Good Summit and participate in the launch of the Shot@Life smart phone app. To be in a room with other champions and their children, to hear Holly Pavlika's story of her time in Tanzania on behalf of Shot@Life, and to just know that we were a community united to create impactful change, was just a truly special moment in my life.
You're now a Shot@Life mentor to newbies like me and, seriously, you are so inspiring. What is the one message you'd like to share with the new champions and with those who are considering becomes champions in the future?
Thanks, Lois! But I can't do the work I do without you doing what you do, as well as the over 300 other champions doing what they do. It's not about me; it's about we. Each of us doing our small part can create great change. And the best part, the fantastic team at the United Nations Foundation has lots of easy tools which champions can use to share the message. If you respond to an action alert, you are a champion. Share a blog post, you are a champion. Attend an event, sign up to get more information, yup, you are a champion. And all children, everywhere, are worthy of having a champion standing beside them, helping them grow up to be a champion one day as well.
Before I headed to Washington, D.C. for the Shot@Life Summit in February, I read a lot about you, and was awestruck by everything you've done to make a difference in the world. How did you get so involved in becoming a "change agent" (a title I love, by the way)?
There are certainly days when I think that the stone I've tossed into the pond didn't skip enough, didn't create enough waves of impact, so to speak. But then I realize that if I'm going to ask others to do "something" I can't refuse to do that same thing. I've never not been a volunteer in any community I've lived in. Whether it's as the room parent cutting out paper hearts, helping to build a playground, or speaking to elected leaders at my state capitol or in DC, we are all change agents because we are creating a pathway to change.
You have to share your experience at the White House with us. WOW! 
Which experience? Just kidding! I was very blessed to be nominated as a White House Champion of Change for the work I had been doing in connection to family engagement in education via the PTA. But I didn't do that work alone; hundreds of people in my community work hard every day to help create excellent communities of education for the students at their schools. They fill backpacks with food to help children get through the weekend, they collect gently used clothing so that students have proper attire for school, they attend field trips, they speak at school board meetings, they sit on school committees, they simply participate to the best of their abilities in order to create the best opportunities in their communities. I was honored to have been recognized and to have been invited back to the White House to attend the one-year celebration of the Champion program and to meet with President Obama. He was an incredibly gracious host. I've now been to the White House and Eisenhower complex three times in the last two years and each time I am simply awestruck that I get to be there. When I speak to students about it, I always emphasize that each of us has something important to contribute, and, although, yes, being recognized by the President is certainly the highest acknowledgement of these efforts, at the end of the day, it is when my children say, "I love you" and "thank you" that is what counts most to me.
You have a great quote on your blog, Roots and Wings, by Edmund Burke that says, "Nobody made a greater mistake than he who did nothing because he could only do a little." What advice would you give other women who want to do something to make the world a better place but have no idea where to start?
Start with what you know. Think about what gets you up out of bed every morning. Is it that you love to go for a run and you recognize that the children in your community don't have great parks to run in? Contact your city's park department, see if there is a community group helping clean and maintain the parks. Maybe you are a writer and no one knows about the work that group is doing because no one in the group thinks about sharing. Write about the group. The point is whether you champion global vaccinations or clean parks, your voice can make a difference. There are no small causes, only causes that stay small because no one thinks big.
What would you still like a shot at?
I would like a shot at having a book published. I have no idea what that book would be about, mind you, but I would love a shot at the opportunity! I also would love a shot at travel to India, or any of the countries I read about, before my 50th birthday. That's seven years away, so it's time for me to stop dreaming and start doing!
To learn how to become a Shot@Life champion, click here. To make a donation (thank you!), click here. And to simply show your support for Shot@Life, click here. By doing any one of these things, you are a champion!
P.S. You can read Myrdin's interview with me here.
This post originally appeared on my former blog, StyleSubstanceSoul.