the girls and the goats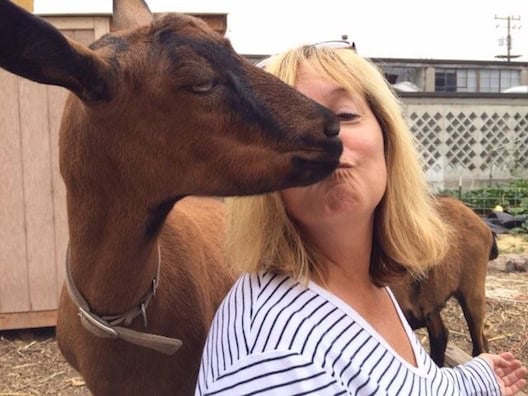 I posted this photo on my Facebook page over the weekend and today I received a press release from the Farm Sanctuary announcing that this is the Summer of Goats.
And my kids think I'm not on the pulse of pop culture? Ha!
I really wasn't going to post anything today because I'm leaving for London on Thursday and haven't even started to look at what I need to bring. But, obviously, I am meant to be promoting the goats.
As you know, I'm a sucker for animals and animal sanctuaries — in fact, I'll be writing about my Buick Bucket List Trip to the Elephant Sanctuary in Tennessee when I get back; meanwhile you can get a preview here). Of course, I'm happy to help raise awareness for the Farm Sanctuary.
I'm all over the organization's mission to end farm animal abuse – an issue that's become personal to me since my daughter is spending the summer volunteering on an urban farm (Her designated chore? Milking the goats.) and since she and my husband are now both vegetarians.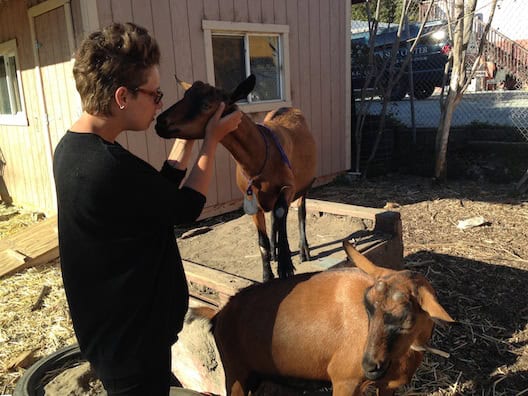 Plus – and I wish I could find my photos of this – our homeowners association brought in goats to clear the brush on our cul-de-sac a couple of years ago, and I have never been happier to pull on to my street. They were there for maybe a week or two, and seeing the goats playing on the hill made me smile every single time I turned the corner. I felt like I was in Heidi. Or The Sound of Music.
It was awesome.
So, yes, I am totally a goat fan. I am grateful for goat cheese. I had an amazing meal at Girl and the Goat in Chicago.
I do not like goatees.
But I do like the adorable photos and videos on the Farm Sanctuary blog. Check them out, follow them on Facebook and Twitter, support them with a donation. They're a four-star charity, according to Charity Navigator.
I wish I could spend the rest of the evening looking at the pictures of Lizzie, Joey, Gloria and all those other cutie pies, but I'm running out of time and have to start packing.
And that really gets my goat.