dune jewelry: oh, the beaches i've been!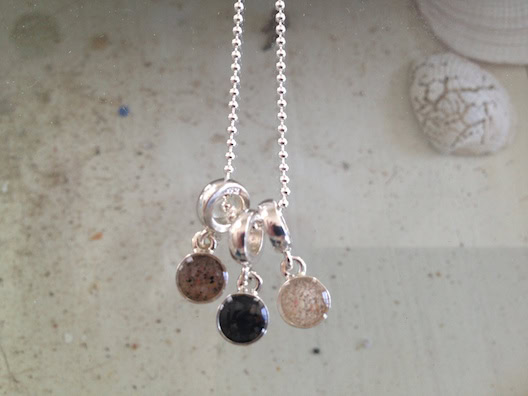 For so many of us, summer means beach. Just mention a specific beach, and you're transported right back to very specific moments and memories.
So when Dune Jewelry offered to custom make a necklace for me, I literally went back through the sands of time to figure out which places to honor.
You see, Dune makes gorgeous jewelry featuring real sand from the beaches that are meaningful to you. They have a Sandbank — don't you love that name?! — of sand from more than 2000 beaches around the world, or you can send them your own.
I spent so much time on their site, reading the touching stories by customers and trying to decide which piece of jewelry I wanted — a ring? a bracelet? earrings? — before choosing the Port O'Call necklace.
I fell in love with this piece for many reasons, one of the main ones being that I got to use sand from three different beaches! As someone who loves the beach, this is great because each one brings back so many amazing memories.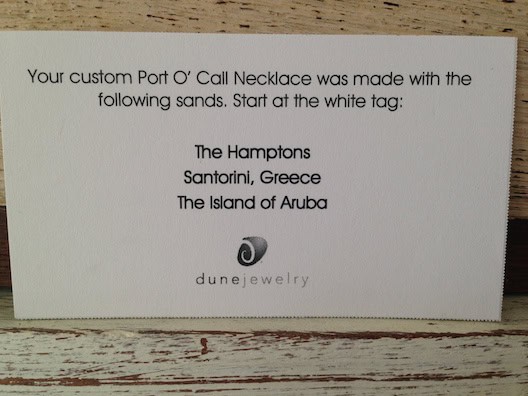 1. The Hamptons. When the kids were little, we spent many happy summers in a house we rented in Quogue. I can so vividly recall the sense of peace I felt out there, with our Chow Chow, Sophie, lying under her favorite tree in front and the beautiful bay in our backyard.
2. Santorini. Our family took a Mediterranean cruise many years ago, and Santorini was definitely a highlight. The sand plays a big part in our memories because it was so hot, we have hilarious pictures of Michael and Alex running across it in their boxers. I laugh every time I think about it.
3. Aruba. Michael and I honeymooned there 34 years ago. It was the start of an incredible marriage for which I'm grateful every day and it was just the first of a lifetime of beach memories together. I will always have a special place in my heart for Aruba.
Go extend the summer with a trip to the Dune Jewelry website. These pieces would make really personal and meaningful gifts, and I think I just may be ordering a few more.
Which beach has special significance to you? Why?