care knows how, dollars to doughnuts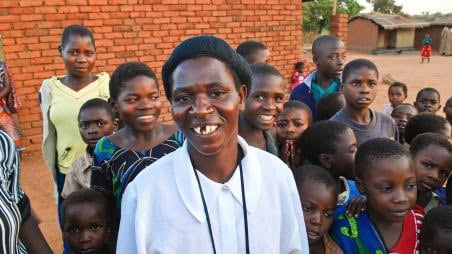 This post is sponsored by CARE. All opinions are, as 
always, 100% mine. Please click on the sponsored links
because this is an amazing organization. Photo credit:
Brian Feagans/CARE


When I read that CARE was helping to beat poverty with doughnuts, I knew I had to write about this empowering and life-changing campaign. After all, these are subjects dear to my heart and I am someone who believes doughnuts are the answer to a surprising number of problems.
Although pretty much everyone has heard of CARE, you may not be aware of some of the creative ways the humanitarian organization is improving the lives of people in some of the poorest communities in the world.
So let me tell you about the doughnuts.
In a small village in the African nation of Malawi, Biti Rose and her husband, Alfred, had to take their son out of school because they couldn't afford the five dollar uniform. Biti joined a CARE Village Savings and Loan Association, where she ultimately received a $2.00 loan, enabling her to buy ingredients to make doughnuts which she sells for two cents apiece.
Now, Biti Rose is one of the most popular people in her village, selling out her doughnuts every day and making more money than she ever dreamed she could. She and Alfred have reinvested their profits in their kids' education and in their farm, and were even able to build a house, an act which fills them with pride.
Just take a look at this inspiring video:
This story about a CARE package that brought doughnuts — and hope — to Malawi represents just one of the many ways CARE Knows How to make a difference. Check out their homepage where you'll learn that CARE Knows How to play with pandas, to make fog drinkable, to prevent malaria with goat poop, to get it done on Capitol Hill.
I am a big believer in teaching people to fish rather than simply giving them the fish, and that's what CARE is all about.
Please visit the CARE website, make a donation, and sign up to receive updates. You can truly make a difference in someone's life, dollars to doughnuts.