You are here:
Home
/
Social Good
/
what five years old looks like in south sudan
what five years old looks like in south sudan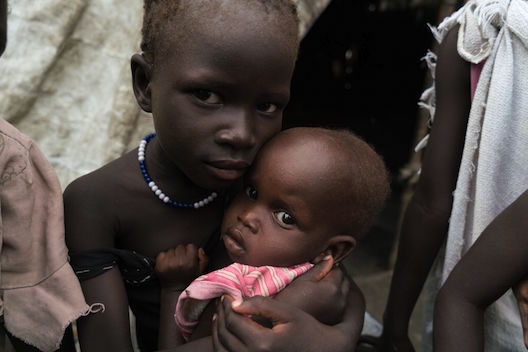 As the United States celebrates its birthday today, South Sudan gets ready to celebrate its birthday later this week.
The youngest country in the world, South Sudan turns five on July 9. Although the country was founded during a time of peace, children born that year only have memories of violence.
Since the war broke out in 2013, 2.3 million South Sudanese have been forced to flee their homes. That's 1/5 of the country. 5.1 million people — nearly half the country — are in need of urgent humanitarian assistance.
Behind these horrifying statistics, though, are real people. Real children who you need to meet.
In June, a staff member from CARE, a leading humanitarian organization fighting global poverty by empowering girls and women, interviewed five-year-old girls from South Sudan. The contrast between their lives and the lives of five-year-olds in the U.S. is startling and sobering.
Let me introduce you to a couple of these girls. Compare their lives with the lives of your children when they were that age, then please consider making a donation to CARE.
Any donation is helpful and appreciated but $150 can provide full nutritional support for a malnourished child. $70 can provide a family with a crop kit so they begin growing food again.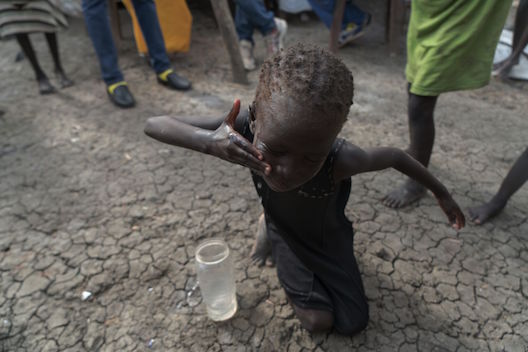 While five-year-olds in the U.S. are taking daily baths in their houses with clean water and probably bubbles and toys, five-year-old Chianyal, above, lives in a UN protection camp — like 180,00 other South Sudanese — where she washes herself with cups of water provided by aid groups. She contracted malaria in May, during what the UN calls an "unprecedented" outbreak, and still gets a fever at night. While give-year-olds in the U.S. are preparing for kindergarten, Chianyal has to take care of her baby sister, Nyanen, in the top photo. South Sudan has the highest proportion of girls who aren't in school than any country in the world.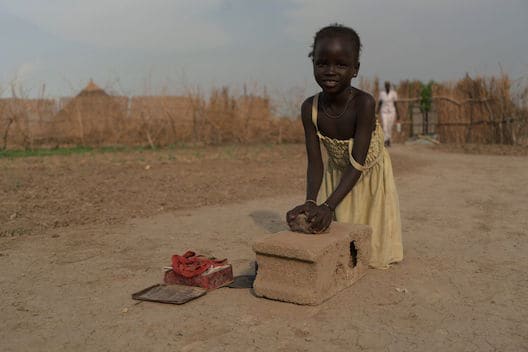 While five-year-olds in the US eat three healthy meals a day plus snacks, five-year-old Zeieya plays her favorite game of pretending to grind sorghum to eat. 680,000 children in South Sudan are malnourished. While five-year-olds in the US play with stuffed animals, board games and electronics, five-year-old Zeieya has no toys. It is over 100 degrees in the summer, and she spends hours collecting firewood for money instead of going to school.
How can these lives of these children be so different and so much harder than the lives of our children?
CARE is making a difference but they need your help. Please visit the CARE website to read more and make a donation.
Your birthday gift to these children can change their lives.