You are here:
Home
/
Social Good
/
care's special delivery project #withsyria
care's special delivery project #withsyria
Michael and I have supported CARE for many years because it's a great humanitarian organization. Its mission is to fight global poverty,  and we love that it focuses on working alongside poor women, understanding that if you equip women with the proper resources, they can lift whole communities out of poverty.
Now, CARE is launching a powerful Special Delivery project, and it's something we feel strongly about for personal reasons.
As we've watched the devastating coverage of Syrian refugees fleeing their war-torn country with nothing, we — like so many of you — have felt helpless. Our own grandparents fled Nazi Germany during the Holocaust so this feels personal.
In fact, the similarities are the basis of CARE's Special Delivery project.
This month marks the fifth anniversary of the conflict in Syria, a war which has caused the largest refugee crisis since World War II. CARE has already provided humanitarian relief to more than one million Syrian refugees in the form of everything from food and emergency shelter to hygiene kits and grocery debit cards.
But as the conflict drags on, CARE realized it was important to deliver another vital item to these displaced children: Hope.
They also realized that the best way to impart this message was through the very first people to experience CARE's work — the recipients of CARE Packages sent by Americans to families clinging to survival in Europe after World War II. They were child refugees, too, during the last time the world saw a human displacement the size of Syria's.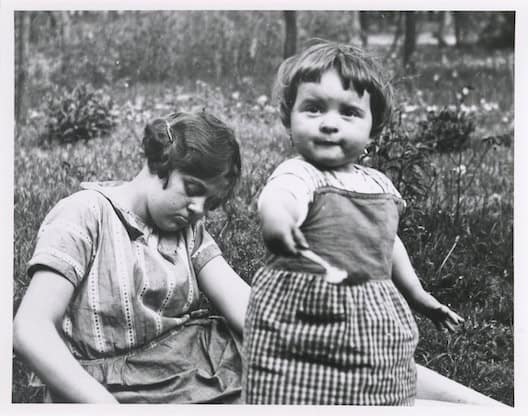 CARE invited a few of those people to write letters and send them in CARE packages to Syrian refugee children. One of those people was Helga Kissell, who you can see today and as a young girl in Germany in the photos, above. She was living in Berlin when World War II started and her father was killed in an air raid. Her family fled to Hohenschwangau, where her uncle owned a camera shop. At the end of the war, she became friends with a US soldier named Leo. After being sent back to America, Leo became pen pals with Helga, sending her and her family CARE packages to help them survive the postwar hardships. Leo and Helga fell in love and she was allowed to emigrate to America, where they were married. On August 7, 2014 they will celebrate their 66 wedding anniversary together.
Because Helga intimately understands what these Syrian refugees are going through, she has become an important ray of light to 16-year-old Sajeda, whose younger sister is reading her letter in the photo, below.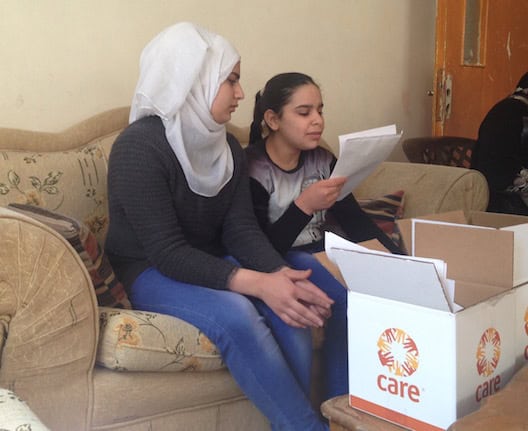 The connections between have made a deep impact by connecting people who share many of the same experiences, despite their differences in age. Take a look:
This just makes me sob. How are we letting anything like this happen again?
You can read more of these powerful letters here and then write your own. Just a short message of hope will go a long way. Here's mine: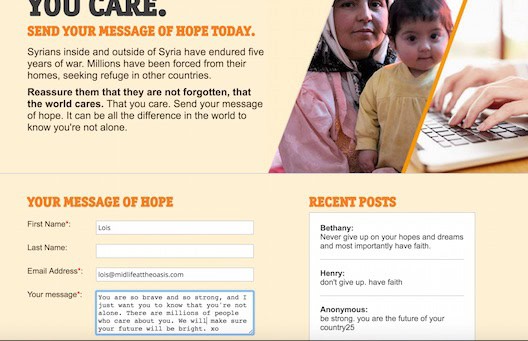 I hope you will take a few minutes to let a child know that you are thinking of them.
And, if you can, make a donation to Syrian refugee relief. We all know how much a CARE package can do for someone.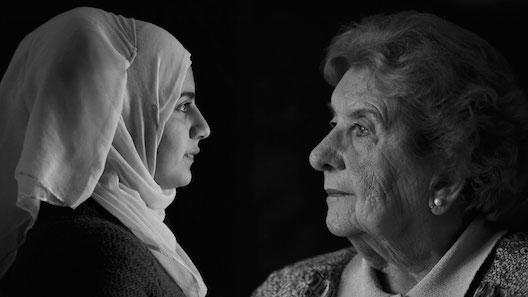 All photos courtesy of CARE.