#1000speak for compassion – and i speak for 5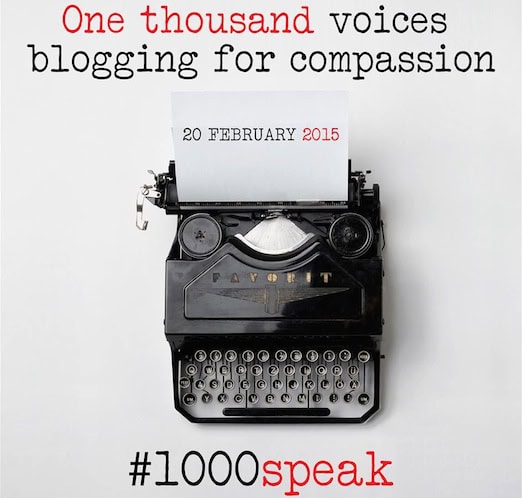 #1000speak was born just a little over a month ago when Yvonne Spence and Lizzi Rogers put out the call for bloggers to write about compassion and flood the internet with good on February 20.
I immediately signed up and so did more than 1000 others. If there's one thing bloggers can always be counted on, it's to come together for a cause.
And, right now, there's no cause more important than compassion.
So many of us are feeling hopeless about the state of the world. The problems are so overwhelming, we can't imagine how they will ever be solved and how we will start to live as one global community.
I've come to realize that all we can each do is our best, and if we each just do that, we will change the world. Like Dr. Seuss said, "To the world, you may be one person; but to one person, you may be the world."
I want to introduce you to five special people who are absolute proof of that. In their own small ways — because I guarantee you every one of them will humbly tell you that what they're doing is not such a big deal — they make a huge difference. I am so proud to have them in my life, and I hope they will inspire you to act with compassion in everything you do. They inspire me every single day.
* Michael Mark. My husband, the love of my life, has a heart that seems to expand endlessly to make room for anyone who needs it. A couple of years ago, he became a volunteer at Lightbridge Hospice, and I am awestruck at his ability to make patients feel important, cared for and heard during the most difficult time of their life. I have often felt like bursting with pride — and into tears — as I listened to families tell him how much he meant to their loved one. He has given such an extraordinary gift to half a dozen patients, and I hope he realizes how many people hold him tight in their own hearts. He fills mine.
* Ruth Curran. I met Ruth through blogging and our first real conversation was a powerhouse that bonded us for life. Ruth is a champion for brain health and a force for good in this world. Her blog, Cranium Crunches, has become the daily go-to for her loyal readers who know she's always looking out for them. Right now, she and her equally wonderful husband, Dan, are in St. Lucia, volunteering with Global Volunteers on the St. Lucia Project, a groundbreaking campaign to raise the IQ of an entire country. I have no doubt their mission will succeed — because Ruth is there.
* Amy Wise. One of the most optimistic and passionate people I know, Amy wrote an inspirational quote book that sits on the bedside tables of thousands of people who turn to it first thing in the morning to start their day right. Amy recently co-founded R.I.S.E. to Empower, a non-profit focused on helping girls and young women make positive life choices. It's no wonder her book is called Believe in Yourself ~ Inspire Others ~ Spread Joy because that is what she does so naturally. The messages I see on her Facebook page on a daily basis reveal what an impact her words and her enthusiasm have had on so many.
* Madge Stein Woods. If there's a cause that needs support, Madge is always ready to step up to the plate. Her generosity is astounding. She is smart and curious and she cares deeply. Madge is not someone who watches from the sidelines. She gets involved. She's an active participant who gives her time and literally puts her money where her mouth is. I love seeing pictures of Madge with her grandchildren because they clearly adore her. They're not the only ones who do.
* Susan Jensen. Susan was one of the first people I met when we moved to San Diego 17 years ago and she made me feel at home immediately. She's the kind of person who doesn't stand on ceremony. If something needs to be done, she just does it. She's the first one there when someone's in trouble. When we had our old blog, StyleSubstanceSoul, it was the Soul part we all cared most about but it was obvious that it really represented Susan. She gives of herself without a second thought and you know you can count on her for anything. I'm counting on her to be my friend forever.
If you want to get involved with #1000speak but don't know what to do, just start by spreading awareness. You can Tweet this:
You can also find the links to the 1000+ posts on Yvonne and Lizzi's blogs. Just click their names in the first sentence of this post. Then read, share, and raise your own voice for compassion. And if you know anyone you think I should feature on Midlife at the Oasis — someone who makes a difference in their own way — just email me or leave a comment.
Together, we can make sure kindness wins.
xo